A Kitchen Island can really pull a kitchen together and add that extra something to the room.
That is as long as you place an island that fits well and suits the existing design. Just because you've fallen in love with your friends stunning island doesn't mean it will look right in your kitchen.
Here are a number of great ways to help you choose the right kitchen island to suit your home and your needs.
Which size is best?
There are a number of areas to consider here, the first being the size of your kitchen, as not all homes are blessed with a large kitchen.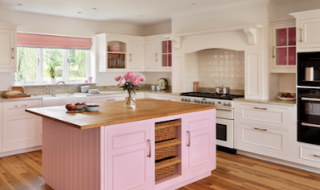 If you can barely move around the island it is obviously going to be too big, and if it looks lost in the middle of the room and doesn't function as you need it to, then it will be obvious that you have chosen too small an island.
But how would you go about getting the size just right?  For a start it's really important to measure the space available. I know that sounds straight forward but this is not just the space required to move freely around the island.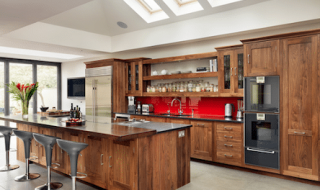 You will need to take into account the amount of room needed for each cupboard, drawer, and appliance that are already placed within your kitchen to open, plus the ones you have chosen for your island.
All those polished pots and pans stuck at the back of the drawer, and your favourite wine unreachable buried at the back of the wine cooler, are infuriating! Not the desired affect you would want from your kitchen.
An island should be adding character and style, and for many a practical and enjoyable area to work. It can even be a place to eat, saving on space that would otherwise be taken up with a breakfast or dining table.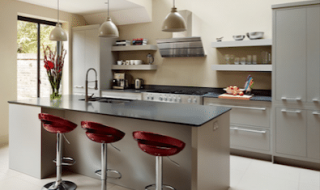 Again think of the space, if it's a bit tight leaving the chairs out in the room, have your island designed in a way that means you can tuck the chairs away when you've finished with them.
Having a great eye for how things fit together would be really beneficial when deciding where to place items such as the island, but to get the professional bespoke kitchen look, it would be wise to contact a kitchen designer.
At places such as Harvey Jones the designers have a keen eye as to which will suit your kitchen and your needs, helping you choose a slim, long island for a thin room, or a large square island for an equally large and square kitchen.
They can even help you gain that added surface area by positioning a butcher's block or a peninsula in the right place, that's if you are unable to fit a kitchen island.
What's Underneath?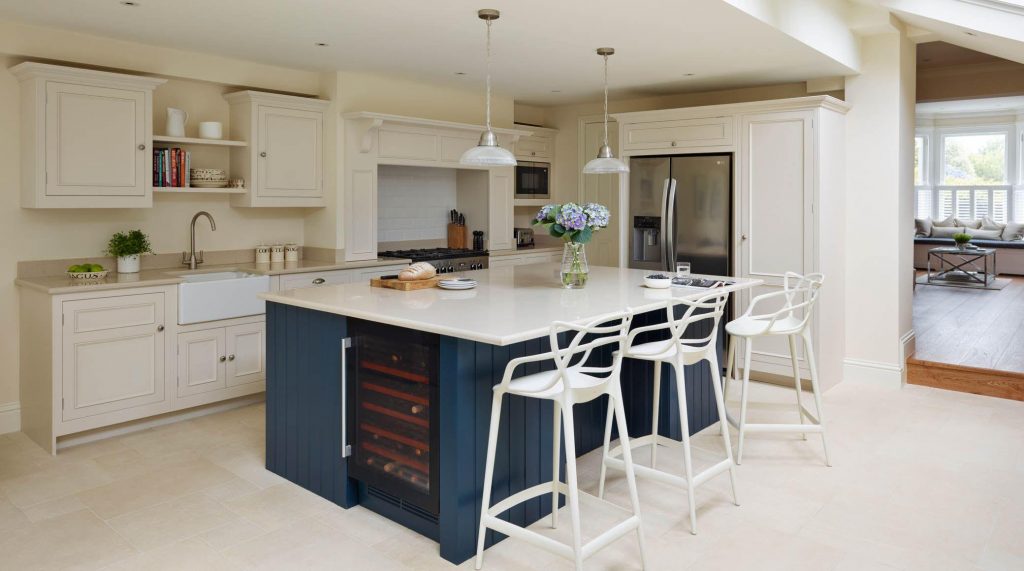 You may be redesigning your whole kitchen or adding in items you feel it's missing. This could be the much wished for dishwasher, the stylish wine cooler, a state of the art cooker or simply more storage space.
The island is a great new area to play with as it opens up a whole new area that now incorporates other kitchen items without them looking like they've been randomly placed in the middle of the room.
Either way it needs pre-planning, as you may need to run electrics to the island, or fit relevant plumbing systems for supplying and removing water, which would all be fitted in a lot easier before the island is placed.
How to design the space below the island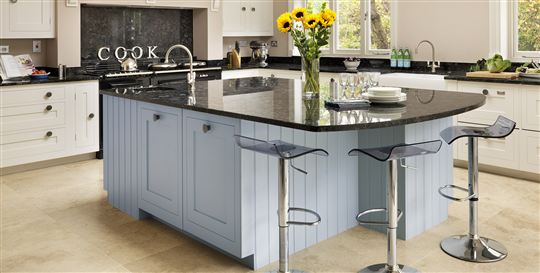 This is a very personal decision, you may want duplicate items already found within your kitchen's original design, you may want items you have never been able to fit in before, or you might like the exact amount of storage and appliances within the room but want a change – a new design – therefore requiring it all to be moved around.
Four tips for the space below your island.
Keep the kitchen work triangle as it helps with ease of access whilst your cooking to the most used areas
If you place a cooker or hob within the island and you like entertaining, then place them so you can face towards your guests whilst cooking.
When filling the storage spaces/cupboards place within them the items you use most regularly so that they are conveniently nearby.
A great way to impress guests and to include them in the fun within the kitchen is to place the wine cooler facing outwards toward your guests.
---
If you have any great ideas as to what you would place under your kitchen island let us know in the comments below.