Bring the beach to your front door with these simple steps to achieve a chilled, modern, beach look in your own home.
Whether you're a surfer who is out on the waves every day, or you're an interior design fanatic looking to give your home that uplifting, "living on the water" vibe, adding some new surf inspired interior elements to your home can really change up the atmosphere.
Let's be honest, we have all dreamed of a coastal life, enjoying an effortlessly styled beach-front home that calls out to any new visitor "this is what life is like by the ocean".
Those who live in the depths of a city, or way out in the country may struggle to achieve that chilled home aesthetic, but, you can easily pick up beachy accessories at your local surf store, online, or even at a nearby Ikea!
Follow our four top tips to get the look at home:
Shake things up with beach hut inspired wooden furniture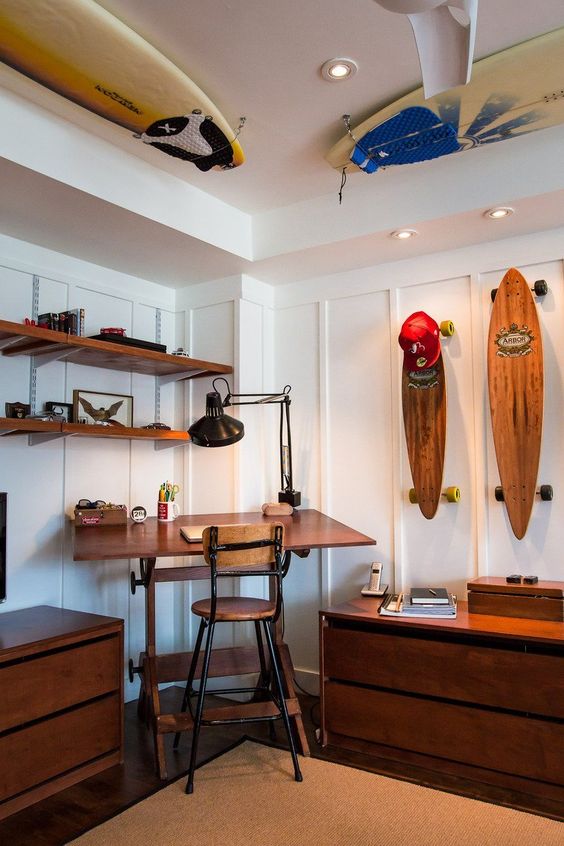 Image Source: ApartmentTherapy.com
Natural woods never go out of style and they're a key component to nailing that sought-after beach vibe. Mixing different types of wood will add interest to your living space, this can be a difficult look to pull off, so if in doubt, embrace contrast.
Pairing a light natural oak with rich dark tones of wood is a sure way of achieving a beach look in your home. Combining too many different woods can look eccentric and chaotic, so before you go too crazy, remember that there are rules to this trend.
Simply adding in some white pieces of furniture will help create a delicate balance between the different tones, restoring the harmony in your home.
Position some hanging planters on your wall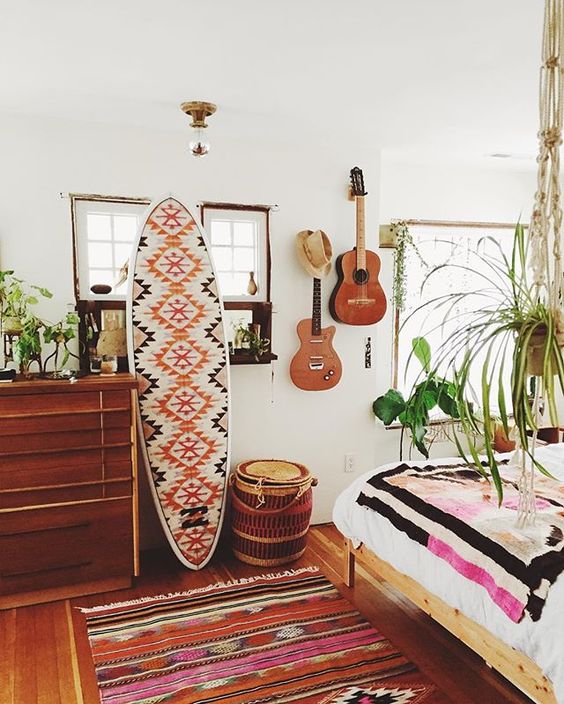 Image Source: Instagram emily_katz
Do hanging planters make you feel like you're at the beach? Not really, but adding some greenery into your home is a great way to connect it with the outdoors.
Plants and flowers add a fresh and organic feel to your house, plus they're linked to wellness and can help to reduce stress. Isn't that what the surfer style is all about?
Adding the ultramarine vibes
If you really want to clash the waves with your new surf inspired house, then playing with texture and colour is a simple way to embrace the trend.
Scattering plush cushions and cosy throws, in a mix of organic fibres and bold shades of blue, across your couch will not only give your home a welcoming feeling, but it will also add a splash of colour.
Soft furnishings can transform your house into a home and will help to pull together the whole surf inspired look you want to achieve.
Wooden surf boards are becoming cooler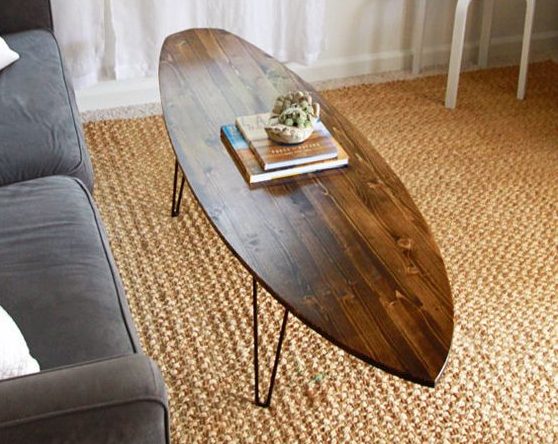 Image Source – etsy.com – Via GemsOfTheSoil
What better way to emulate surf style than to repurpose an old wooden board? You can up-cycle your old surfboard and use it as a contemporary wall hanging, or as a quirky shelf for all your surf memorabilia.
Or, for those less enthused by surfing, it could be a wonderful way of storing wine for when guests come around to see your new beach style home.
You could even add some legs to repurpose your old surf board as a unique coffee table.  Whilst it may seem a little cliché to create surf style with a physical surf board, it can end up being the focal point of your room and is sure to show your passion and enthusiasm for the waves as well as your buoyant personality.
Main Image Source: TheDesignFiles.net