If you are conscious about architectural design and have a requirement to get the overall look of your property just right then one of the most important areas of your home that should not be overlooked is the garage.
This is because the garage door will form a large part of the front elevation of the building and as a result will in many cases be clearly visible from the street meaning choosing an appropriate design is essential to achieving the correct aesthetic appearance of your property.
Get it right and the overall appearance of the home will be enhanced, but get it wrong and the look you may be trying to achieve will be lost altogether along with a significant portion of your hard earned money.
With this in mind, here we take a look at 3 of the most popular garage door designs available within the UK, identify how they operate and examine what the main differences are between them all.
Sectional Garage Doors
---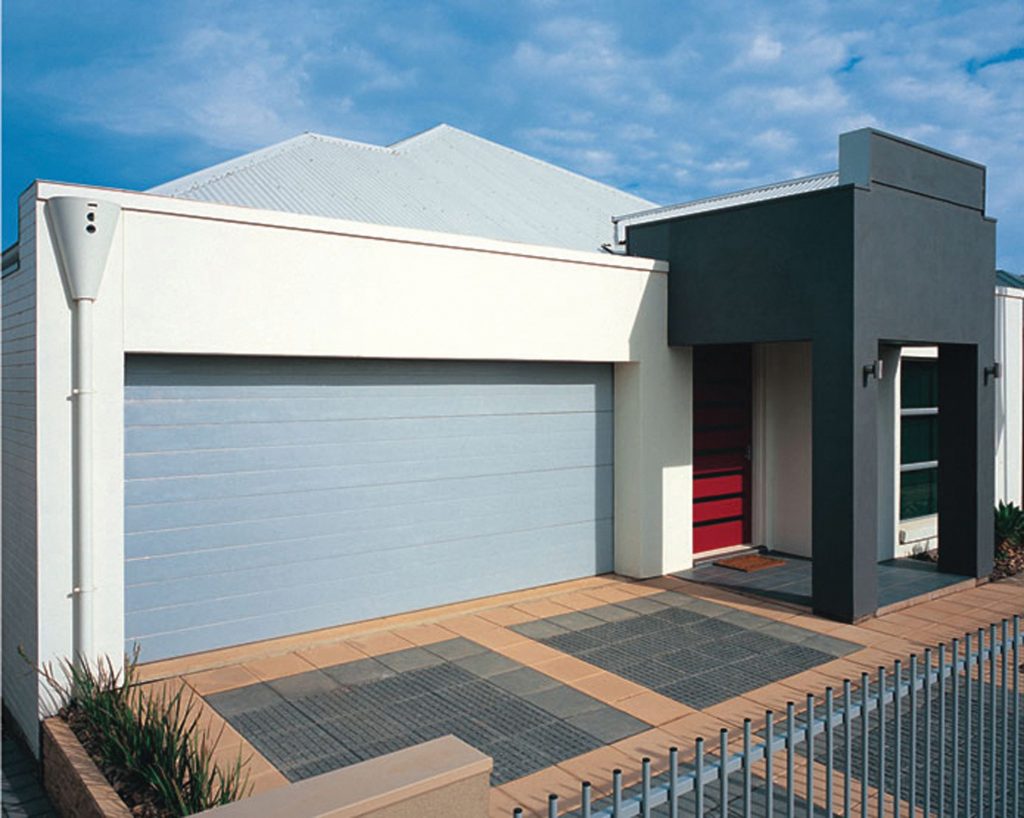 ---
Available from numerous leading UK manufacturers a sectional door is an excellent choice for any property owner looking to get the maximum number of benefits they can possibly get from their investment.
Constructed from a double skin of steel with a 40mm insulated panel sandwiched in the centre this type of door will offer energy efficiency, security and stunning levels of aesthetic appeal at a relatively affordable price.
Featuring a space saving vertical lift design the door is constructed from individual pales that are hinged together to form a solid security barrier across the entrance of the garage.
As the door lifts vertically, the individual panels folds backward along horizontal tracks located within the ceiling allowing it to be stowed away neatly inside the garage ceiling space when open.
This simple yet revolutionary design means that parking and access issues on the driveway become a thing of the past (something which is not possible with a traditional up and over door as the panel kicks out at the bottom during operation).
In addition to the aforementioned space saving and energy efficiency benefits the other main selling points of a sectional garage door are as follows.
Numerous Panel Designs – To ensure a sectional garage door is capable of being installed into the widest range of architectural property designs possible the panels are available to specify in numerous options.
These include Georgian panels (perfect for traditional properties), ribbed profiles (more suited to modern styles of architecture or where a more subtle design is a requirement), flat panels (create a more utilitarian style) and even fully glazed panels (where an ultra contemporary appearance is an absolute must).
In addition to this the appearance of the door can be further enhanced with the addition of windows (most available as a traditional sunburst design although stainless steel porthole windows have seen a dramatic rise in popularity in recent times).
---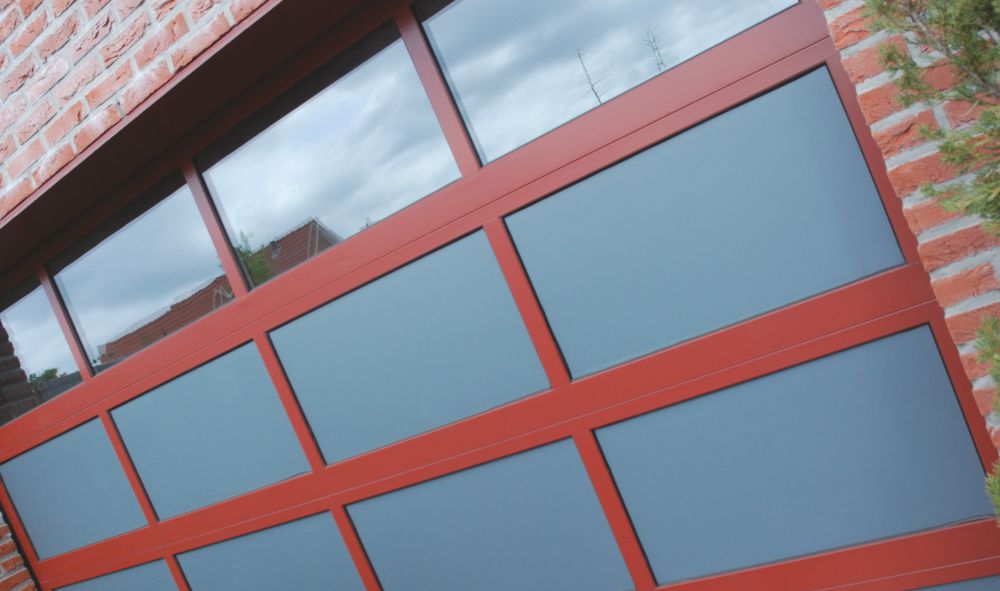 ---
High Levels of Security – The very nature of the doors construction enables the highest levels of security to be achieved as standard.
The double skin steel panels and added insulation create a very rigid, durable and secure barrier to not only intruder penetration but also the elements.
Additionally, because most doors are specified by the homeowner as automatic there is no need to fit a handle (again something which reduces the chances of the door being forced open by handle as a leverage point).
Made to Measure Sizes – Designed to fit to the back of the opening a sectional door must have a proper fit in order to provide the maximum levels of efficiency and performance.
As such many mainstream manufacturers (such as Seceuroglide, Gliderol and Alutech) offer made to measure sizes as standard (meaning no extra charge).
Whilst this may not sound much it ensures the door will fit perfectly to your opening requirements regardless of its measurements (as garage openings are rarely built to the correct size to fit a standard off the shelf size).
Roller Garage Doors
If you are looking for a great all round door at a reasonable price then investing in high quality roller garage doors makes perfect sense as they offer the average homeowner lots of great benefits at a more affordable price than a sectional option.
Available in a choice of single skin and insulated variations they both follow the same proven design principle of a curtain attached to a spindle.
This means that as the door is opened and closed the curtain simply rotates around the spindle (or drum wheel as some manufacturers will call it) in the same manner a carpet would be rolled up.
As a result of this space saving design the internal space within the garage ceiling is freed up as an additional storage area (which ideal for hanging ladders from if you are a keen DIY enthusiast).
Additionally because a roller door requires no framework (it fits inside the garage to the back of the opening) the maximum possible drive through width and height is maintained making accessing the garage much easier for today's modern vehicles which seem to be getting progressively larger with each new model that comes to market.
---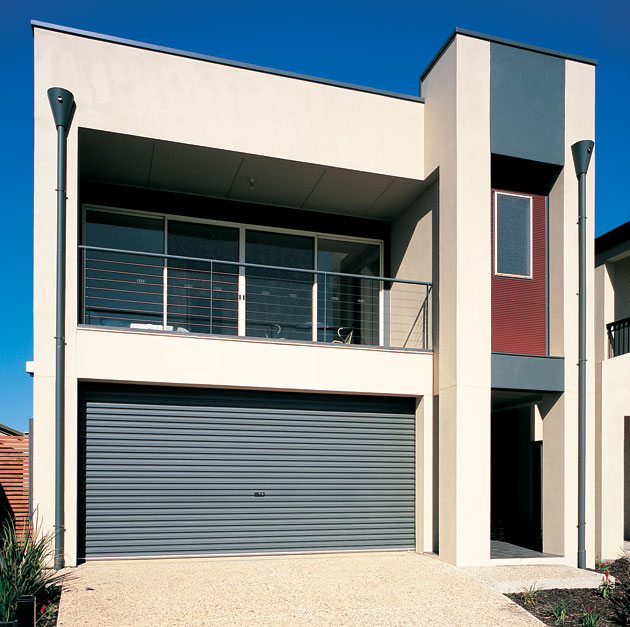 ---
So now we have looked at the basic design what other key benefits does a roller door offer?
Timeless Appearance – As the doors are constructed from individual panels that interlock together the design aspect of the door is very minimalist.
With nothing more than a few horizontal lines running across the outside face they will blend with virtually any style of UK architecture including contemporary, traditional, Victorian and Georgian designs.
Energy Efficiency – Where an insulated roller garage door is your preferred choice the foam filled insulation within the core of the door will help restrict the amount of heat lost from within the garage.
This means that should the garage be attached to the main part of the property it will be possible to better regulate the internal space (resulting in warmer rooms in the rest of the house and a heating system that does not have to work as hard which means lower utility bills for the household).
Numerous Colour Options – In order to create a harmonious overall appearance to both the home and garage it is important that a common colour scheme can be maintained.
As such many roller door manufacturers understand this common requirement and can offer lots of colour options at the same price as a white door (something other door types cannot offer).
So whether you need a popular finish such as black, prefer a more contemporary option such as anthracite or require a wood grain finish such as golden oak or mahogany (to match existing PVC windows and doors) there is guaranteed to be an option to suit any homeowners taste or colour palette requirements.
Wooden Garage Doors
---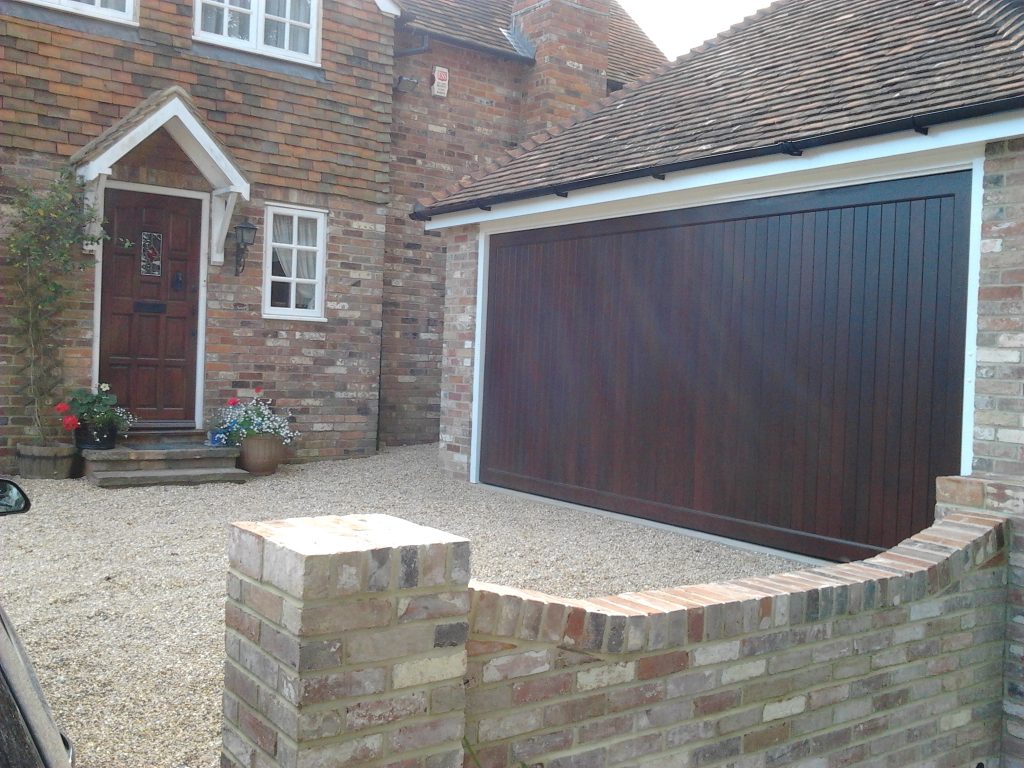 ---
If you are a traditionalist and hanker after the finer things in life then nothing says quality and class quite like a handmade wooden garage door.
Suitable for period homes the natural properties of the timber will shine through to create a magnificent statement to the entrance of your garage.
Available in a wide range of designs (from the simple vertically boarded design through to more elaborate raised panel options with windows) it is possible to create the perfect blend of aesthetic appeal, security, practicality and affordability should you choose to install a garage door constructed from timber.
How does a Wooden Garage Door Operate?
Depending upon the size of the opening you need to secure a traditional wooden garage door will usually be available in a one piece up and over design or as a pair of side hinged doors.
For the up and over door, automation is often the preferred method of operation as it provides the user with a more practical way of opening and closing it whereas the side hinged door will be better suited for the garage that get only occasional use as they prove more difficult to automate.
In conclusion, now we have looked at the 3 most effective types of garage doors for sale within the UK you should have a far better understanding of each design, how they may fit into your homes overall design and above all may have inspired you to go out and make some improvements to your property.
In fact when you consider the return on your investment will be far greater than the initial outlay you would be daft not to.