Copper has been popular for a number of years now, and it looks like it's set to stay.
Its warmth is a welcome departure from the often sterile and cold Stainless steel that had been popular for such a long period of time now.
You can find many items made of copper for sale on the high street, but we wanted to show that if you're looking to decorate your home with warm metals such a copper, you can choose from many more companies with stunning designs.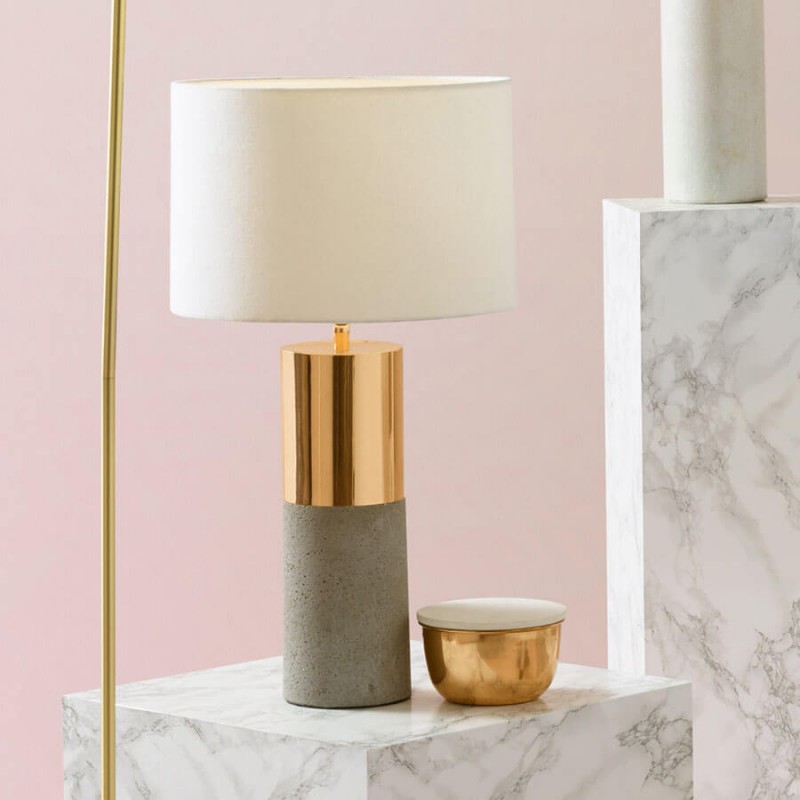 Image: Copper Table Lamp With Half Concrete Base – Zurleys.co.uk
If you haven't embraced the copper trend into your home and you're looking for something subtle to see if the colour works for you, why not start with small accessories like plant pots or trinket holders, working up to larger items or items with a touch of copper like the concrete and copper lamp from Zurleys above.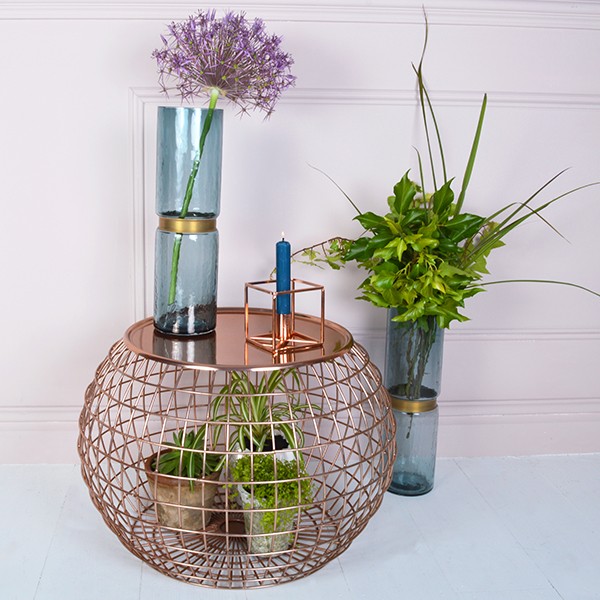 Image: Copper Wire Side Table – MiaFeur.com
Adding plants to your home has many benefits, and very much on trend. With children or pets it can be a bit of a struggle to keep your plants in one piece, and some can be toxic if eaten.
Not only is the style of the copper wire side table by Mia Flear an exciting and fun design, it will also keep your plants away from little ones – win win!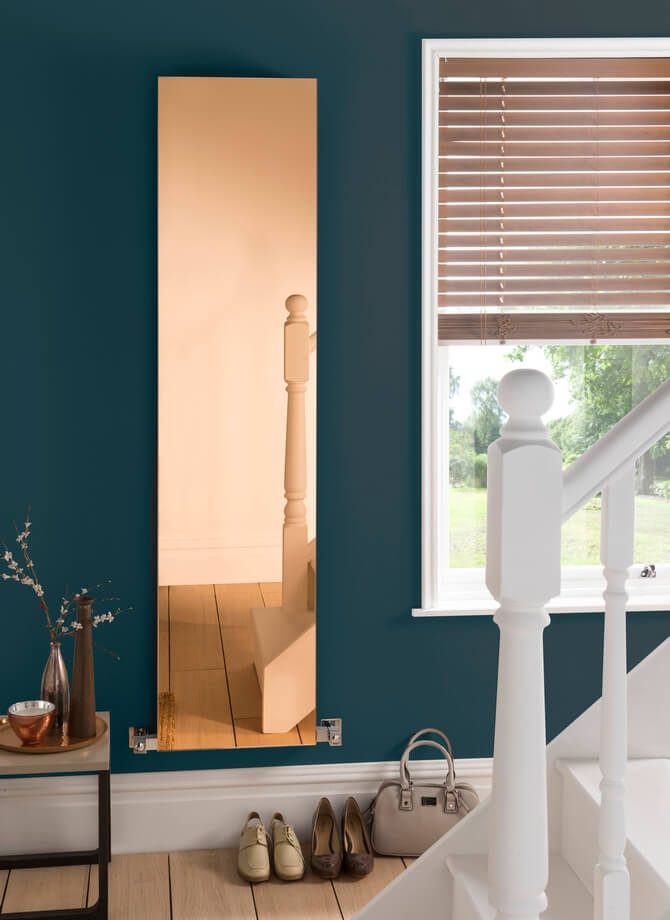 Image: Aestus Copy Mirror DesignerRadiatorShowroom.co.uk
Although heating for some will only be seen as a practical necessity, it doesn't have to be that way. With so many creatively designed radiators you can add style as well as warmth to your home.
The Copy Mirror radiator by Aestus is a great example of an aesthetically pleasing design that adds that something extra special, plus at the same time functioning as a mirror – what a great way to heat your home!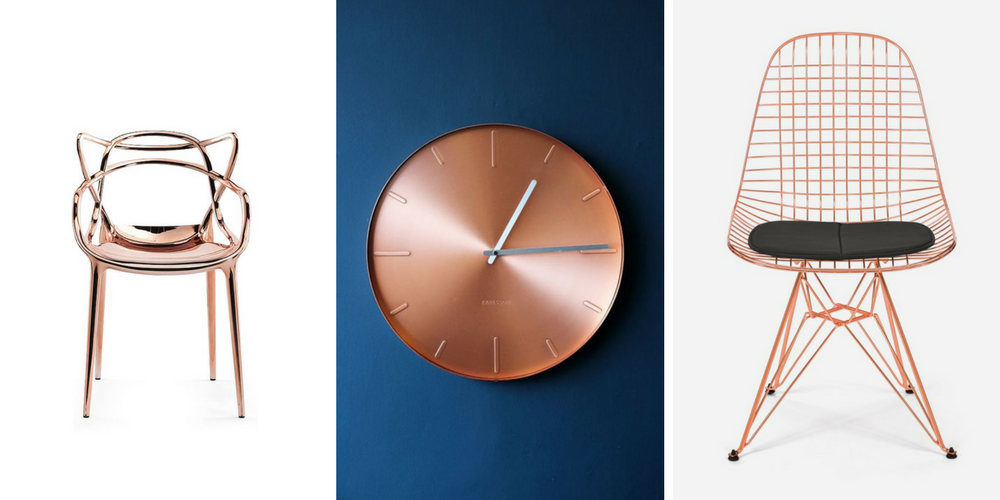 Image: Kartell Metal Masters Chair LoveTheSign.com, Round Copper Wall Clock RockettStGeorge.co.uk, Case Study Wire Chair Eiffel – Copper Modernica.net
Whether your dining table leans towards a more modern style or a rustic country design, the Kartell Metal Masters Chair and the Case Study Wire Chair by Eiffel would fit in perfectly.
Copper is a great material that bridges an array of interior design periods, mixing perfectly with old and new.
With navy blue being such a popular colour for walls for fall 2017 (PANTONE 19-4029 Navy Peony), we had to also show you the Round Copper Wall Clock by Rocket St George, look how well the colours work together.
According to Pantone Navy Peony is:
"A mainstay for the season for both palettes, Navy Peony is a dependable and an anchoring shade. Solid and stable, the hue takes some of the load off of black as a go-to neutral".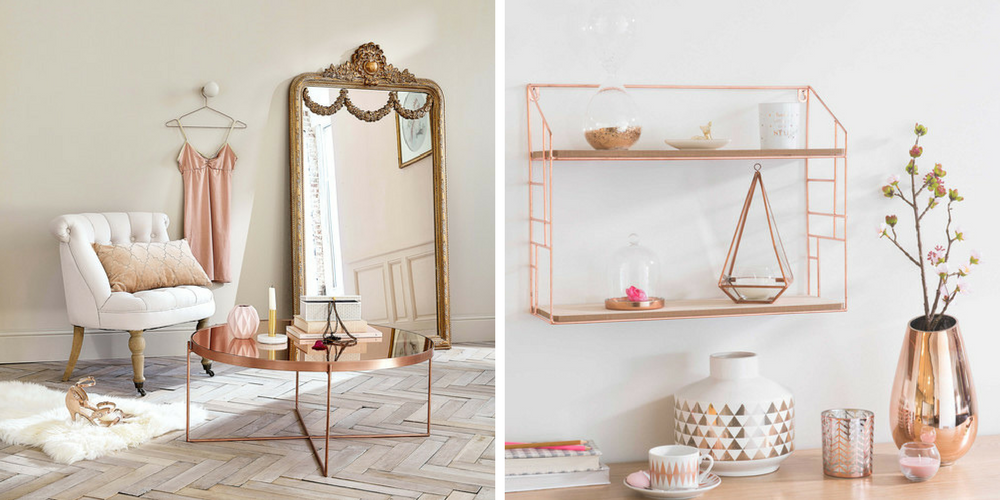 Image: Comte Copper-Plated Metal Mirror Coffee Table – MaisonsDumonde.com, Lulea Copper Metal Wall Shelf & Copper Glass Vase – MaisonsDumonde.com
Copper is a great look for apartments were you have a mix of tastes, as not only does it work well with both modern and classic styles it also works perfectly with masculine and feminine taste.
Softening and adding warmth without looking overly feminine, and adding that extra something to take away the harsh look of a minimalist bachelor flats.
If you have an item of furniture or an accessory in copper that has been a best buy for you, do let me know in the comments below.