We've noticed a new trend emerging recently:  wildflowers.  And we think it's blooming marvellous!  We've seen wildflower prints placed onto everything from teapots to dresses.  You heard it here first!
Get ahead of the curve by decorating your home with wild flower printed pieces this season.  Below we share 10 of our favourites for your inspiration:
1.  Nostalgic wallpaper by Woodchip & Magnolia – limelace.co.uk
This beautiful botanical wallpaper is designed to take you on a trip down memory lane.  It should remind you of being young and carefree, running through meadow grass during the balmy days of late summer.  We think it'd work best in a bedroom, especially if you're aiming for a relaxed boho vibe.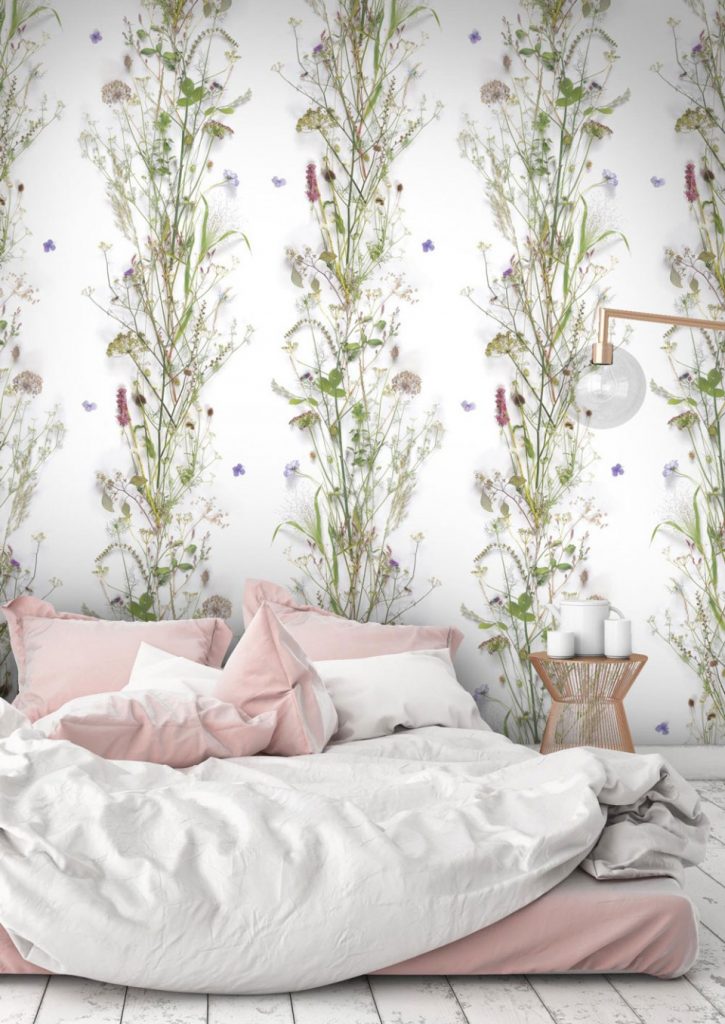 2.  Wild flower set of three printed glass frames by Arthouse – Very.co.uk
Add a touch of the trend to your room by hanging this set of frames on your wall.  The set comprises of pretty pressed wildflowers sandwiched between glass in copper frames.  Hang above a 'cabinet of curiosities' for maximum impact!
3.  Wildflower mini chest of drawers – pib-home.co.uk
This charming set of drawers will sit pretty upon your desk or dressing table.  We love that each drawer has been wallpapered with a different floral print.  The chest of drawers is finished with a coat of cream paint, which has been distressed to give it that rustic, shabby chic look.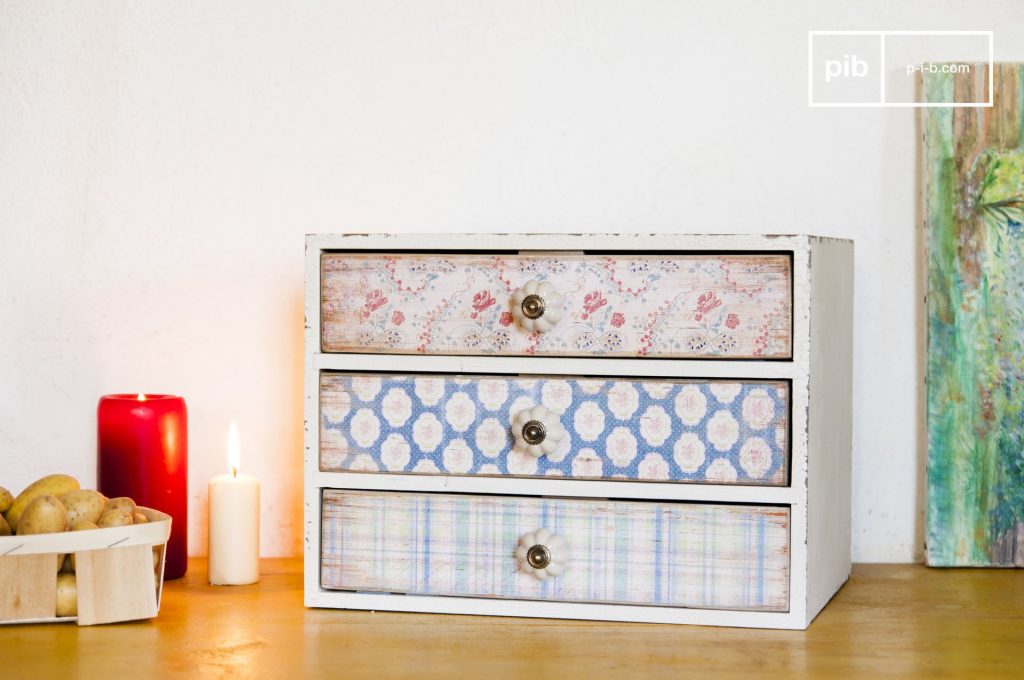 Add a splash of colour of your couch with this stunning cushion.  It features watercolour illustrations of individual wildflowers on a cream background. It's finished with an olive green coloured trim.  We picture it sitting on a wicker armchair in the conservatory.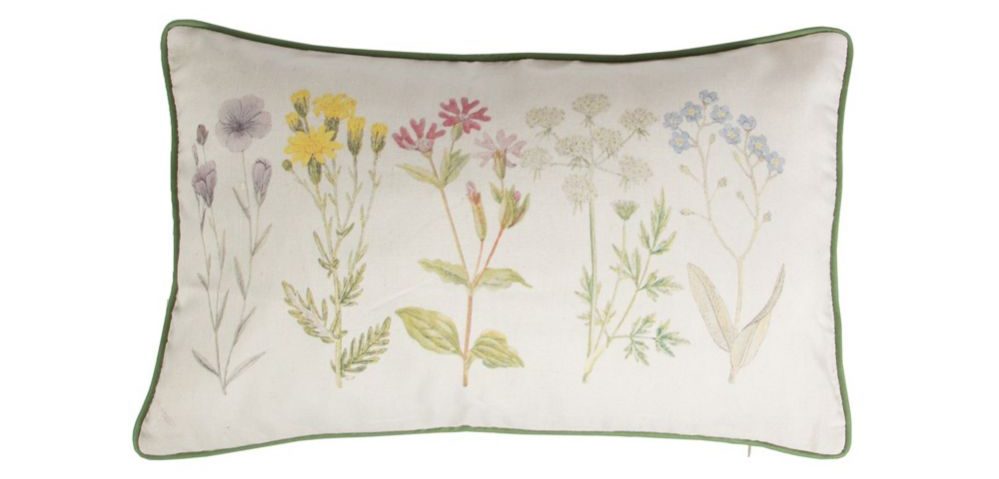 5.  Hedgerow tea towel – beefayre.com
Beefayre's tea towels are the quintessential accessory for your country kitchen, perfect for brightening up the front of your stove.  Plus, they do good – Beefayre donates a portion of their profits to bee conservation charities.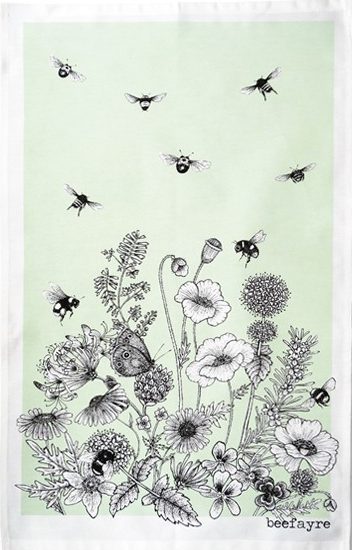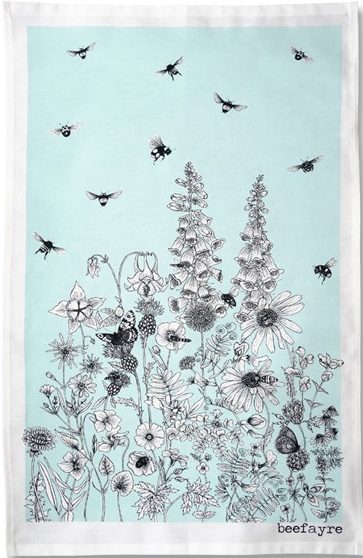 6.  Wild flowers print (framed) by Alex Foster – artfinder.com
This bright and colourful print will add cheer to any room in your home.  The artwork features six British wildflowers that can be found in any meadow or field, including buttercups, cornflowers, chamomile, foxgloves, poppies and yellow flag irises.  Plus, it's framed and ready to hang.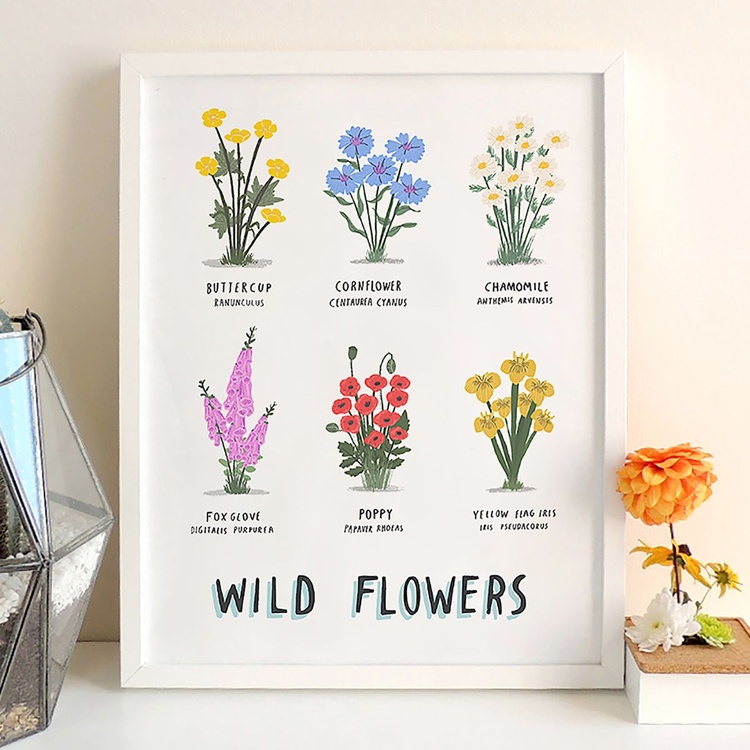 Fake it until you make it with these artificial wild flower stems!  Pick your favourites and assemble in a vase.  Added bonus: they won't need watering and they'll last a lot longer than fresh cut flowers!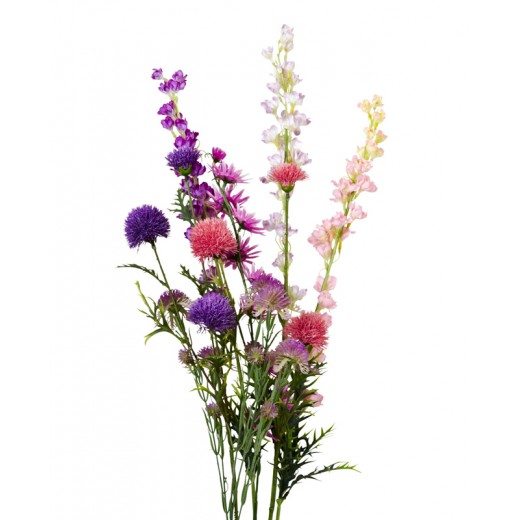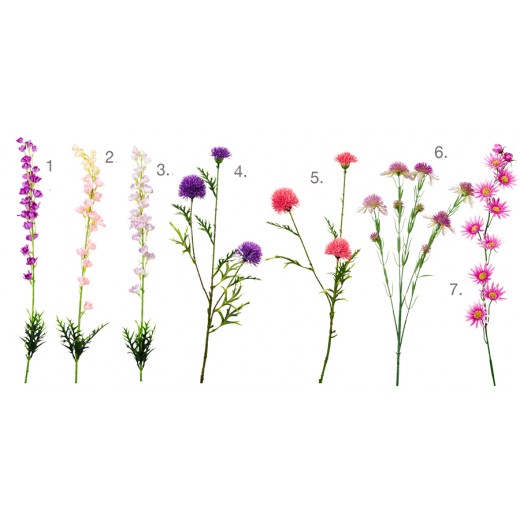 8.  Wild flower curtains by Prestigious Textiles – britishmadeinteriors.com
Prestigious Textiles have designed this simply splendid watercolour fabric which British Made Interiors will turn into curtains or blinds at your request.  We think they'd add colour to your kitchen or brighten up your bathroom.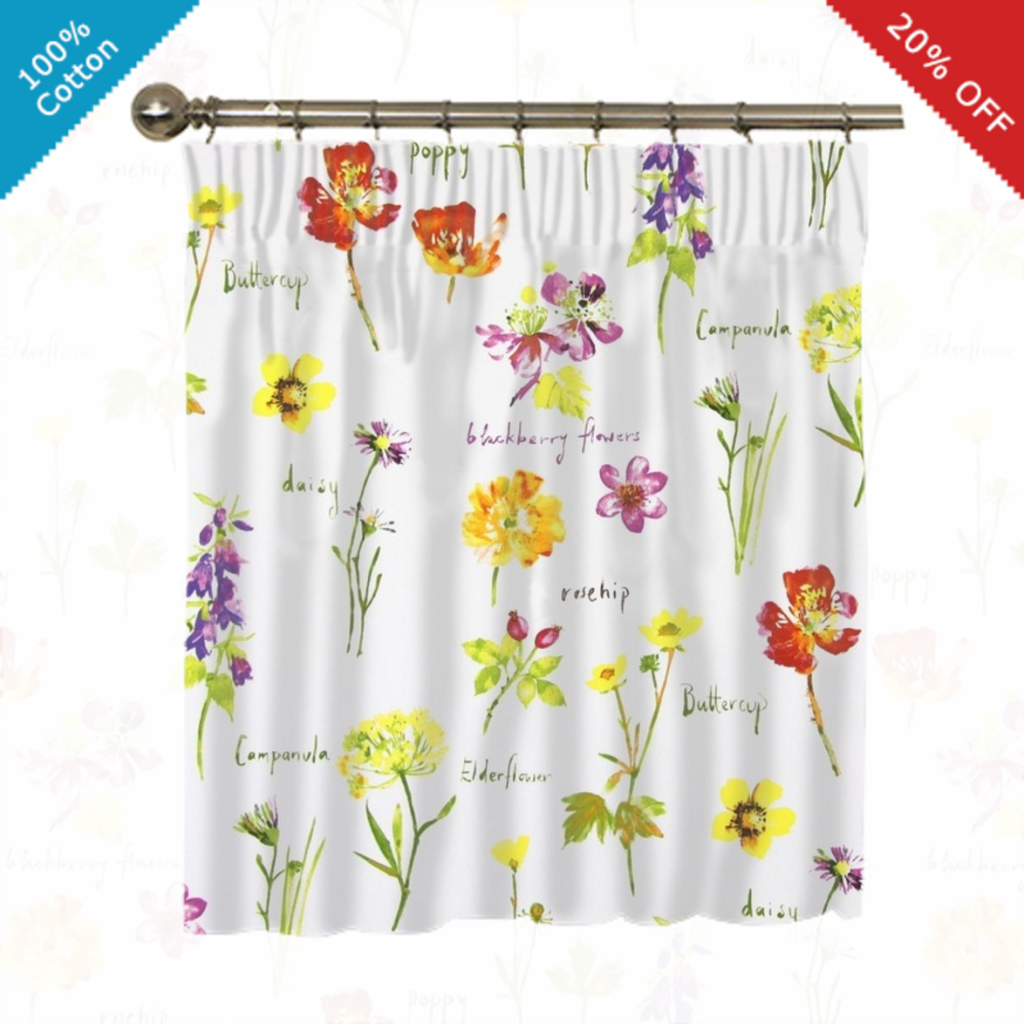 9. Wildflower giclee print by Clover Robin – notonthehighstreet.com
This joyful piece of artwork features a spray of wonderful wildflowers, originally cut out of handcrafted paper and digitally printed using the giclee process (used for high-quality art prints).  The colourful blooms will brighten up any corner of your home.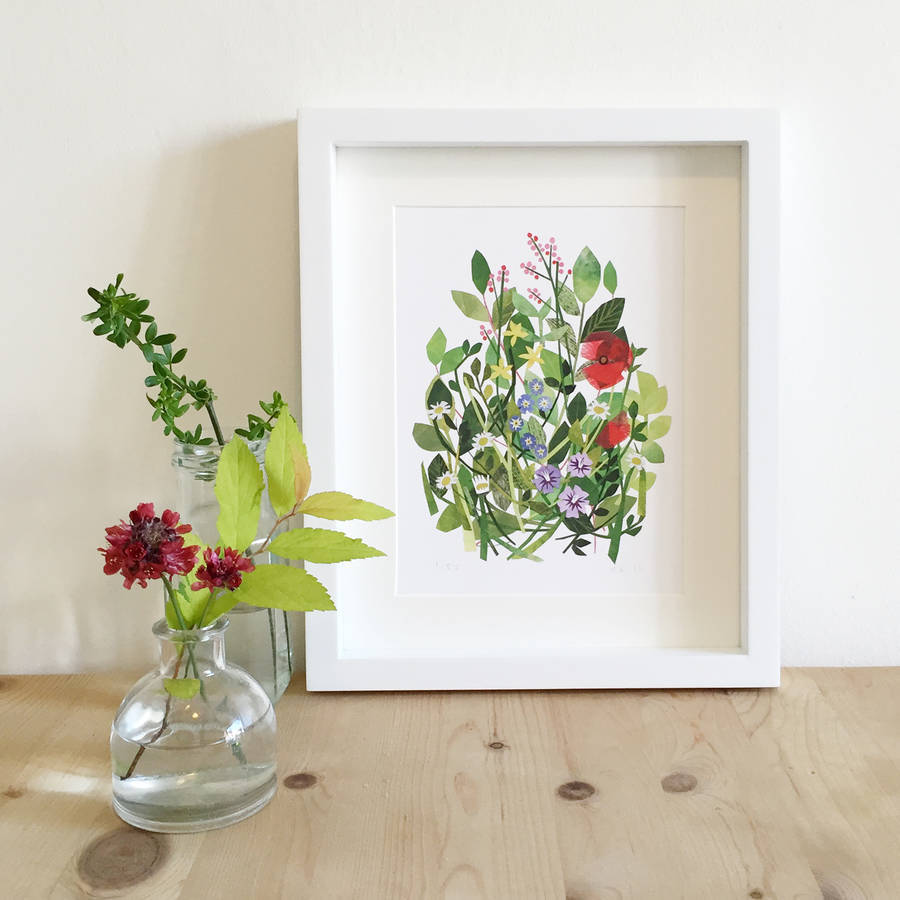 10.  British wild flowers mug by Little Paisley Designs – notonthehighstreet.com
Almost too pretty to use for tea and coffee, this ceramic mug features original watercolour illustrations by Bristol-based artist, Ellie Longhurst.  Although this is technically a gift, we think it'd be the perfect accessory for your home.  Why not place it on your desk and fill with colourful pencils?