Buying wood flooring can be a big decision from deciding which range to go for to picking your favourite colour, length, style and finish.
There's a lot to consider in order to achieve your desired look and feel. These 6 top tips will help make sure you chose the right wood flooring to compliment your home.
Why Choose Wood Flooring?
Affordable: Wood flooring is fantastic value for your money, with a range available to suit any budget. Laminate is your go to product for cheap wood flooring which imitates the characteristics and style of the more superior solid and engineered wood to an impeccable standard. Whilst luxury solid wood flooring may come with a higher price tag, the quality of the wood along with the impressive lifespan justifies its worth. It not only adds value to your property but will look amazing for years to come.
Maintenance: The finish of your wood flooring will determine the right products to use to clean it. Oiled finish requires an oiled base cleaner whilst lacquered and varnish finish can be treated with a standard hardwood cleaner. This is to ensure you do not damage the finish or defect the surface of the wood; harsh chemicals can lift the oil and dry out the wood causing stains. The cleaning process is quick and easy. Simply spray round with the appropriate cleaner and rub over with a dry mop.
Repair: Scratches, dents and marks in solid and engineered oiled woods are easily repaired with a simple re-coating of oil. This can be self-applied and will restore the wood back to its natural beauty. For other finishes a more advanced re-sanding may be required.
Environmentally friendly: Do your bit for the environment – look out for the FSC approved source logo. This means your wood flooring has come from only the highest maintained and sustainable forests. Helping to preserve delicate ecosystems and ensuring that native cultures and economies are respected.
Variety of coverings: From traditional solid oak wood grains and authentic hand scraped designs to modern embellished colour tones, there is a vast array of finishes, styles and looks to choose from.
Which Coloured Wood Floors are Available?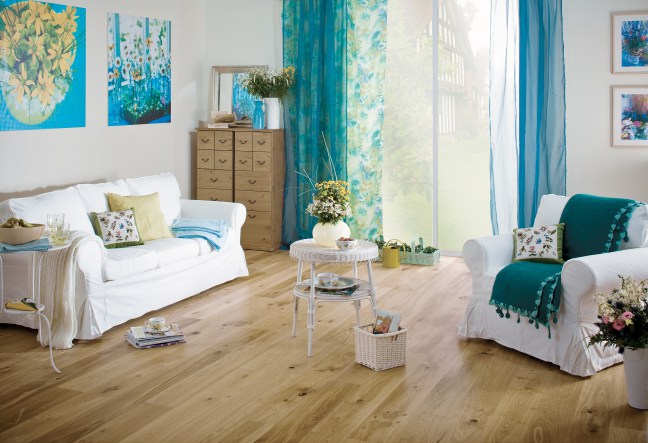 Light: If you're wanting to create the illusion of a bigger room light wood flooring are the perfect solution. The light will reflect and brighten up the room to create the feeling of a much more open space.
Medium: Moderate colour tones are the ideal balance of the warmth from dark woods and the freshness from light. They create a subtle feature to add character to a room without dominating the style.
Dark: The go-to wood for statement flooring. Dark wood flooring is renowned for its authenticity and traditional charm. Perfect for contrasting with décor, dark wood creates a warm, cosy feel whilst leaving a lasting impression to wow your guests.
Grey: Modern trends have seen a surge in grey coloured flooring. From contemporary styling to modern sophistication, grey tones are great for adding a touch of subtle colour to enhance your chosen style.
Choosing the Right Plank Widths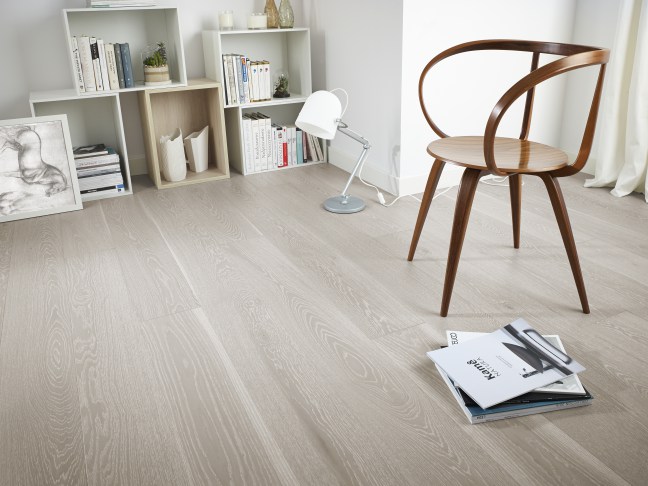 Narrow: These planks create an elongated, linear look which can make a room appear longer and more formal. Positioning is key; follow the direction of the longest length to create the look.
Wide: These planks are increasingly popular, especially in airy large areas as they emphasise the size of the room to make it feel even bigger. However they have the adverse effect on small rooms due to the volume of boards required.
Random Length or Fixed Length Wood Flooring?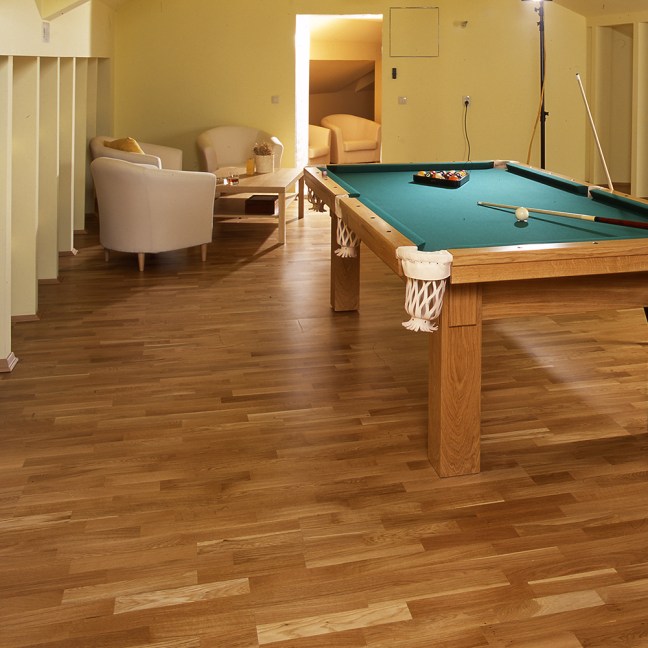 Random: These are normally the cheaper option as the random nature of the boards allows flexibility when it comes to processing the wood. If a staggered fitting is what you want then random planks are great value for your money. The fluctuation in lengths provides a more authentic look, appealing to both modern and traditional styling.
Fixed: These boards tend to be the more expensive option due to the amount of wastage involved in making sure that each board is sufficient quality and at the specified length. The overall look is similar to random styling in that they are both staggered. However the quality and uniform of the boards provides a neater finish.
What Wood Flooring Finishes are Available?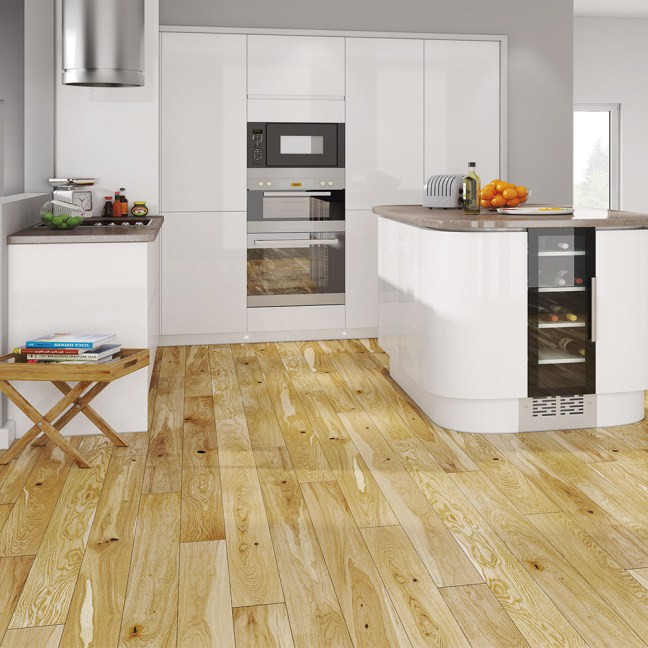 Wood flooring is manufactured with the following finishes: lacquered, oiled or left unfinished after treatment.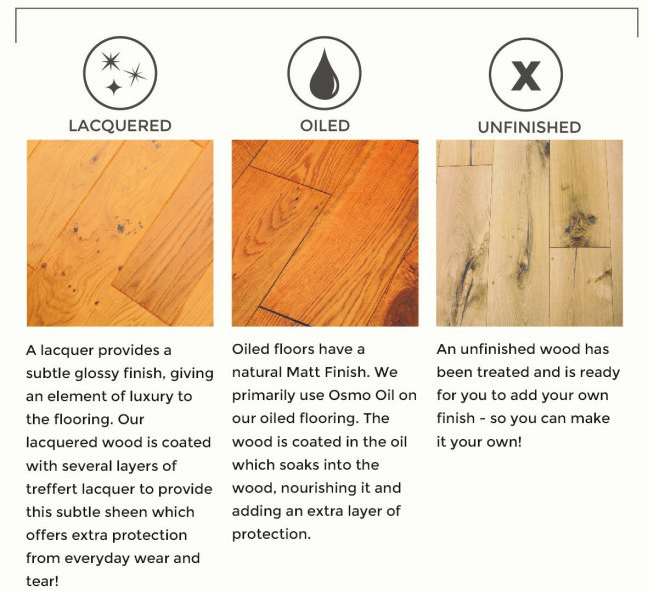 As well as being lacquered or oiled, the floors may have an additional or a combination of the below finishes: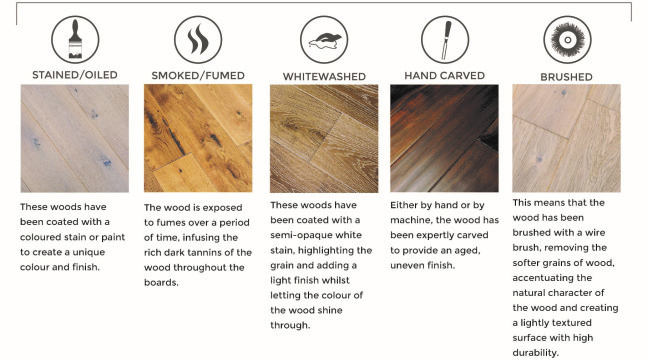 Wood Flooring Fixing Methods
Glue down: Both solid and engineered wood can be fitted by gluing the base of the board to the floor boards or a concrete floor (coated in a damp proof membrane) and gluing between each of the boards.
Floating: Engineered wood and laminate can be laid as a floating floor on top of underlay, gluing only between the joints. For a concrete sub-floor your underlay will need to have an inbuilt damp proof membrane.
Secret nailing: Nails are inserted at a 45° angle into the tongue of the solid/engineered wood boards and into the floorboards beneath to secure the floor in place.