Your bathroom is your own personal spa in the comfort of your home and should be a space to relax, unwind and pamper until your hearts content.
Whether your slice of pampering paradise is a luxurious haven filled with a sumptuous bath tub or an open shower, take a look at the new contemporary bathroom trends that will update your bathroom for a modern twist.
Natural Beauty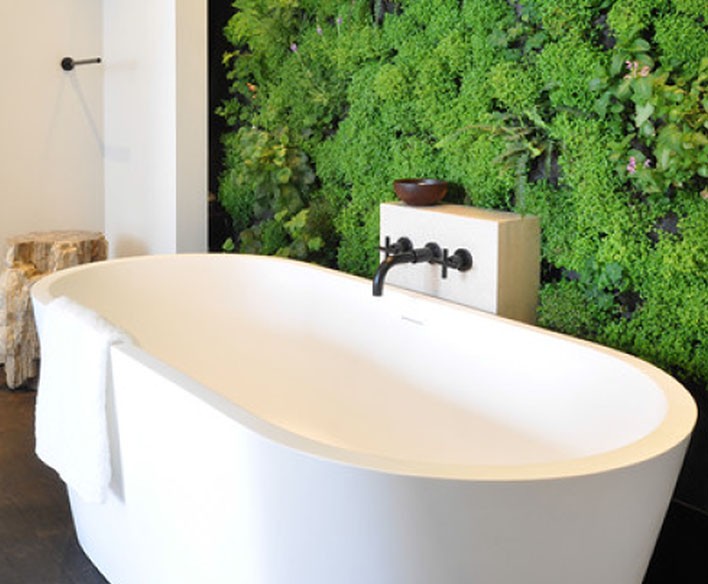 Bringing the outside in with natural foliage is a great way to add texture to your bathroom. Succulents, bamboo and orchids are some of the best plants for a bathroom and will add some greenery to your showering routine.
If you prefer to go all out with the jungle theme then why not add a vertical plant wall to your home. Adding plants will not only boost your health and wellbeing, but also add vibrancy to your bathroom design.
Creative Tiles
If you prefer to keep a minimalist theme or monochrome palette in your bathroom then getting creative with your tiling may be for you. Adding a focal point with your tiling design will update your bathroom without impacting on space.
You could go all out with a bold colourful bathroom design or choose tiles which create the illusion of texture underfoot or even create pathways to your bathtub and shower with a fun tile scheme.
Open Showers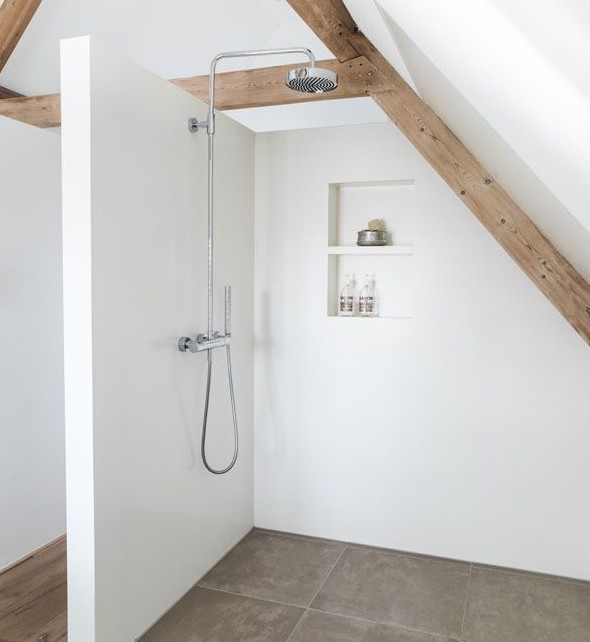 Open plan, curb less showers are fast becoming the shower of choice for the modern bathroom enthusiast. A chic open shower is the ultimate modern update for your bathroom and will add that indulgent spa feel to your everyday shower.
Whether you prefer to shower in private or not an open shower will allow you to create one big open area in your bathroom, especially if you are short on space.
Open Plan En-Suite
Much like the open shower, an open plan en-suite is only for the brave hearted. If you're choosing a luxury en-suite design then the chances are you want to appreciate it even when you aren't in the room and building the en-suite into the main area of your master bedroom will ensure you can admire it all day long.
This design works best on larger bedrooms so make sure you have enough space to incorporate your bathroom essentials. If you're concerned about privacy then you could add in a screen to protect your modesty.
Free Standing Bath Tubs
If you have the luxury of space then a free standing bath tub might be the modern bathroom update you choose. Placed in the middle of the room, a free standing tub will be the focal point of your bathroom.
Whether you choose to go for a traditional roll top bath or an ultra-modern design you'll need to ensure you have your bath time toiletries to hand or build in a purpose build vanity nearby to store your treats.
Add Homely Touches
Add in traditional homeware items that traditionally live outside of the bathroom, just make sure you don't mind the items getting wet and ensure they are sufficiently water proofed before your bring them inside.
Old fashioned vanity units, artwork and even wooden ladders used a towel rail will all add interest to your bathroom. Store cotton pads in washed out jars and toiletries in wicker baskets for some alternative storage solution ideas.
Whether you choose to make a small change or update your whole bathroom suite, these modern twists will update your bathroom and give you a contemporary space to relax and unwind in – bliss!