Real Christmas trees are beautiful, natural and smell wonderful. But they shed needles.  Lots of needles.
Artificial trees are simpler.   They don't need to be watered, they're easy to grab out of the loft and assemble year-after-year. You don't need to constantly hoover up, they can't rot and they're guaranteed to last to the end of the festive season—and then some. A high-quality artificial tree will last for years, saving you money in the long run.
The drawback is that some artificial trees look just… well, fake.   They look a little bit sorry for themselves with thin, spindly branches and too few needles.  Of course, you want your artificial tree to look like the real deal.
Below, we've selected eight of our favourite Christmas trees across a spectrum of price points to ensure there's something to suit everybody's budget:
7ft Midnight Forest Christmas Tree—Cox and Cox, £250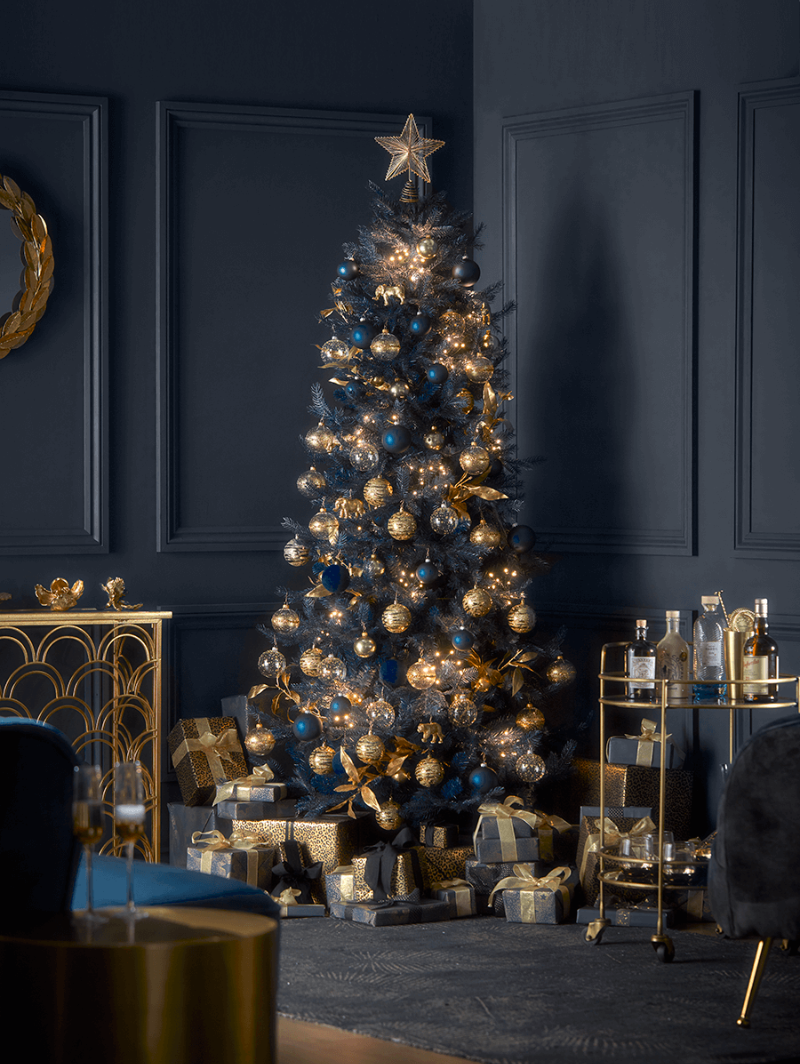 This tree is a real showstopper!   The rich-toned faux branches will look wonderful draped with golden garlands and glittery baubles.  Twinkling lights will complete the look.
Buy this tree at coxandcox.co.uk
6ft Falera Natural-looking Artificial Christmas Tree—B&Q, £70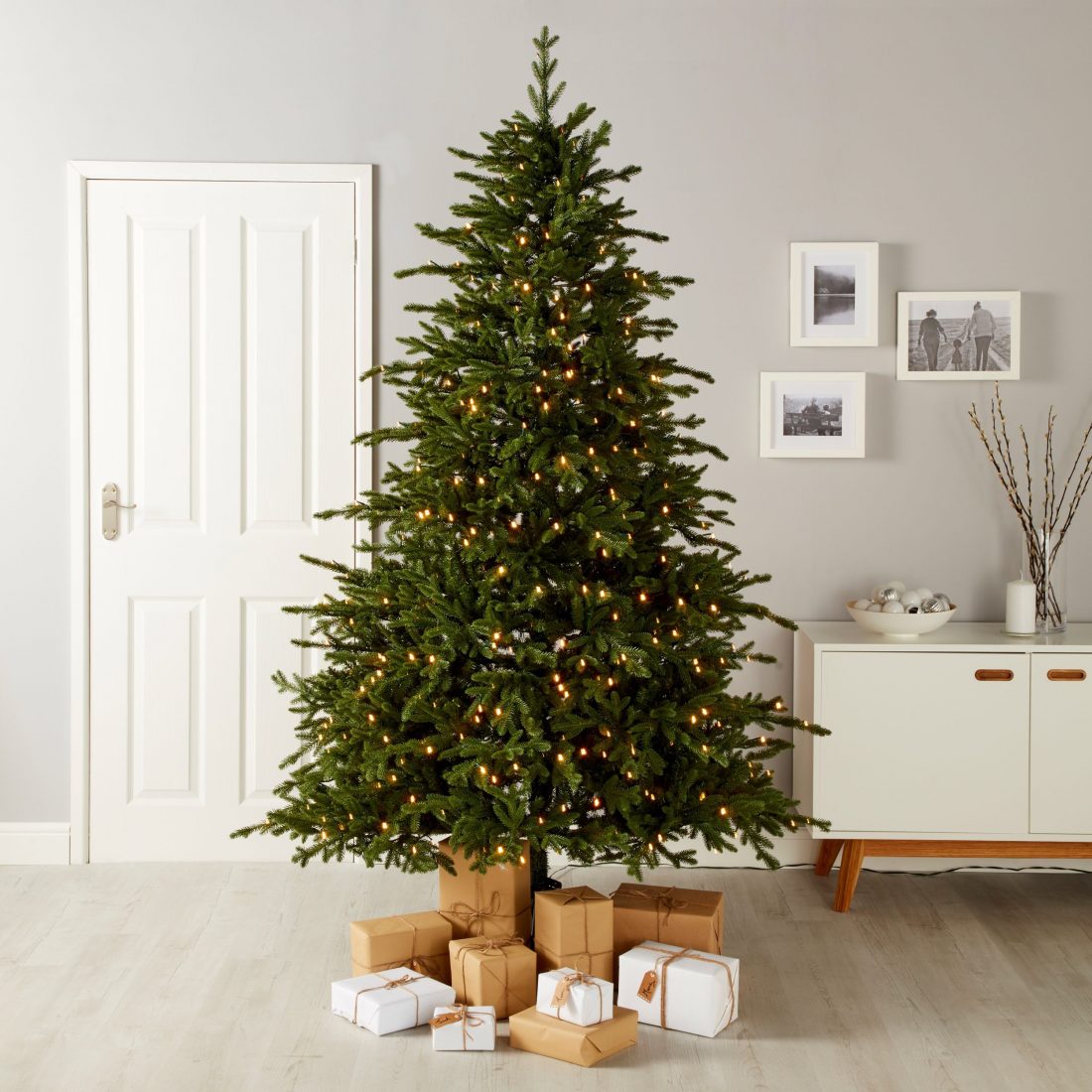 This traditional Christmas tree features a mixture of PE and PVC tips, creating a more natural look for an affordable price.  It has great reviews on the B&Q site with customers rating the tree's beauty and affordability.
See more reviews and customer photos at diy.com.
7ft Glenshee Spruce Artificial Christmas Tree—B&Q, £130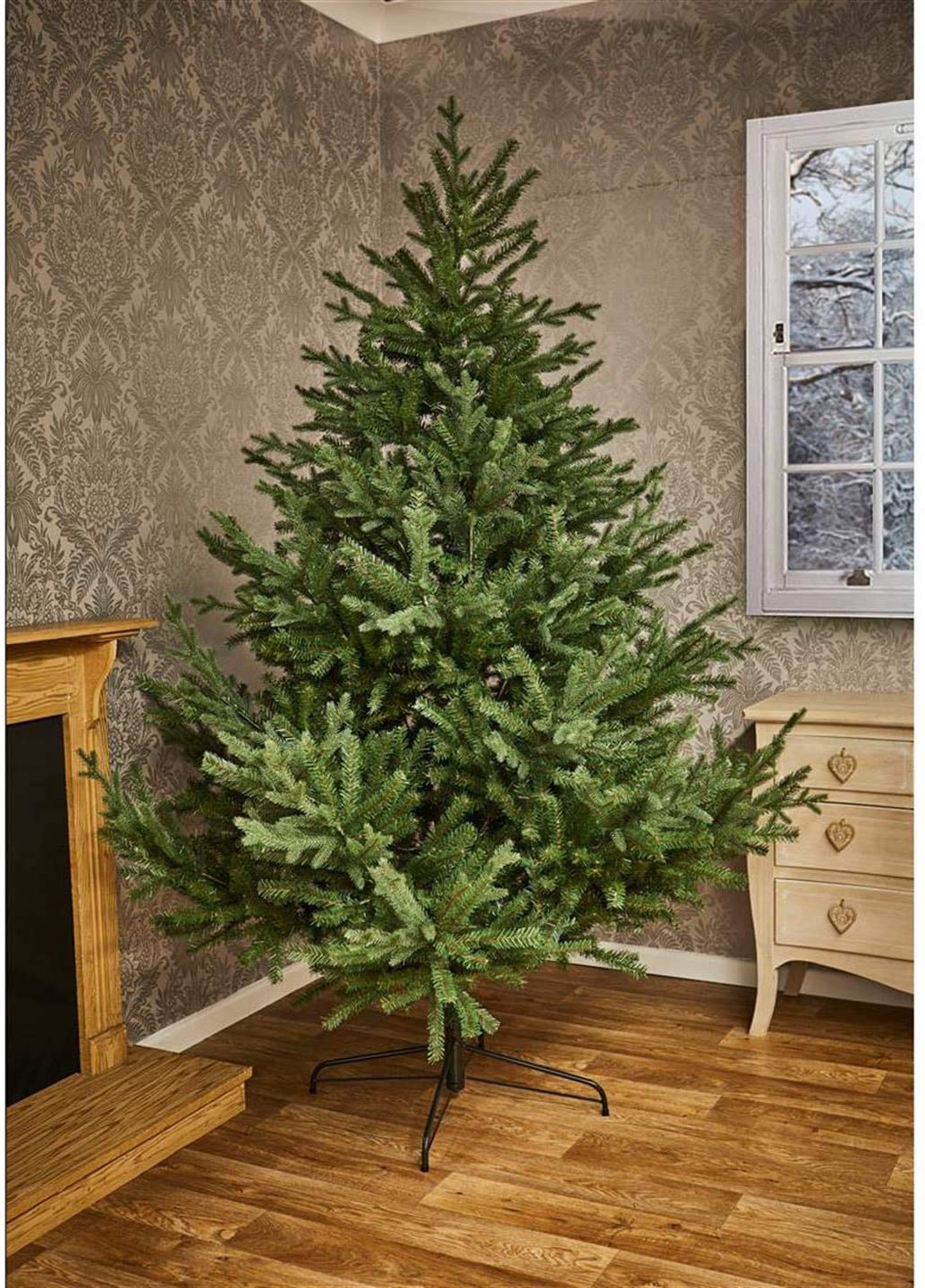 This spruce tree features 4 layers and 2,869 injection-moulded tree tips, which ensures a very full, realistic look.  Head to the review section on the B&Q website to read previous customer testimonials.  Many have given the tree five-stars.
Visit diy.com to view this tree
8ft Ullswater Artificial Christmas Tree —Dobbies, £229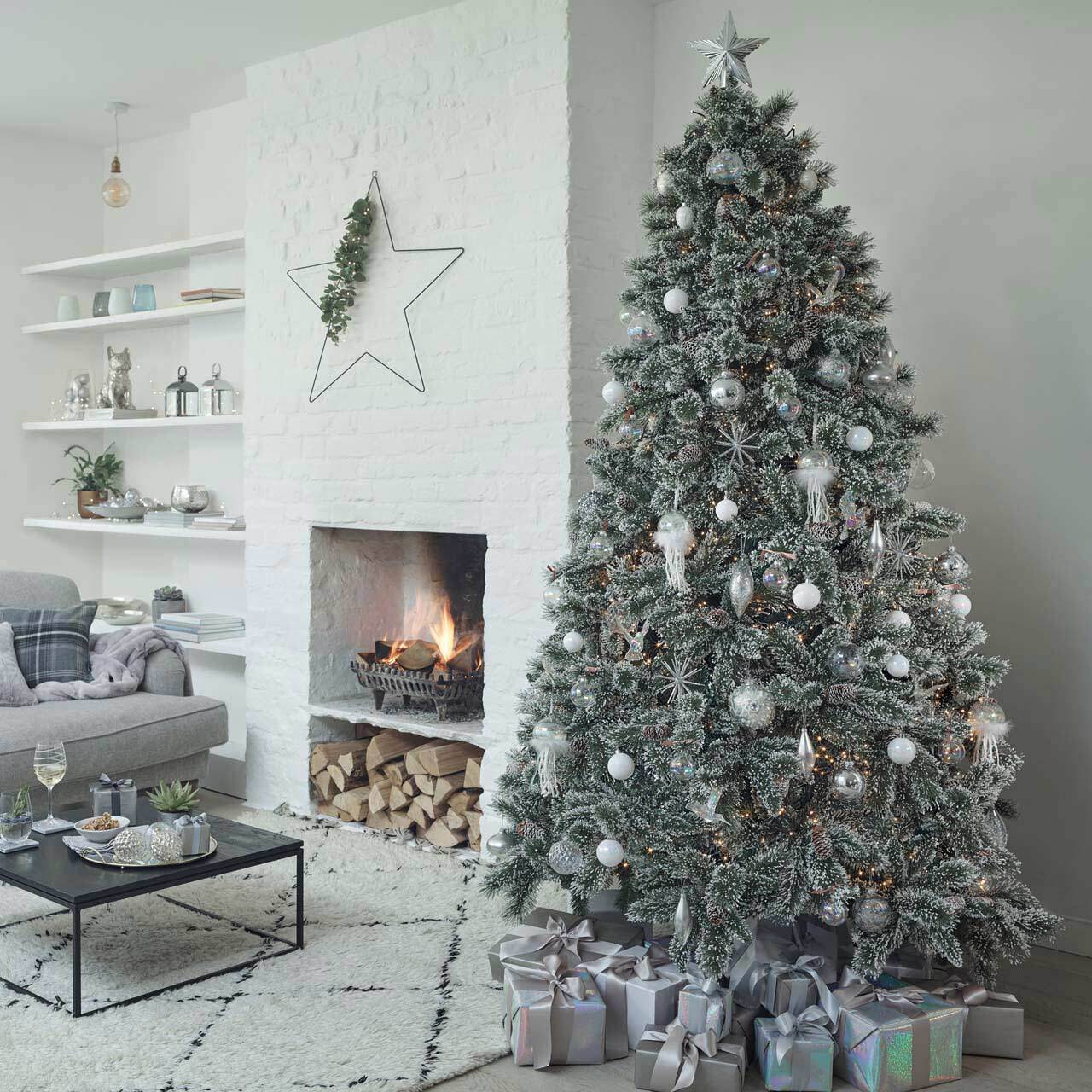 While this spectacular tree will work in any home, we love that Dobbies have photographed it in a modern, Scandi-style room and dressed it with icy white and silver ornaments.  The tonal colour scheme complements the artificial snow dusted over the tree's branches.  It also features different-sized pine cones sprinkled throughout.
7ft Nordmann Fir prelit with candlelight LEDs—Balsam Hill, £549 (sale)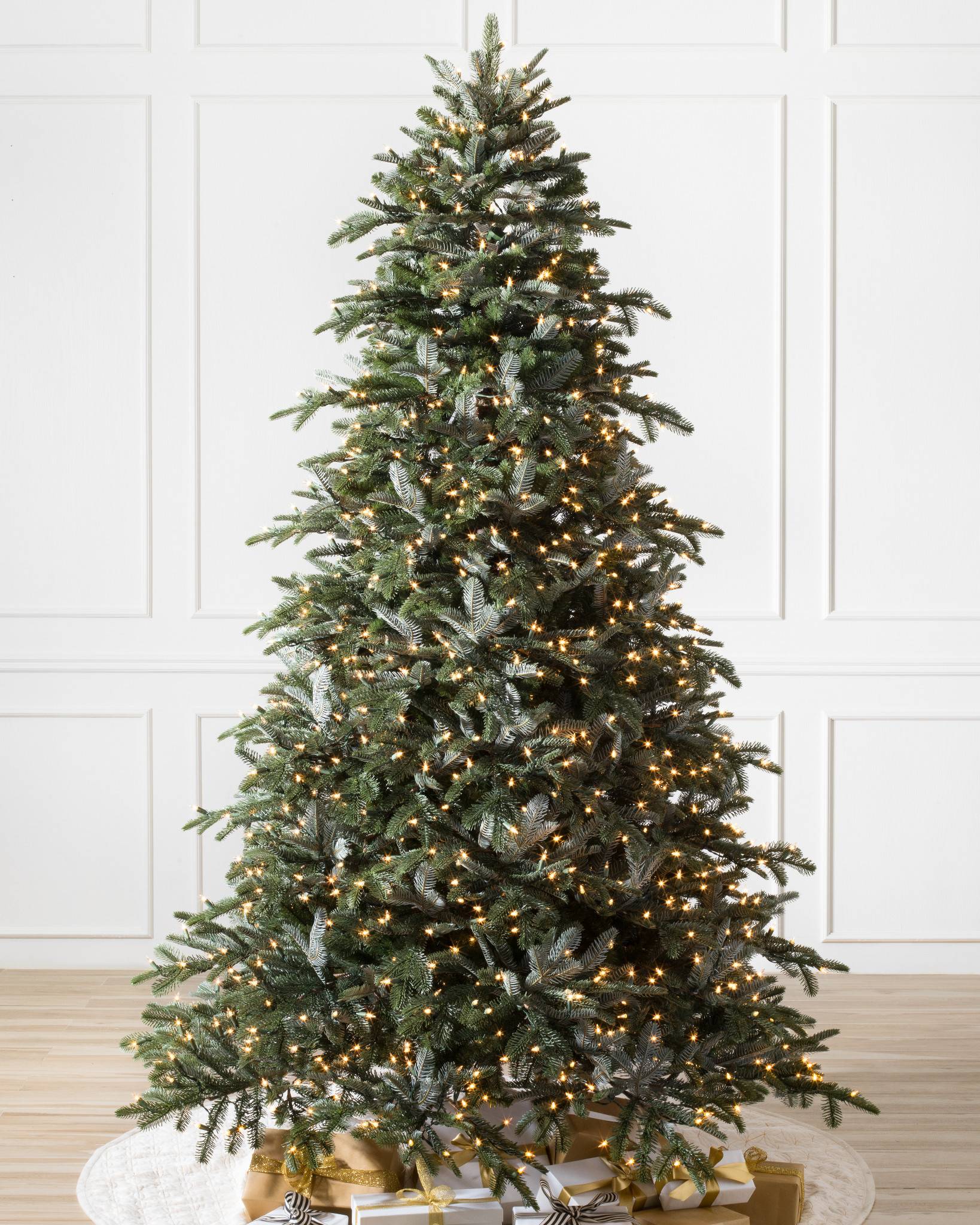 The Norman Fir is the most popular Christmas tree species in Europe.  Balsam Hill say their artificial version is painstakingly designed to replicate the real thing, with every detail recreated from moulds of live tree cuttings.  They sell this fabulous artificial tree in a range of heights (from 4ft to 12ft) both pre-lit and unlit.  You can even choose from coloured or candlelight LED bulbs!
View all options at balsamhill.co.uk
7ft Classic White Christmas Tree—Balsam Hill, £399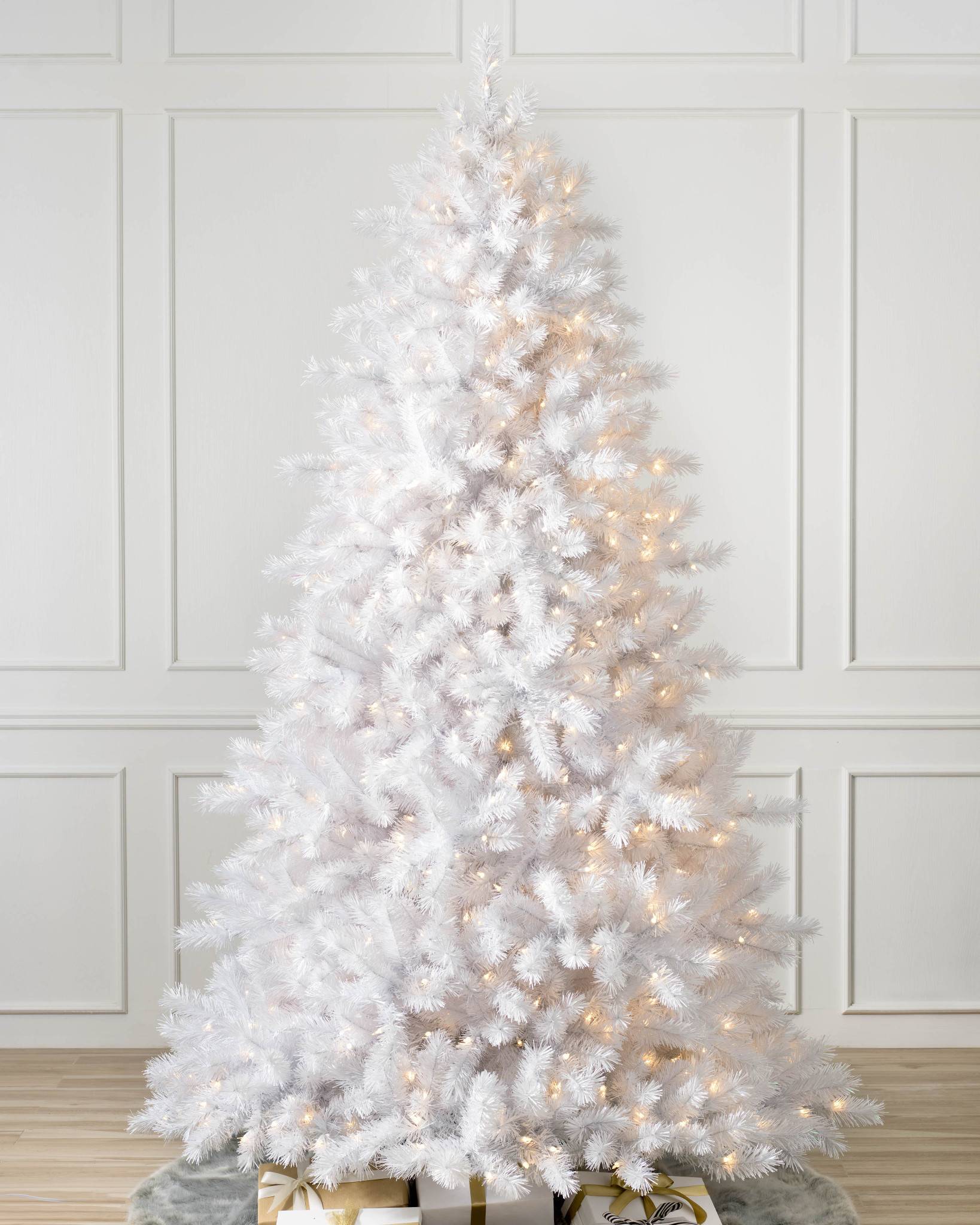 Designed to capture the "enchantment of the breathtaking wintry alps", this stunning tree features a mixture of pure white and shimmering iridescent needles. It is crammed full of branches, boasting a dense silhouette.  The candlelight bulbs emit an invitingly soft, warm glow.   It is the epitome of a 'white Christmas'.   Buy it in a range of sizes, from 5ft to 8ft.
7ft Nobilis Fir Artificial Christmas Tree—White Stores, £99 (sale)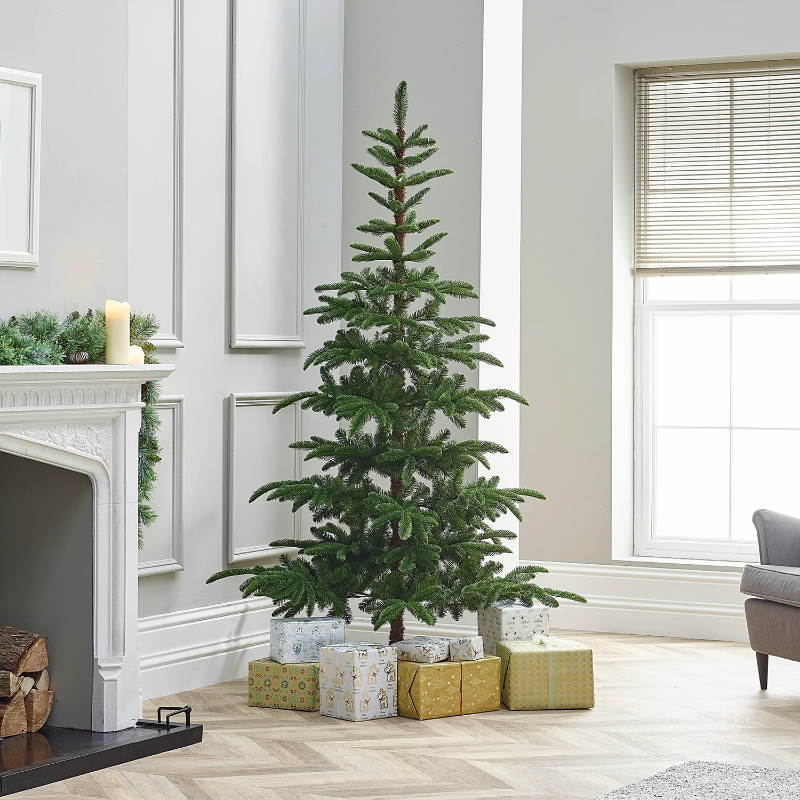 Designed to resemble the Noble Fir native to the northwest of America, this beautiful tree features a mix of PVC and PE mixed branches.  This gives a realistic look for an affordable price.  It comes in both green and flocked green (to resemble a snow dusting!). White Store's 2-year warranty and free delivery make this tree an inviting option.   Also available in 5ft, 6ft and 8ft options.