Looking for a simple way to sprinkle festive merriment into your home this Christmas?  Why not opt for a suitably seasonal cushion!
We've listed eight of our favourites below.  Place a large plump cushion onto an armchair to make a statement or scatter several across your sofa as a fun way to celebrate the holidays – perfect for relaxing with a glass of eggnog as you settle down to watch your favourite Christmas movie.
1.  Cath Kidston Christmas Town House Cushion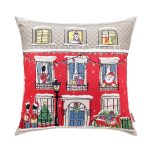 This joyful cushion features a townhouse design drawn in Cath Kinston's iconic style.  Behind the windows, you'll spot a number of festive motifs, including a pair of hanging stockings, a fully decorated Christmas tree, Santa Claus himself and Kidston's dog, Stanley (who is sporting a father fetching striped scarf and matching hat).
Available from Cath Kidston's website for £20.
2.  M&S Printed Dog Cushion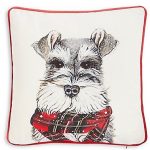 Dog owners will love this charming cushion!  It features a cute little grey Schnauzer wrapped up warm in a festive tartan scarf, ready to brave the winter snow!   The front of the cushion is finished with a contrasting red piping around the edges.  M&S have used a sumptuous red velvet fabric on the back of the cushion, making it perfect for snuggling up to in winter.
Buy it from Marks And Spencer for £12.
3.  Wilko Christmas Pudding Cushion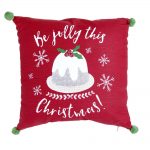 'Be Jolly This Christmas' is the message on the front of Wilko's fun and festive Christmas pudding cushion, and we couldn't agree more!  This bright red cushion will add a touch of seasonal cheer to any chair in your home.
Available at Wilko.com for £8.
4.  Fine Little Day 'Gran' Cushion Cover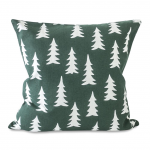 This Scandi-inspired cushion features a forest of white fir trees presented on a forest green background.  The designer only uses beautiful organic cotton to ensure a high-quality product.  The cushion cover is available in six different colours to suit your home's colour scheme, making it perfect for mixing and matching.
Buy from ScandinavianDesignCenter.com for £21.
5. Marimekko Kuusikossa Cushion Cover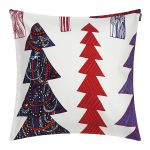 Looking a cushion that's both unique and modern in style?  We love this design from Finnish textile and design company, Marimekko.  The designer has printed the cover with red and blue patterned fir trees.
Buy it now from Amara.com for £23.60 (was £29.50).
6.  John Lewis Driving Home for Christmas Cushion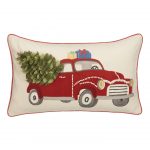 This lovely cushion features a red car driving home for Christmas.  It just exudes vintage charm!  The cover is beautifully tactile, as a range of embroidery techniques have been used to pick out detailing around the car and tree. Mix and match with the other cushions from John Lewis's range for an effective festive display.
Buy from John Lewis for £30.
7.  H&M Conscious Christmas-motif Cushion Cover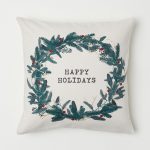 H&M have printed a beautiful Christmas wreath design on this natural-coloured organic cotton fabric.  In the middle of the wreath are the words 'happy holidays.'
Buy now from H&M for £6.99.
8.  Wayfair Mila Reindeer Xmas Cushion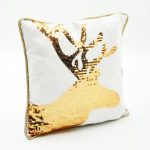 You can't have Christmas without a little sparkle!  Add a little luxe to your Christmas decorating with this cushion, which features a glittering sequinned deer on a cream background with matching gold piping.
Buy it now from Wayfair.co.uk for £11.99.