Are you thinking of taking your family away on a beach holiday this Christmas?
Here at Interior Desire we love traveling and beach holidays, so we're here to help you plan ahead to ensure the whole family has a safe and ultimately fun holiday.
Before you go:
Do your research: Note the tide times and research the beach online.  It might also be worth checking out websites like Trip Advisor to see what other families have to say about the area.
First aid kit: It might be a good idea to buy or make a first aid kit for your beach trip.  Consider adding cotton balls, swabs, scissors, tweezers, calamine lotion, antiseptic, an instant ice pack, plasters and dressings.  You might also want to pack an insect repellent and a bottle of after-sun too. Not forgetting vinegar, as it is especially useful if stung by a jellyfish.
Protective clothing:  There's a huge range of protective clothing and footwear that can help keep your child safe in the sun and sea.  It's recommended you put the following in your beach bag:
Hat – a floppy hat with a wide brim will provide shade on your child's face, ears and neck.
Sunglasses – sunglasses that meet the British Standard and carry the CE mark will protect your child's eyes.
Shoes – sandals, flip-flops or jelly shoes will protect your child's feet from hot sand and potentially painful debris.
Loose clothing – oversized t-shirts with sleeves will help provide coverage in the sun.
Sun suits – a great option for keeping the sun off of your child.  Look for sun suits that offer SPF 50+ protection (for example, the range at splashabout.com, pictured below).  They're perfect for the beach and can be worn in the sea.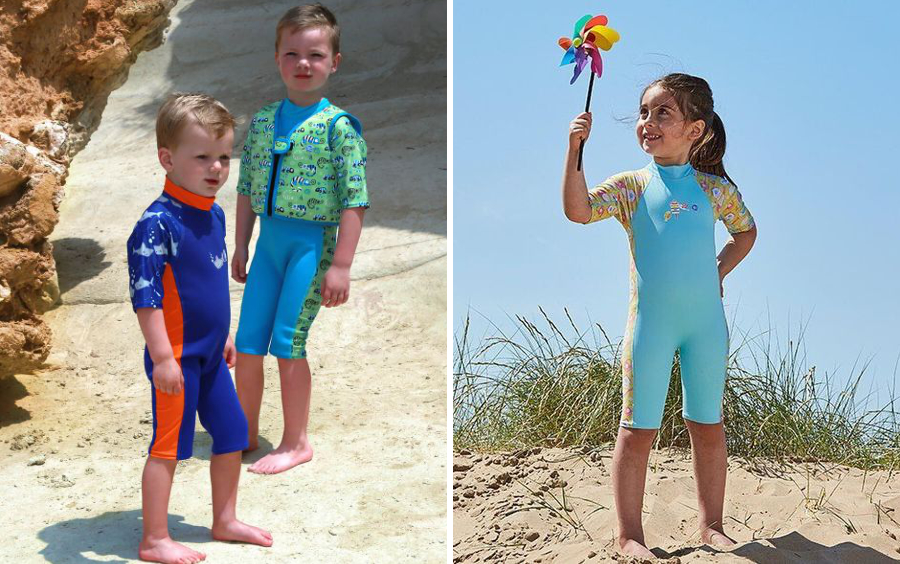 Credit: SplashAbout.com
On the beach:
Slather on the SPF: When you get to the beach, remember to cover the exposed parts of your child's skin with sun cream.  You need to look for a sunscreen that has an SPF of 15 or higher and protects against both UVA and UVB.  Most children's sunscreens have an SPF of 30 or 50.  Remember to put sunscreen on their ears, feet and the back of the hands too.
It's important to use a waterproof sunscreen if your child is going swimming and you must reapply it straight after they get out of the sea (recommended even if the bottle states otherwise.)  We also recommend buying lip balm with SPF protection so your child's lips do not burn!
Look out for reef safe sunscreen, as many places have banned sunscreen with chemicals that damage the coral reef. Jason family sunscreen pictured below is SPF 45, water-resistant, tear-free and reef safe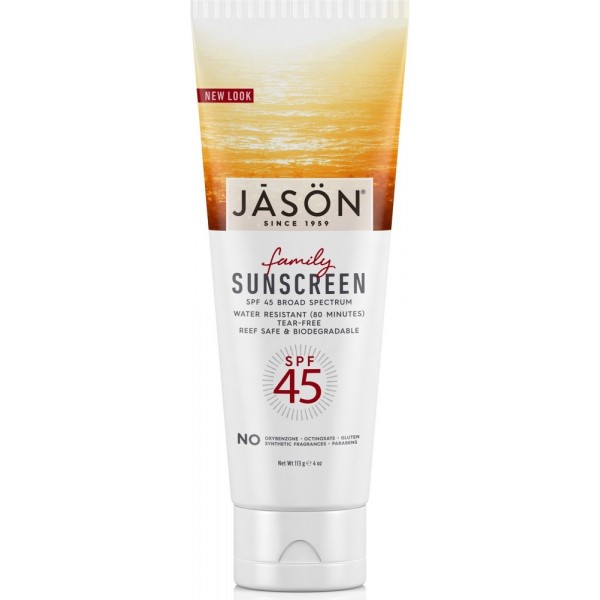 Credit: JasonNaturalCare.co.uk
Look for a shaded spot:  Try and encourage your children to play in shaded spots between the hours of 11am – 3pm.  This is when the sun is at its strongest.  Umbrellas, portable canopies and beach tents will provide added shade too.
Bottled water: Once abroad and off on your beach trip make sure to pack lots of bottled water.  It's important to keep your family well hydrated (especially during a heatwave!)
In the sea:
Be aware of the water conditions:  Be aware of the water conditions before allowing your child to swim in the sea.  We particularly recommend learning how to identify, avoid and deal with potentially dangerous rip currents before hitting the beach.  You can find out more on this page.
Stick to swimming on lifeguarded beaches:  Lifeguarded beaches have trained professionals on hand to help keep your family safe should anything go wrong (in or out of the water).  Each country is different and some do not provide lifeguards at all.
Figure out the flag meanings:  Lifeguarded beaches may have flags indicating where it's safe/unsafe to swim.  For Australian beaches you can view a list of the flags and their meanings on this page. Other countries have been difficult to find.
Be careful with inflatables:  Inflatables (lilos, dinghies, toys) are a well-known hazard. Sadly, people have drowned as they've been blown out to sea. The Royal Life Saving Society in the UK recommends only using inflatables in sheltered and confined spaces, such as rock pools.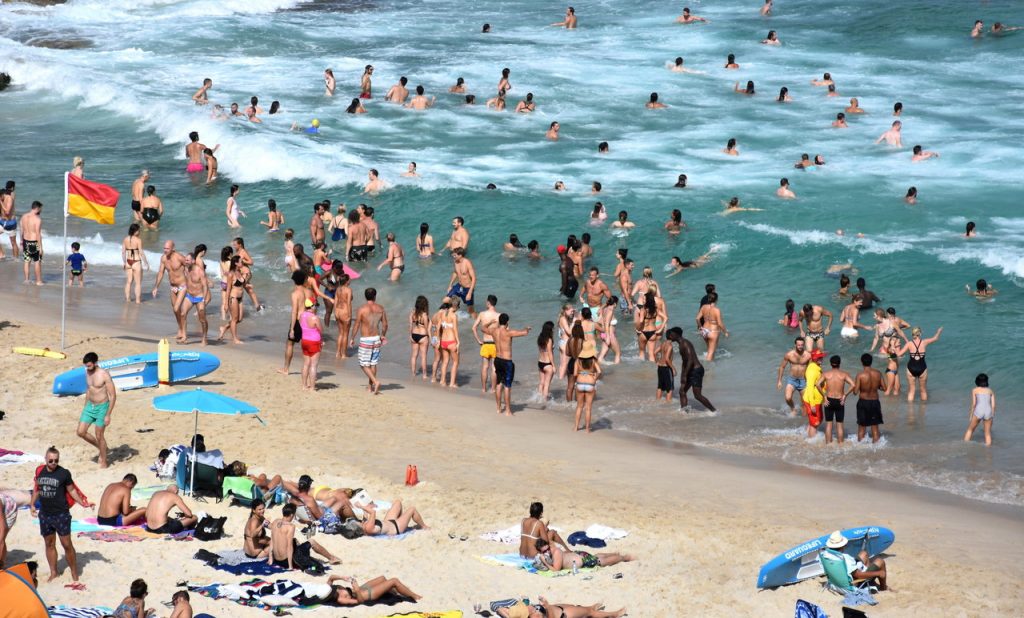 Credit: Adobe Stock
Further resources
Although these are UK based sites, they still have a wealth of knowledge easily transferable to beaches abroad: