Is your kitchen a little drab?  Does the whole space feel a little lacklustre?  Is it crying out for a splash of colour? 
If so, you'll love today's blog post, which we've crammed full of colourful kitchens.  There's plenty of inspiration for you to enjoy, from brightly painted mismatched chairs to clashing cupboard doors, we've got it all.  
1) Modern Eclectic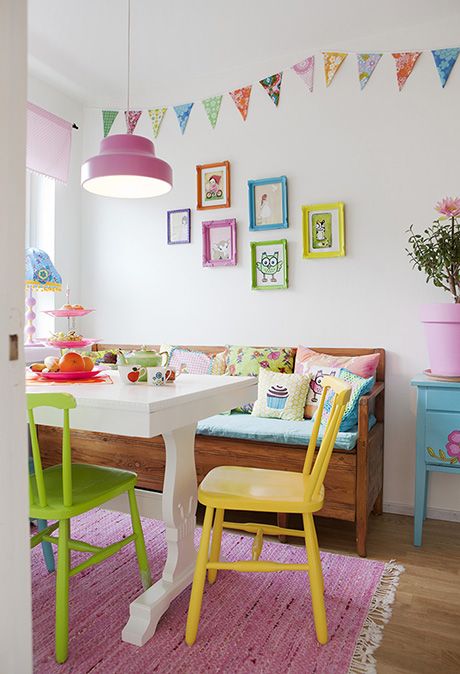 Walk into this kitchen and you'll feel like you're in a sweet shop, ready to buy a bag of your favourite candies.  Together, the mismatched picture frames, contrasting chairs and quirky cushions create a fun, friendly space. 
The rest of the furniture is pretty ordinary, there's a white table and a darker wooden bench, which is great news for non interior designers – It means we can achieve this same effect with a few accessories and a little paint in our own homes.  The bunting is a wonderful finishing touch, as it ties the room's colours together nicely.
2) World View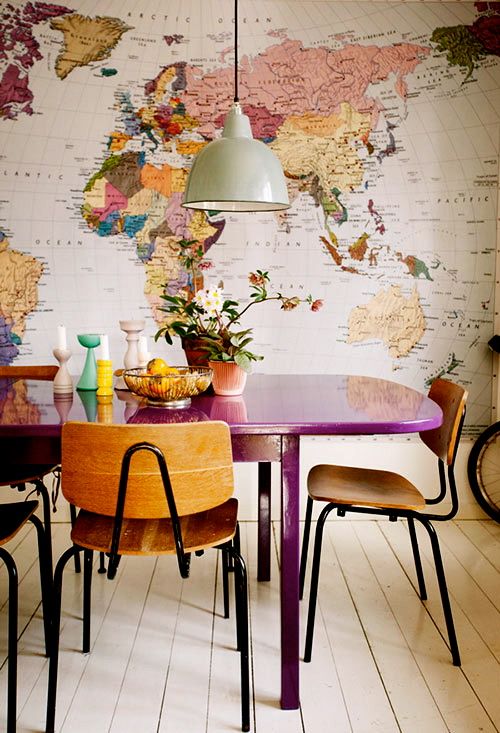 This gorgeous purple table works wonderfully with the large world map on the wall.  The brown and black chairs add to the room's vintage vibe.
3) Retro Diner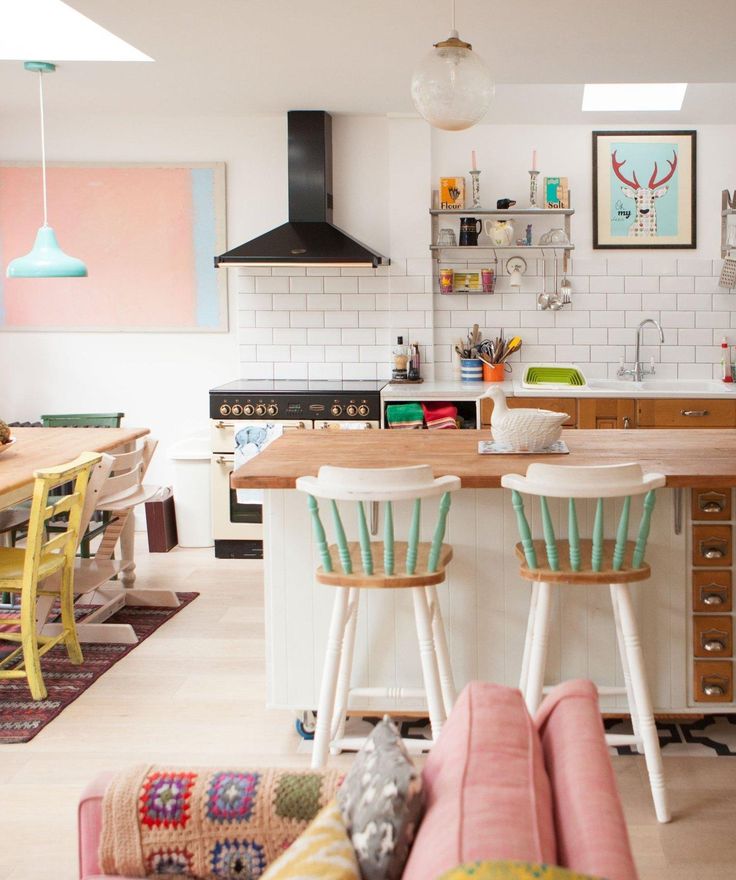 The owners of this home created the kitchen using salvaged and repurposed pieces, which adds to the retro "American diner" feel created by the pink, teal, cream and yellow colour scheme.
4) Rustic and Eclectic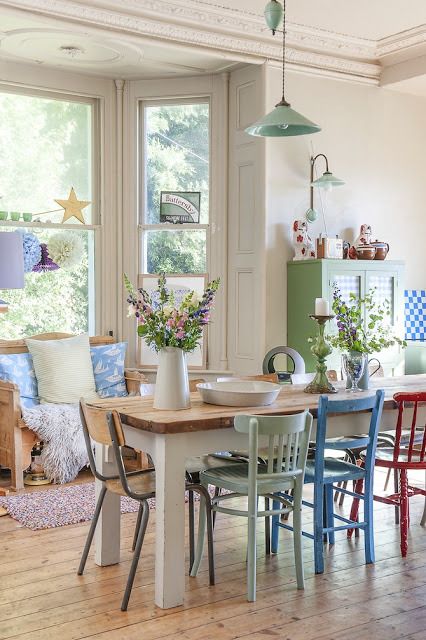 This homeowner mixed TWO design styles in one room and pulled it off with ease.  The kitchen features beautiful, rustic pieces that give off a country kitchen vibe, while the different coloured chairs and quirky accessories are thoroughly eclectic in style. 
The pale pastel colours used throughout tie both themes together and give the room a fresh feel.
5) Folksy Bright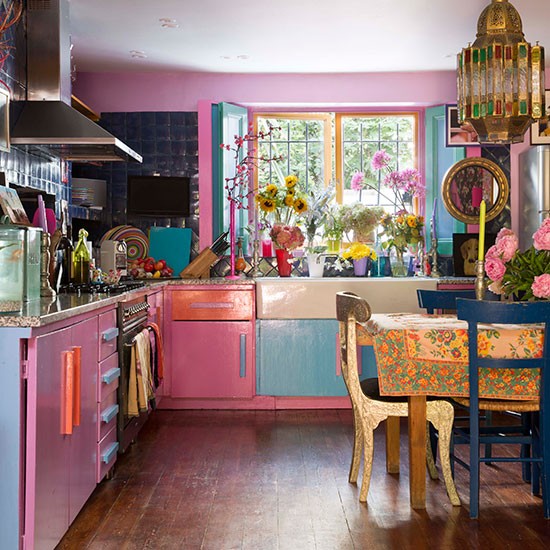 This beautiful kitchen belongs to an eclectic Victorian terrace in London. It features bold, clashing colours, folksy prints and Moroccan accessories. 
The result is a happy space that's a little quirky too.  We're guessing there are always volunteers for cooking and washing up duty!
6)
 

Red, White and Blue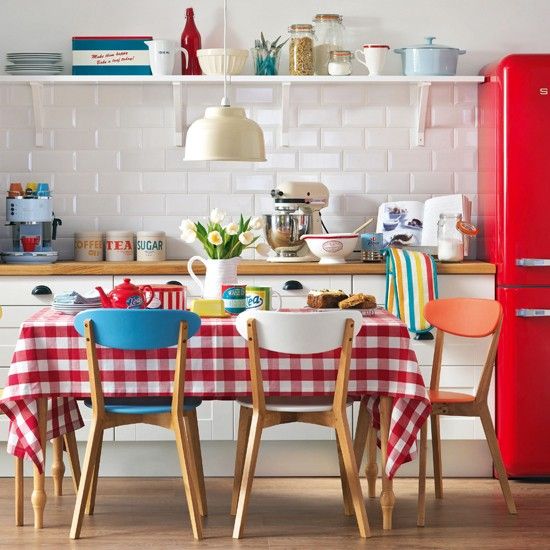 This kitchen mixes splashes of red, white and blue with vintage style to create a bold statement.  The room feels retro, but not outdated. 
It's bright, without being "too in your face".  By only using three colours (or four if you count the wood), the designer has achieved balance in the room.
7) Geometric Brights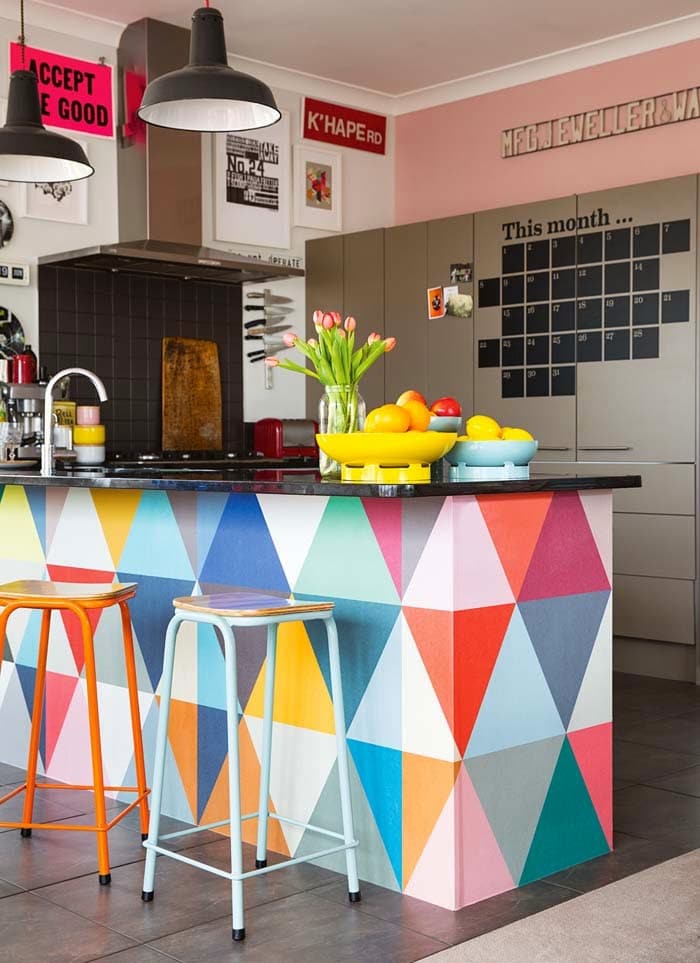 This geometric print counter is certainly eye-catching!  It's a really unique feature that makes a bold statement.  The retro bar stools have been painted in complimentary colours, while the rest of the room is decorated in darker colours (black, grey) to add a little contrast.
While perfect for a spot of brunch at the weekend, perhaps a space to be avoided if you are suffering after one too many cocktails the night before!
Now have your say:
Do you have a favourite? Will you be trying any of these styles when you overhaul your kitchen? Perhaps you've already redecorated your kitchen and you'd like to share it with us?  Leave a comment below….
---
[Main Image Source]