Although today, we associate the humble door wreath with Christmas, we can trace its roots back centuries to ancient Greece where farmers used them as protective amulets.
Created from wheat and other harvested plants, then woven together using red and white wool thread, farmers would hang their wreaths year-round to ward off crop failure and plagues.
If you feel your home could do with a little extra protection this autumn, why not invest in your own harvest wreath?  A beautiful wreath will increase your home's curb appeal and provide a bit of autumnal cheer.  You'd be bang on trend too. Social media influencers have gone crazy for wreaths this season.
As always, we've taken the stress out of shopping by rounding up eight of our favourites below. (Note, they're all artificial which means with a little care, you can use them year after year).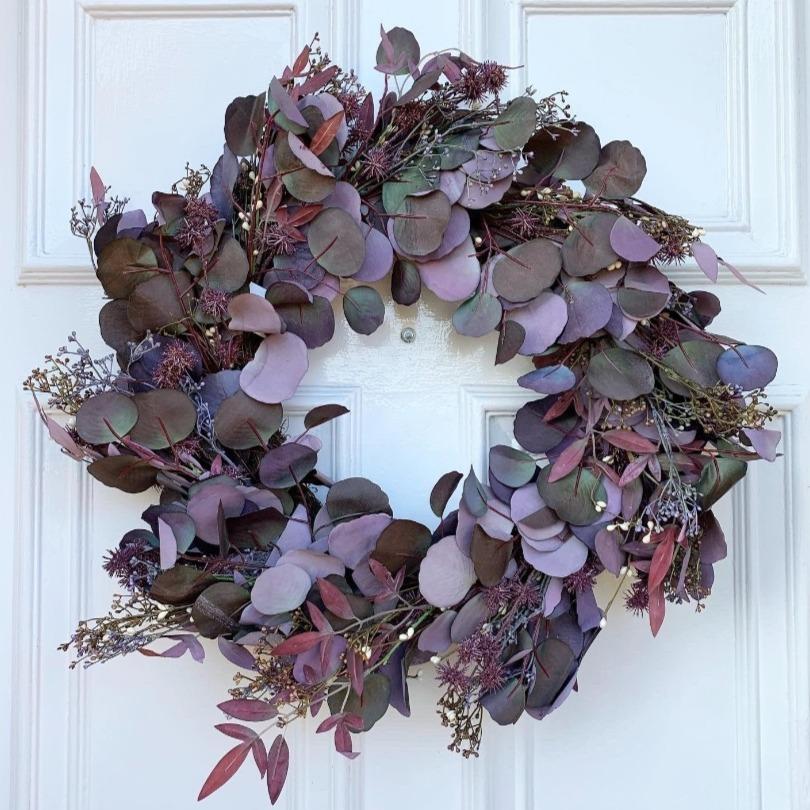 1) Large Autumn Honesty Wreath — Home Luxe Co., £39.99
Autumnal oranges and yellows a little too bright for your taste?   Looking for a muted palette?  This piece from Home Luxe Co. is perfect.  It features foliage in an understated colour palette of browns, golds and bronze.  It'll see you right through to Christmas.
Browse at HomeLuxeCo.com.
---
2) Midnight Blue Autumn Harvest Floral Wreath — Dibor, £22
This best-selling wreath features a mix of richly coloured wooden flowers in shades that evoke the harvest festival.  Midnight blue petals punctuate a mix of warm orange blooms.  Real pine cones provide a festive finishing touch.
It's currently in stock at Dibor.co.uk.
---
3) Burgundy Russet Eucalyptus Wreath —Home Luxe Co., £44.99
Welcome guests to your home with this beautifully-made wreath.  It features a mix of foliage in rustic tones, including purple, green, pink and russet. It's an investment piece that'll look fantastic on your door year after year.
Shop it at HomeLuxeCo.com.
---
4) Autumn Wreath — Svetlana Shop Gifts on ETSY, from £19.99
This impressive wreath is stacked with an abundance of autumnal items!  There are berries, pine cones, leaves, gourds, pumpkins and twigs all skillfully arranged around the wreath base.
The piece comes in three different size options: 40cm, 50cm and 60cm.  The Etsy shop also sells pumpkin table centrepieces and a number of garlands that are perfect for any autumnal celebration.
Browse the full range of options at Etsy.com.
---
Fall Maple Leaf Wreath — One World 1988 via eBay, £10.99
This wreath is the epitome of the autumn.  It features a mix of deep amber and auburn maple leaves arranged with dark brown protruding twigs and tonal berries.  Hang it above your fireplace hearth to instantly create an autumnal ambience in your living room.
---
Soft Gold Eucalyptus Leaf Wreath — Cox & Cox, £14.50
Eucalyptus foliage is having a moment.  We love how Cox & Cox have reimagined it in a sophisticated champagne gold colour for the autumn and winter seasons.  Hang up this elegant wreath now and keep it up well into the New Year. 
Find it on Cox & Cox's website, here.
---
Blush Eucalyptus Wreath — Cox & Cox, £65
Yes, we know it's a second eucalyptus wreath from Cox & Cox but we hope you'll indulge us…!  This piece is dramatically different from the first.  It features eucalyptus leaves in desaturated shades of pink and green.  This gives it a softened, refined look.
---
Skeleton of a wreath
— Dibor, £38
Hang this unique wreath on your door or use it as a centrepiece for your Halloween celebration.  It features wooden foliage and natural elements like real pinecones.  We love that the spooky name, which really suits the season.
The company will add a wooden plaque with a custom message to the centre of your wreath for an extra £4.00 too.
Shop the wreath at Dibor.co.uk.
---
Featured image: Dibor