If you find yourself with a couple of hours free on the next sunny (albeit crisp) autumn afternoon, grab your trowel. 
Now's the perfect time to start planting bulbs, ready to create a stunning display for spring.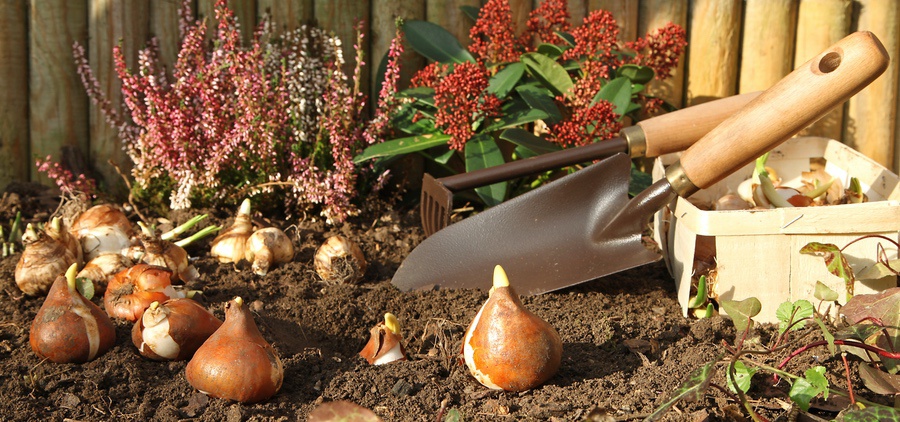 If you're a novice when it comes to gardening, do not fear! We'll tell you what to plant (and when it flowers) below.
Daffodils
Nothing shouts 'spring' louder than the delightful daffodil, which typically flowers between February and May.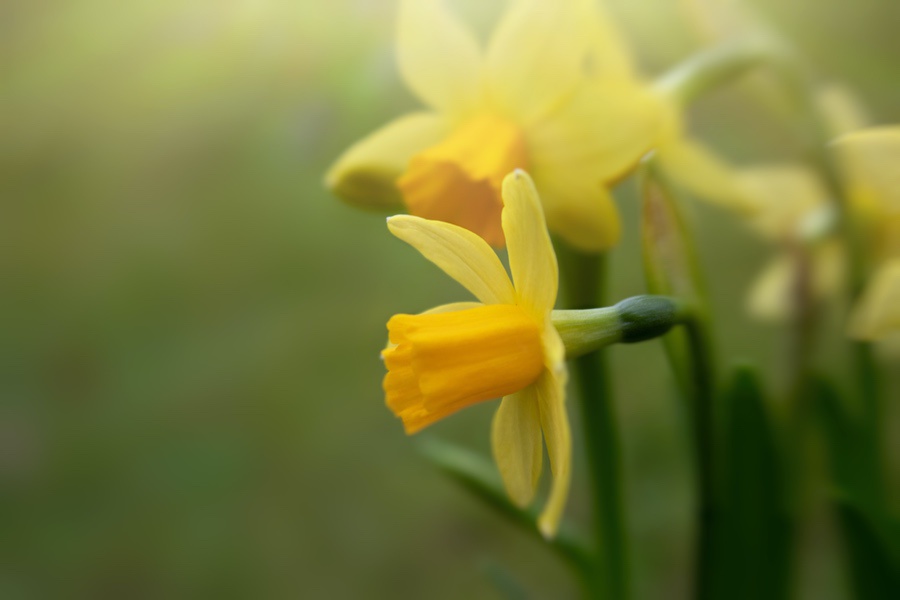 The distinctive flower comes in a range of colours, shapes and sizes — there are in excess of 13,000 varieties of daffodil throughout the world (including hybrids). The big yellow daffodils with a large frilly trumpet is the best-known variety, followed by their petite cousin, the tete-a-tete. Both are very common and can be found blooming by the edge of a road or sitting proudly in the park.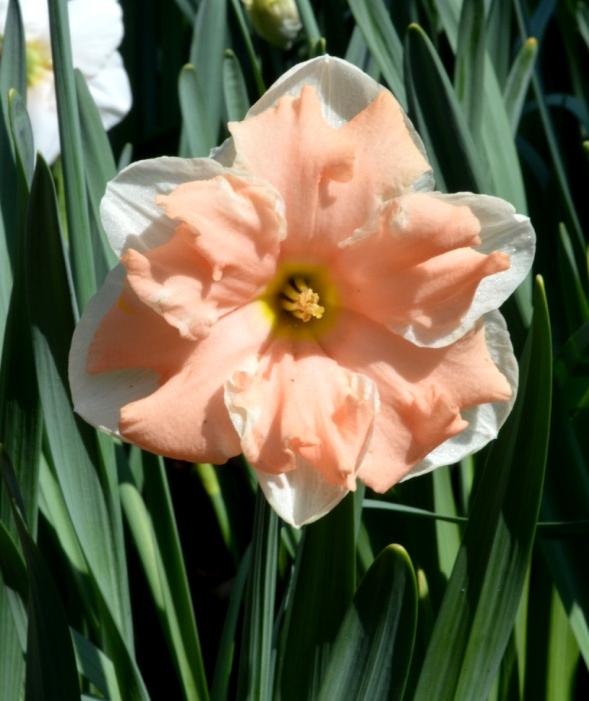 But not all daffodils are yellow and trumpeted! There are some wonderful variations available, why not plant daffodil bulbs such as the Apricot Whirl (pictured right). This magnificent flower features layers of white and apricot pink ruffled petals around a yellow centre. By mixing and matching a number of daffodil bulbs together, you can create an impressive display in your garden.
Tulips
Add a splash of colour to your garden with these cheery flowers, which typically bloom from April to May (though this can vary depending on the variety you buy).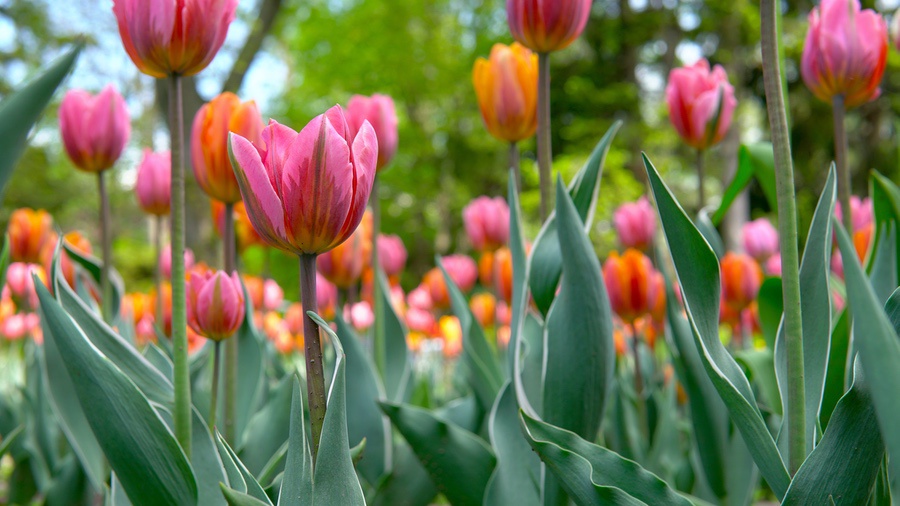 Like daffodils, there's a range of tulip bulbs to choose from, including the common 'Triumph' tulip that you see everywhere to more exotic versions with layers of peony-style frilly petals. Look out for parrot tulips too, they have unusual twisted and fringed edges.
Tulips come in a rainbow of colours! Choose from various shades of red, yellow, orange, pink, purple, yellows and ivory for your garden. Why not mix and match two or three varieties to create a showstopping spring display?
Grape Hyacinth
The grape hyacinth will add a bolt of electric blue to your garden border. The fragrant plant will flower in early spring, usually in April.
Grape hyacinths look impressive but they're really easy to grow. Plant the bulbs in soil that drains well to avoid rotting. They like to be put around 3″ down and spaced around 3″ apart. They look fantastic planted with mini daffodils. The yellow and blue flowers contrast beautifully.
Not keen on the bright blue? As with the previous flower bulbs mentioned above, grape hyacinths come in a few different colours. Look out for the white and pink varieties.
Allium
The allium is an impressive flower that will add a spectacular finishing touch to your spring garden display. The most well-known varieties feature large, puffy purple lower spheres on tall green stalks (though, as you'd expect, there is a wide variety available).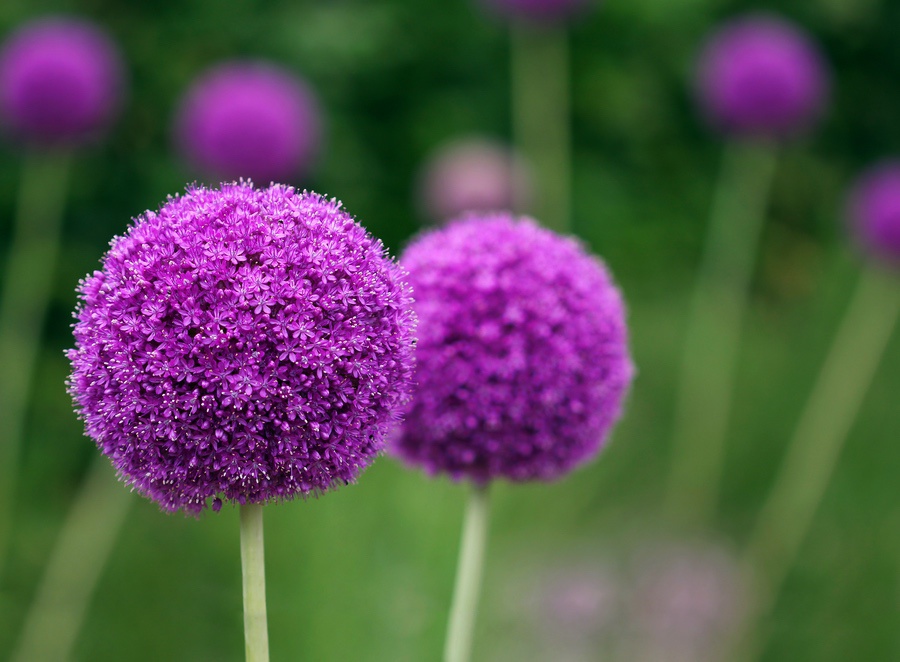 The easy-to-grow flower explodes into colour at the end of the season and lasts into summer. (Their long flowering period is what makes them a favourite of seasoned gardeners). Plus, allium flowers are loved by bees and butterflies alike.
Did you know the ornamental allium flower is related to onions, shallots, chives and garlic?
Additional resources: