The best playrooms are absolutely jam-packed full of creativity, almost bursting at the seams.
They're a space for children to let their imaginations run wild from dawn until dusk: inventing new games, creating unique artwork and learning interesting things.
In today's blog post, we'll show you how to create the perfect playroom for your family too.  We've included plenty of pictures and bucketloads of inspiration to help you get started.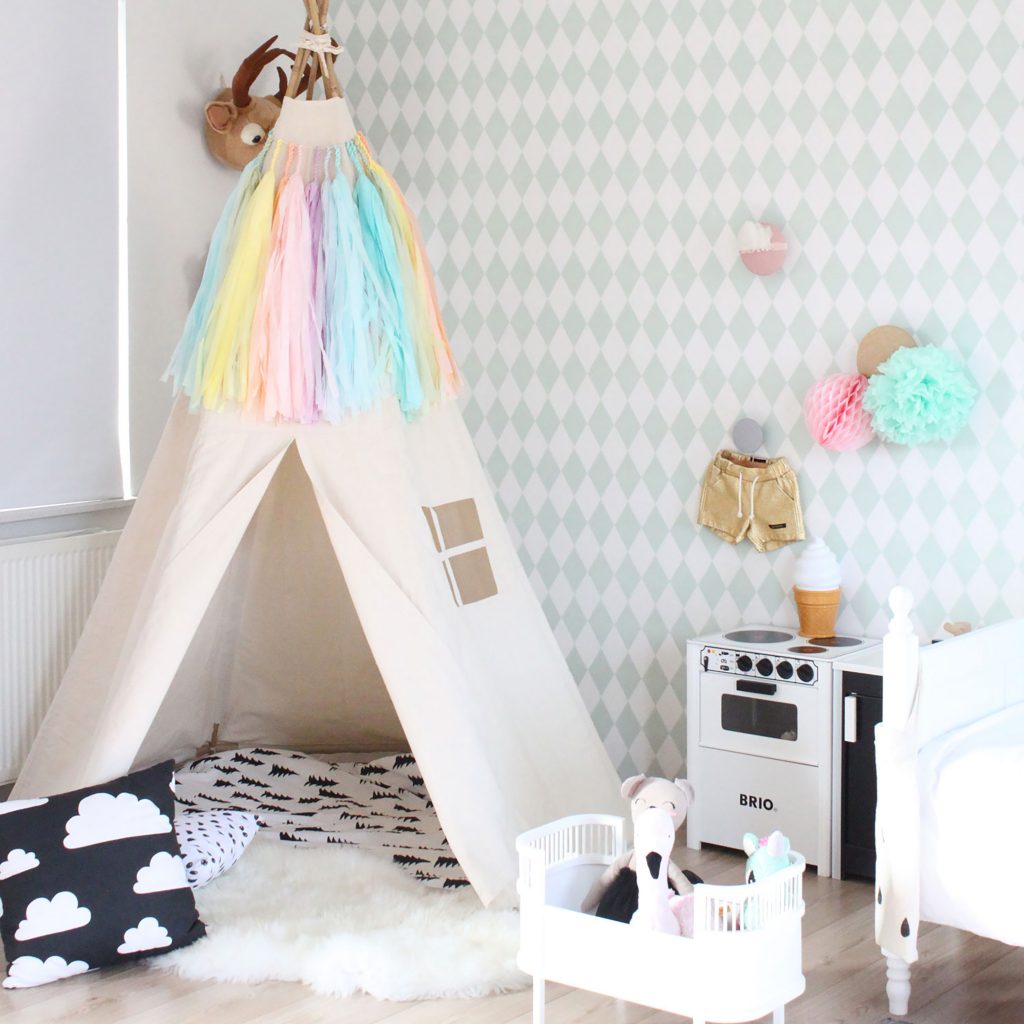 This guide is perfect if you've just moved house and now have space for a playroom, or if your first baby is growing into a toddler and you're ready to create a magical place for them to play and learn.  Simply follow our three easy tips.
1) Choose bright, inspiring decor or a funky theme
First things first, let's talk decor!  This is where your inner child really comes to the forefront.  You'll have almost as much fun creating this space as your children will have playing in it!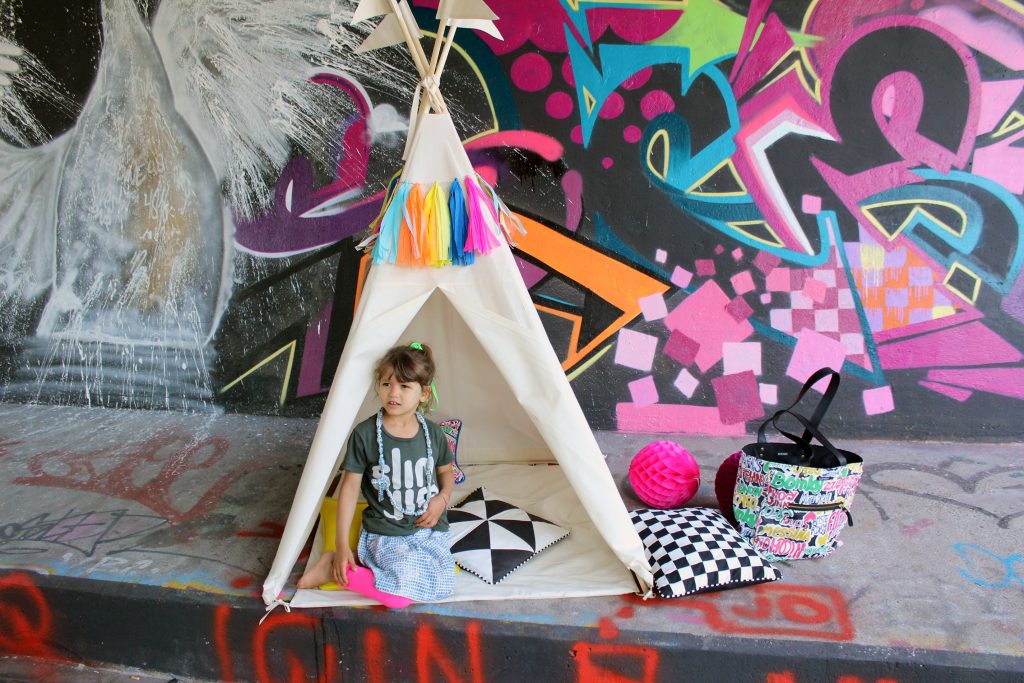 The easiest way to design your playroom is to start by choosing a funky theme.  Is your daughter queen of the jungle?  Maybe your son loves space?  Choose something your child absolutely adores.  Here are some of our favourite themes to consider:
And, here are a few more playroom themes to investigate:
If you do not want to choose a theme for your playroom (perhaps you'd like something with a little longevity – who knows when your child will grow out of princesses?) why not paint the room white and use bold, eclectic accessories to make a statement instead?  (See below, for example)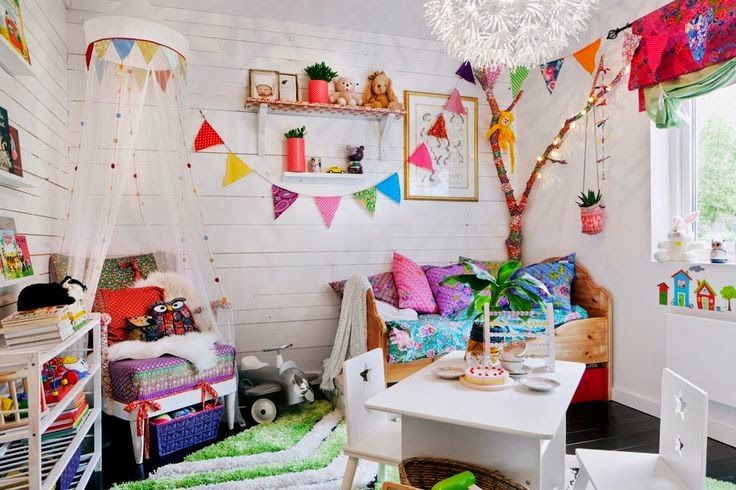 This playroom is perfect for girls and boys of all ages.
Top tip:  Fill an otherwise plain white room with confetti garlands, tissue paper flowers, colourful lanterns and bold painted furniture for an easy way to achieve a bright, bold, eclectic theme.  (Perfect if you currently rent your home and a redesign is out of the question – each of these are super easy to remove).
2) Utilise clever storage solutions for hiding away clutter
The one thing about children is, they sure do have a lot of stuff.   Think toys, books and craft supplies!!!   And while playing is fun, packing it all away is never an enjoyable task.  Even for grown ups!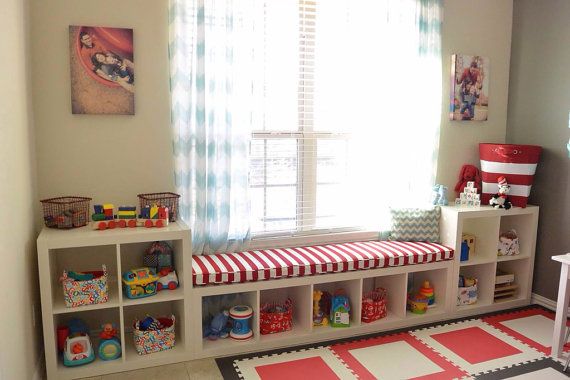 So start thinking about storage options.  You'll need sensible storage to help keep clutter to a minimum, but specifically look for solutions that are child friendly too, so your son or daughter can help themselves to toys.  You don't want your child to be clambering up to the top shelf of a unit to grab their favourite book – yikes!
Here are some fantastic ideas to try:
BONUS RESOURCE: 49 clever storage solutions for living with kids
3) Carve out a corner for kids to unleash their creativity
The third and final must-have for any playroom is a craft corner, a place for your child to discover their inner Picasso, or spend hours upon hours cutting, gluing and sticking.  There are plenty of options to suit any sized space and budget: you could install a simple inexpensive table, put in a large desk, or simply add an artist's easel in an empty corner.
DO: Create a makeshift gallery in your art corner by hammering a couple of nails into the wall, tying a little ribbon or garden twine to them and adding a dozen pegs (see below).  Your child will love showing off their favourite drawings: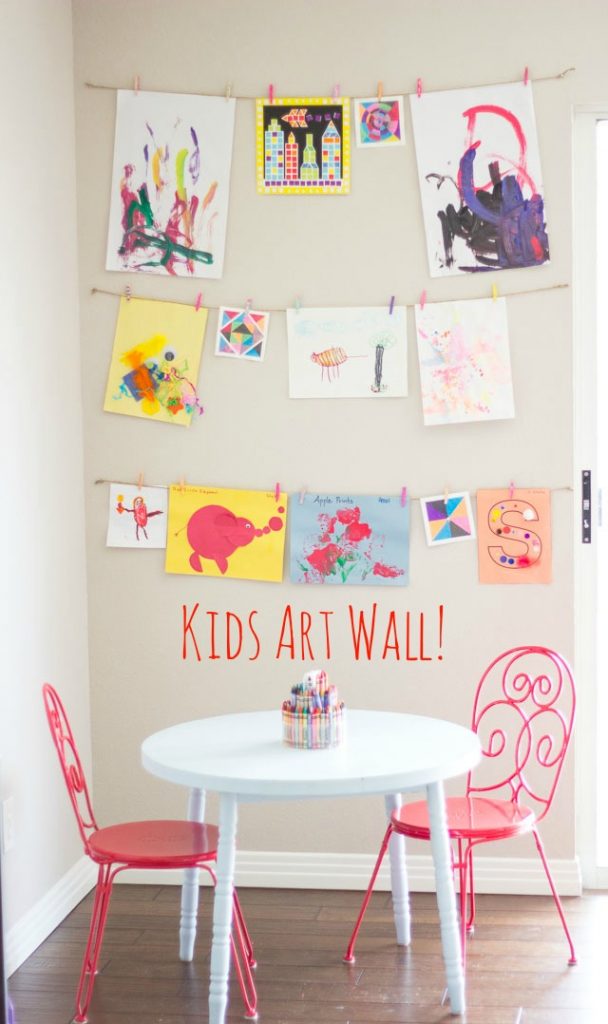 If you're feeling particularly free-spirited, why not let the kids LITERALLY draw all over the wall?  Use chalk paint and let the kids run wild, creating designs and writing stories (see below) as they please.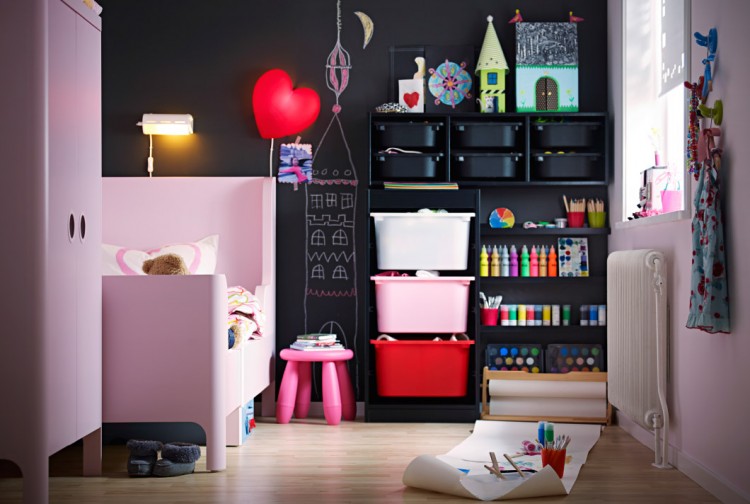 ---
* Featured image source:  moozlehome.com