If the idea of giving up your 9-5 is tempting, and working for yourself is a dream, today's post might push you over the edge and into self employment.  We're featuring seven gorgeous home offices that you're going to love.  Warning:  this blog post may cause you to resign from work!  
Remember, we're keen to hear from you too!  Let us know which room is your favourite by leaving a comment below.
1) Dark but modern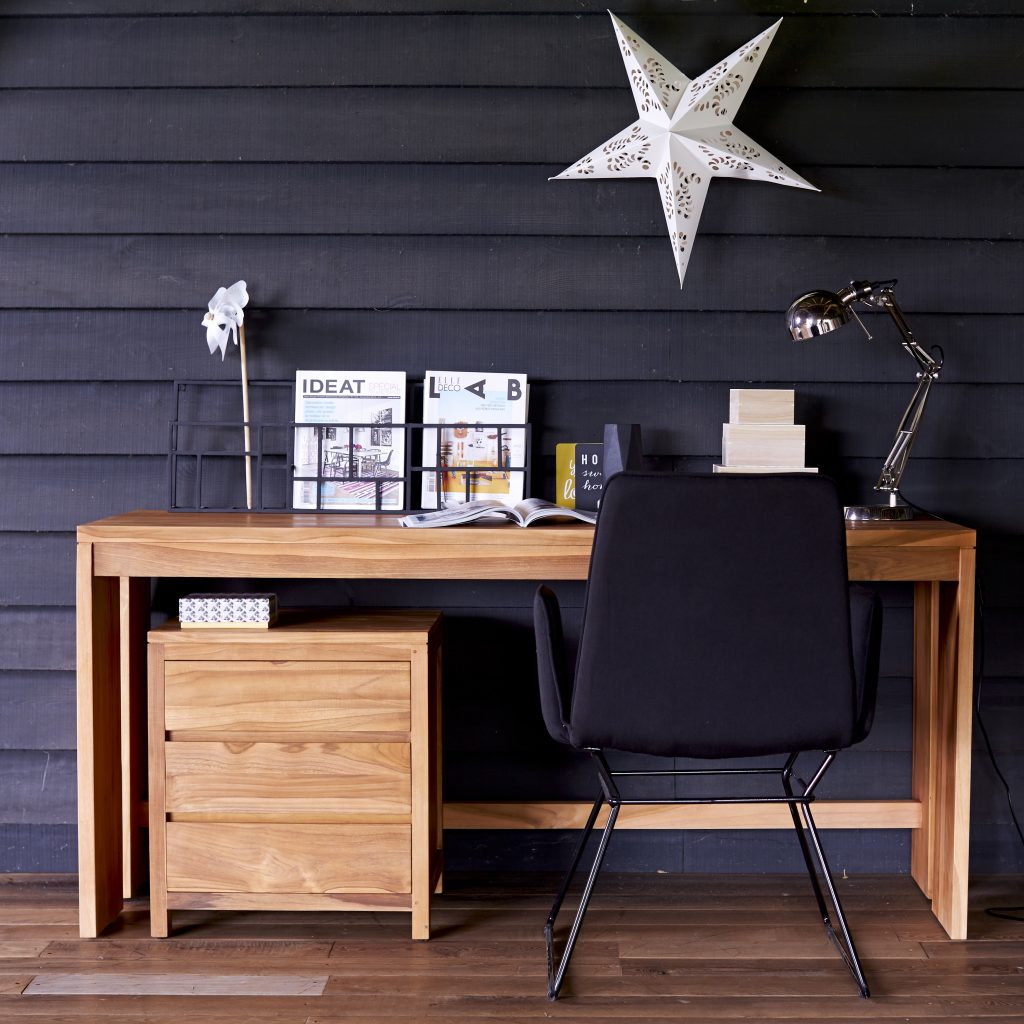 This office marries classic teak furniture with modern desk accessories.  The black wall panels, chair and lamp all work together to create a dark and brooding space, while the white accessories provide a little lift.  Clutter is kept to a minimum, hidden away in the matching drawers.
Source:  Tikamoon
2) Pretty pink colour pop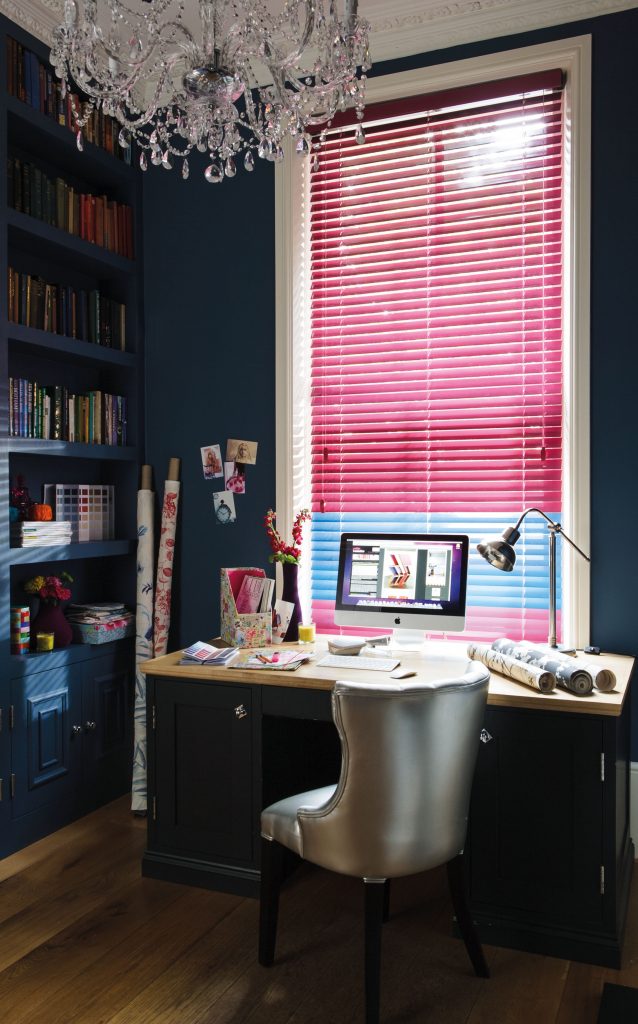 This home office is fairly simple in design, but the bright pink blind adds a simple splash of colour, you don't need to be an interior designer to achieve this fun and playful style.  Psst… did you notice the blind has a contrasting blue colour panel in the middle?  We love it, because it adds a little interest and intrigue to the room.  This wonderful colour pop blind would work with either dark or white walls and furniture, depending on your preference.
Source: Direct Blinds
3) Modern Scandi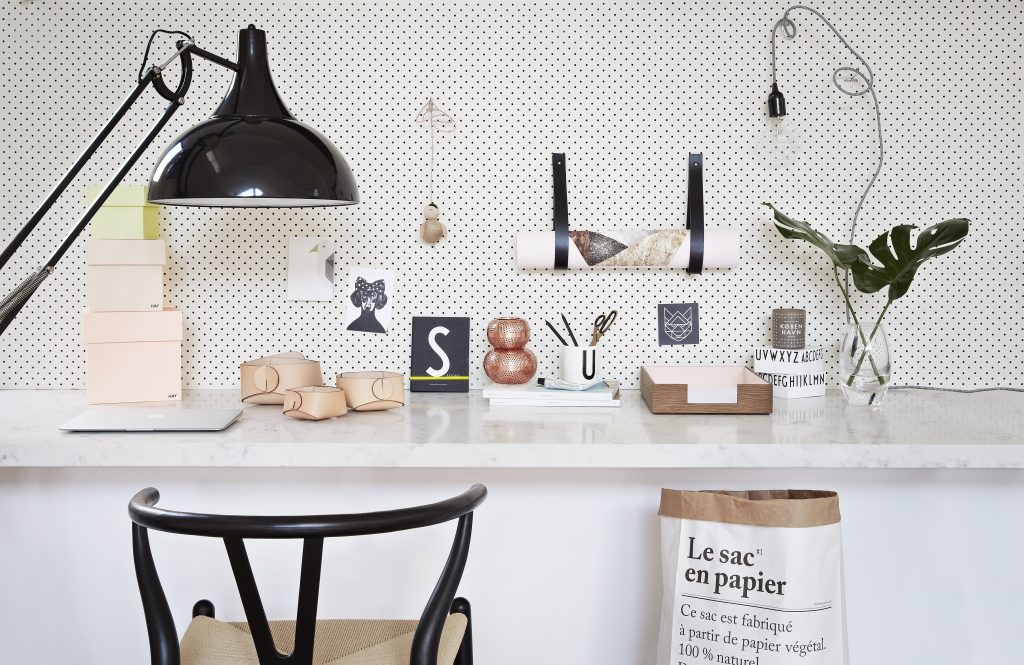 This office will be a surefire hit with both the Pinterest and Instagram crowds, as it ticks several boxes.  Namely, the scandi chic decorating style, which is a very popular at the moment.   It scores additional points for its airy, minimal design.  Then there's the pegboard and "floating" accessories, which were all hand-curated to fit with the colour scheme.  The pretty copper desk accessories score extra points, as metallics are another popular trend right now.  Additional boxes will be ticked for the quirky lighting and the use of pale pink with monochrome.
Source:  Norsu Interiors
4) Wonderfully rustic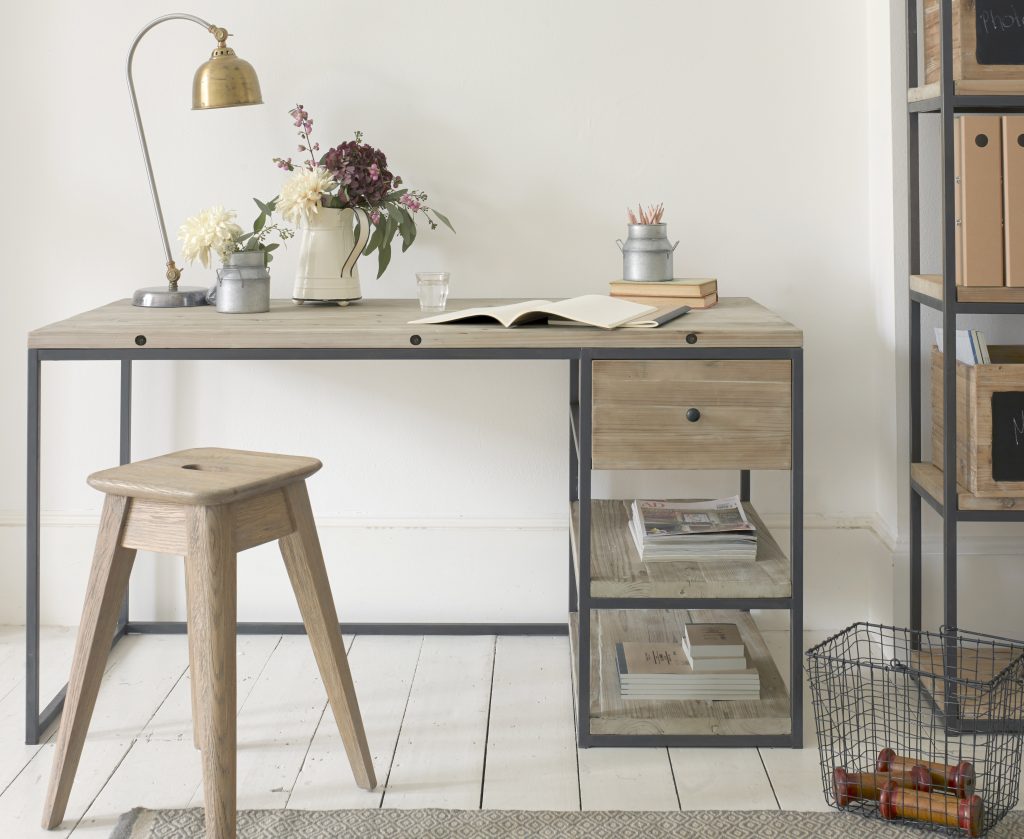 This gorgeous desk is made from reclaimed fir timber, which is recovered from old buildings.  It also features a hand-welded frame with a flint finish, which gives the desk a wonderfully rustic appearance.  The metallic lamp, old fashioned milk jugs and pretty flowers give the whole space a wonderful "country kitchen" vibe.
Source:  Loaf
5) Urban + industrial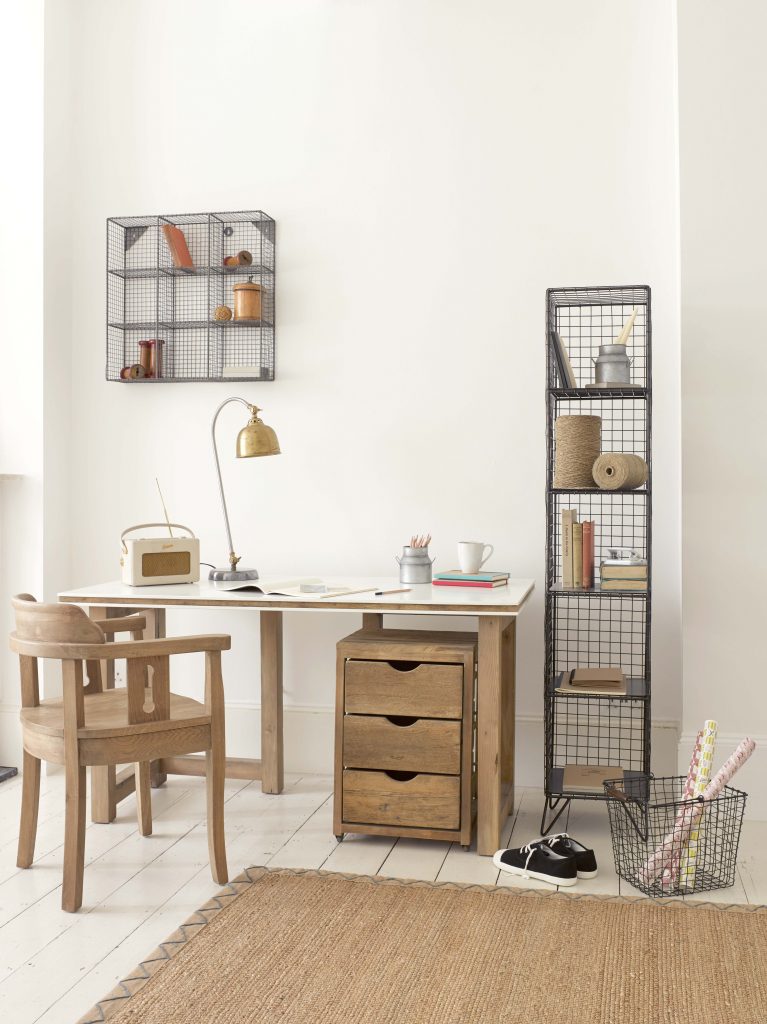 From farmhouse kitchen to urban warehouse!  The wire shelving units and baskets give this otherwise unremarkable room an "industrial" vibe.  All this room lacks is exposed brickwork and pendant bulbs without shades (see below).
Source:  Loaf + Olive and the Fox
6) Botanical paradise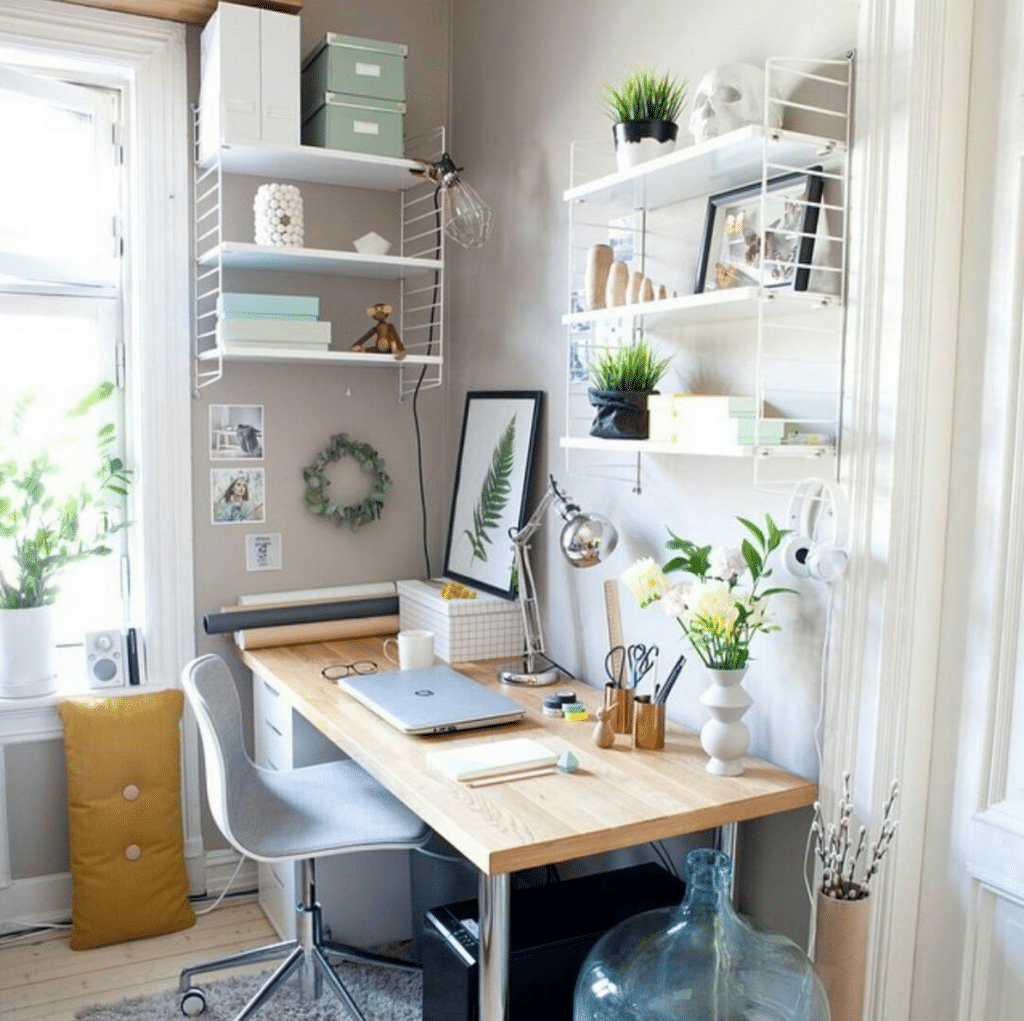 This interior designer paired sage green with light grey and white to create a fresh, modern scheme.  The botanic elements (flowers in the vase, plants, wreath and leaf print) are a breath of fresh air.
Source:  Ann Merete via The Workspace Stylist
7) Colour clash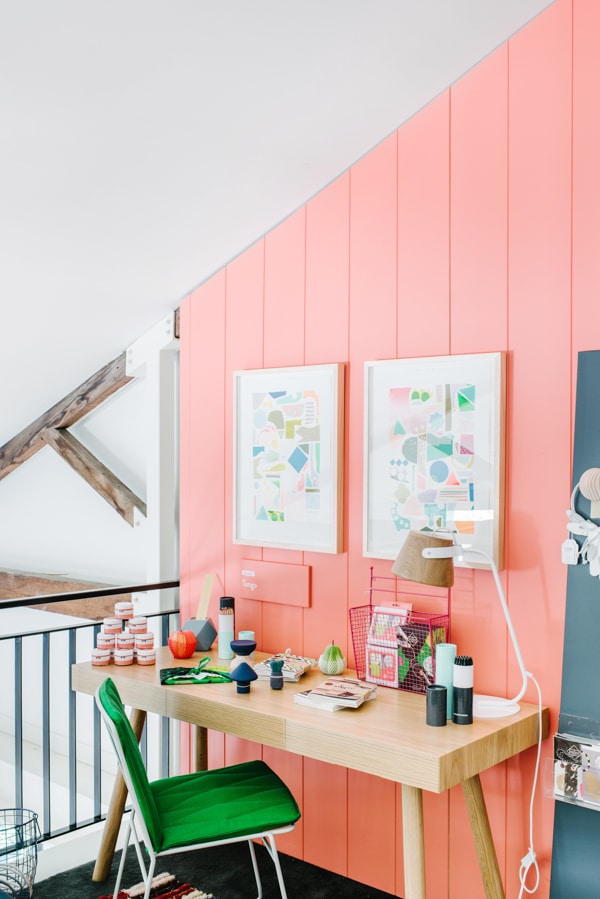 The stunning salmon pink wall clashes with the emerald green chair.  It shouldn't work, but it does… this is because the modern art prints (above the desk) tie all elements together nicely.
Source:  The Design Files (Photographer:  Brook Holm) via Thou Swell
---
Featured image source:  Loaf