Lights can be statement pieces, subtle that serve a purpose but do not steal the show, or works of art that bring the whole room together.
The following designer lights are most definitely works of art that would stand magnificently on their own, but within the following images they pull each of the rooms together beautifully, whilst looking stunning in their own right.
---
The first image below is of the Tube Chandelier, designed by Michael Anastassiades. This modern design would have fitted perfectly within a mid century home, although the original design was produced in the early twenty-first century. 
The made to order Tube Chandelier is made of satin brass and has a stunning geometric shape, both very much on trend in 2016.
---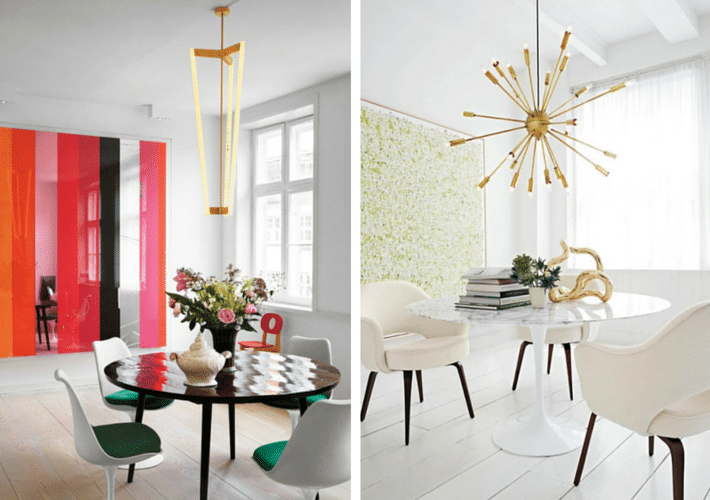 ---
This iconic vintage brass Sputnik was a popular mid century chandelier, which was inspired by the launch into space of the very first satellite.
Russia's launch of the Sputnik on the 4th October 1957 started what we call the space race between Russia and America, and influenced a generation of designers (design period called the Atomic Age) and space enthusiasts. You can read about the satellite Sputnik here.
It is thought that the Italian engineer Gino Sarfatti designed the original Sputnik Chandelier, but this can not be confirmed as there were supposedly a number of possible origins, plus the number of variations of the design during the 1950's and 1960's complicated matters further.
---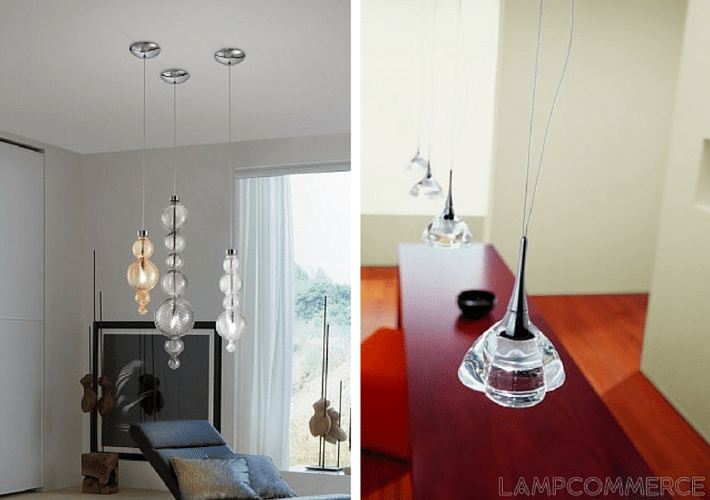 ---
The San Marco Venetian Chandelier and the Primula hanging lamp above are both designed by leading Italian lighting companies.
The San Marco Venetian Chandelier with it's blown glass balls is reminiscent of St Mark's basilica in Venice – it's produced by Evi Style and designed by Romani Saccani architetti associati.
The Primula hanging lamp as it's name suggests is a beautiful glass flower designed by Axo light. You can find both of the lamps in the image above at LampCommerce, where you will also find many other designer Italian lamps.
A set of designs I am particularly drawn to at LampCommerce are the Artemide Tolomeo lamps, designed by Michele De Lucchi and Giancarlo Fassina, as not only do they have an on trend industrial retro feel, they're also very practical.
---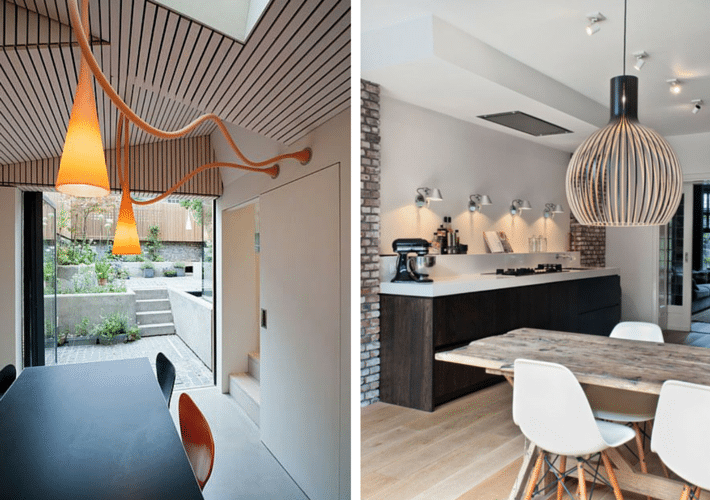 ---
The juxtaposition between the strong lines within this home (image on left) in Islington London by Fraher Architects, and the fluid lines of the designer orange lamp is just wonderful. It truly looks like a work of art!
The image on the right is a property designed by Louwerse de Jong Interiors. I wish I knew where both companies purchased the lamps from, as they are both remarkable designs.
---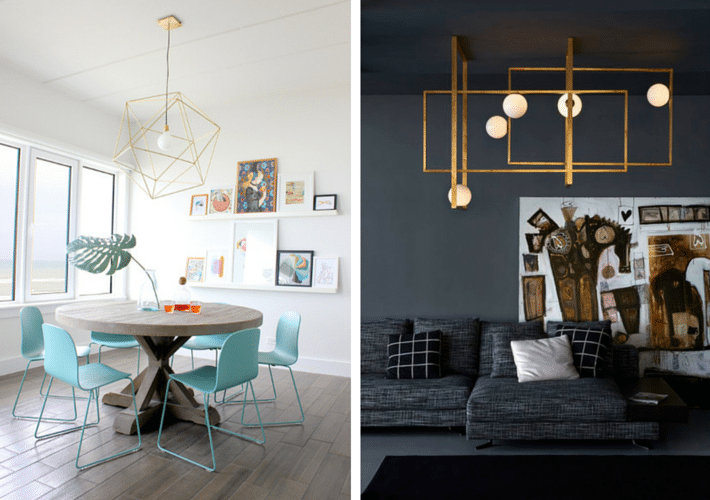 ---
With a room where each piece is quite different from each other design wise, Sarah Stacey from Sarah Stacey Interior Design has produced a delicately balanced room.
The pendent was specially made by a company called Warbach. Although it is particular large and a striking design it still fits perfectly within the rest of the room, this is due to the thought out way that Sarah Stacey has designed this particular piece.
The design of the light – Mondrian Glass Ceiling (second image) is again a work of art. Each piece that VeniceM creates is hand-crafted by artisans and according to VeniceM "From concept to realization every step is followed out by our creative and technical teams, working together in order to create unique works that fit into context".
From concept to realization every step is followed out by our creative and technical teams, working together in order to create unique works that fit into context.
---
---