Are you researching nursery designs to keep you busy as you approach your due date?
Are you tired of seeing the same old styles and looking for something a little bit different?  You're in luck!  To help you design the perfect nursery we've collated five of our favourite modern styles below.  Plus, we've added plenty of photographs, links and resources to aid your research and keep you inspired!  Let's begin:
1) Modern Scandi
Scandi design is the trend du jour across Europe and North America, largely due to the popularity of social media sharing sites like Instagram and Pinterest.
In traditional Scandinavian homes, homeowners painted walls in white or soft grey to keep the room looking bright for as long as possible during the minimal sunlight hours.  Today, the white is typically paired with subtle, pale hues and soft, neutral colours.   This makes the style of design especially fitting for a nursery.
[instagram url=https://www.instagram.com/p/_q0u9bpc08/ width=710]
The Scandinavian design movement is also known for its simple, minimalistic design and highly functional pieces of furniture, typically made using high quality, durable wood. Such furniture should play a starring role in your child's nursery. Keep surfaces clutter free by utilising smart storage systems (as below, there's hidden storage underneath the seat).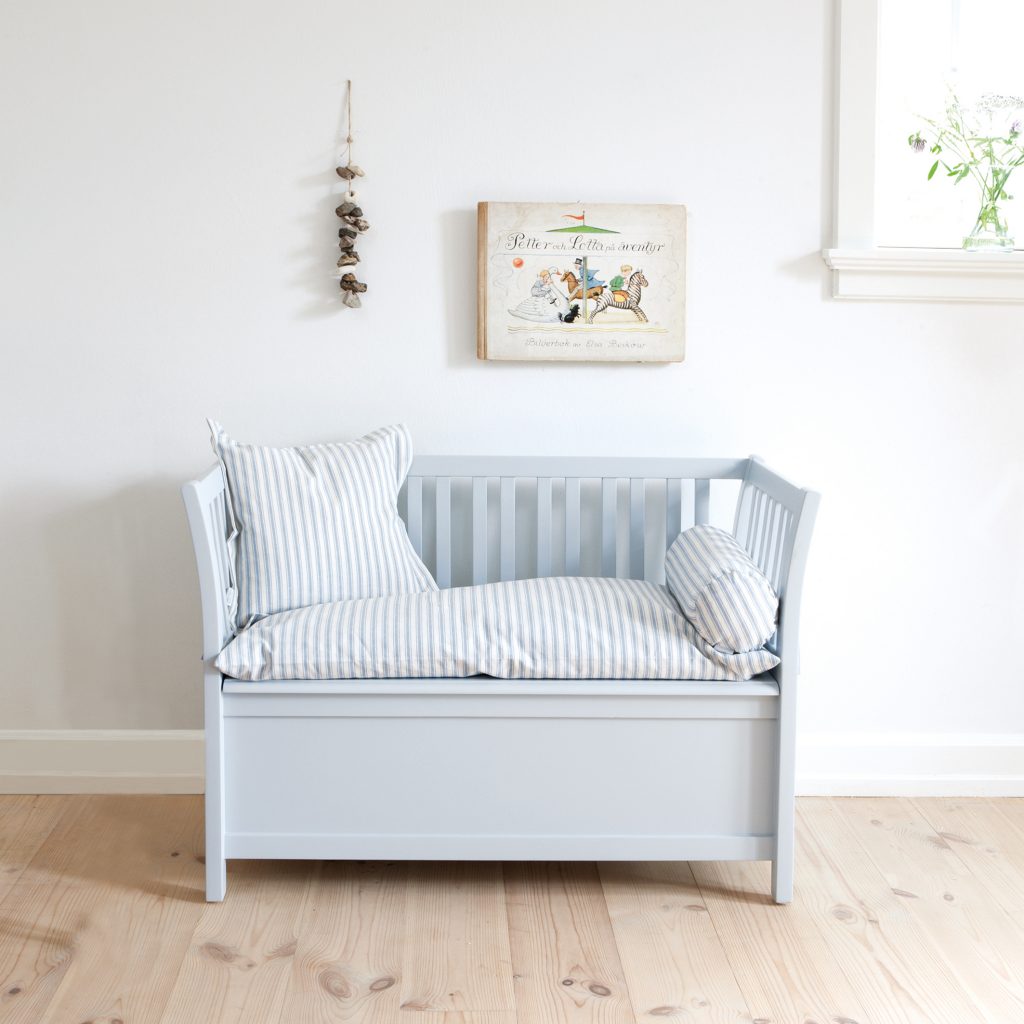 Give your nursery a modern twist by adding on trend colours, such as rose pink and metallic accents, as pictured below. We also love how the room designer has selected trendy cartoon prints that accentuate the colour scheme.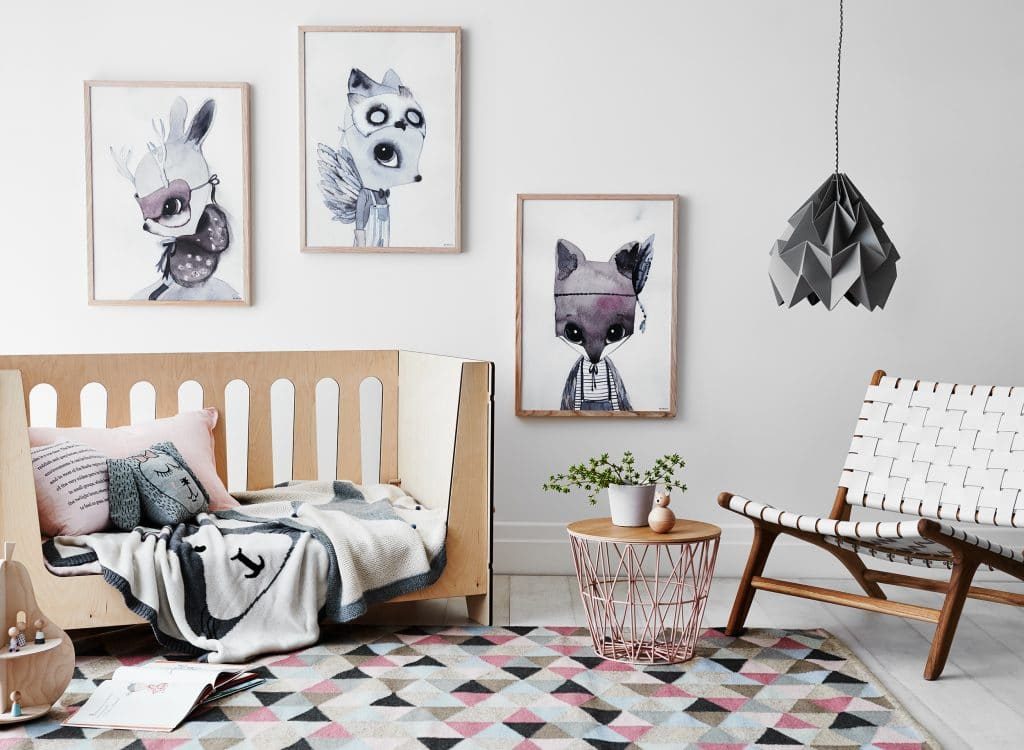 2) Fabulously Floral
While many parents opt for printed wallpaper that feature babyish characters in soft and neutral tones, Nubie kids boutique have opted for something slightly more wild and daring. They've selected this dark floral wallpaper, which contrasts with the wooden cot and bright accessories in the room.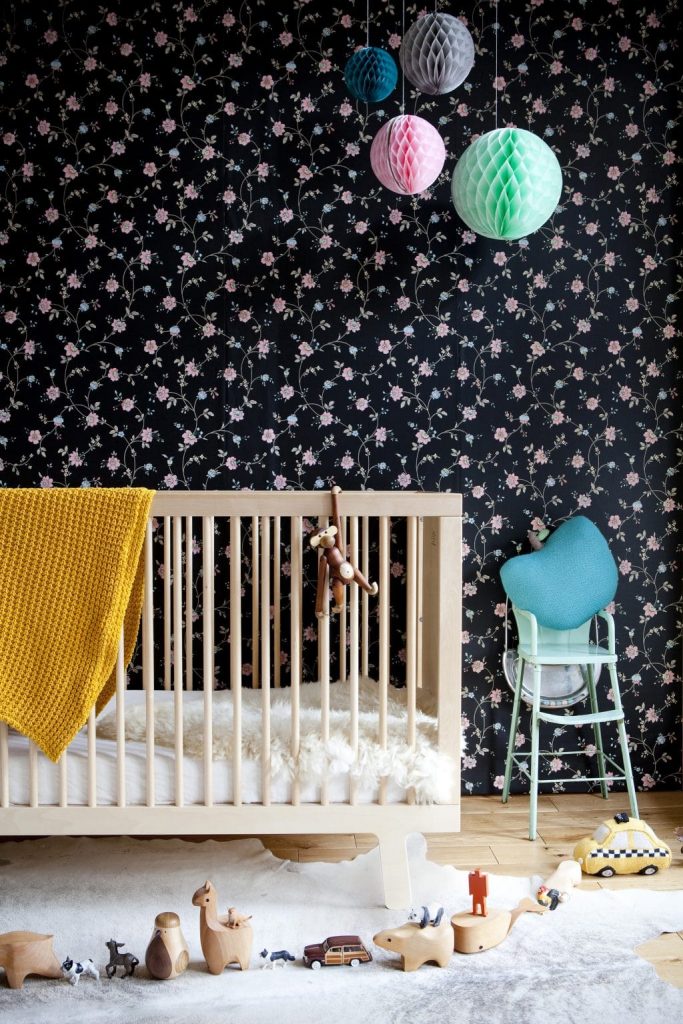 The result is a bold, colourful and fun play space for baby. Bonus idea: Why not swap out the bold floral wallpaper for metallic stars to create a dreamy space?
3) London Calling
Take inspiration from our fantastic capital city by decorating your nursery with a playful London bus print, and add Union Jack bunting for a thoroughly festive feel.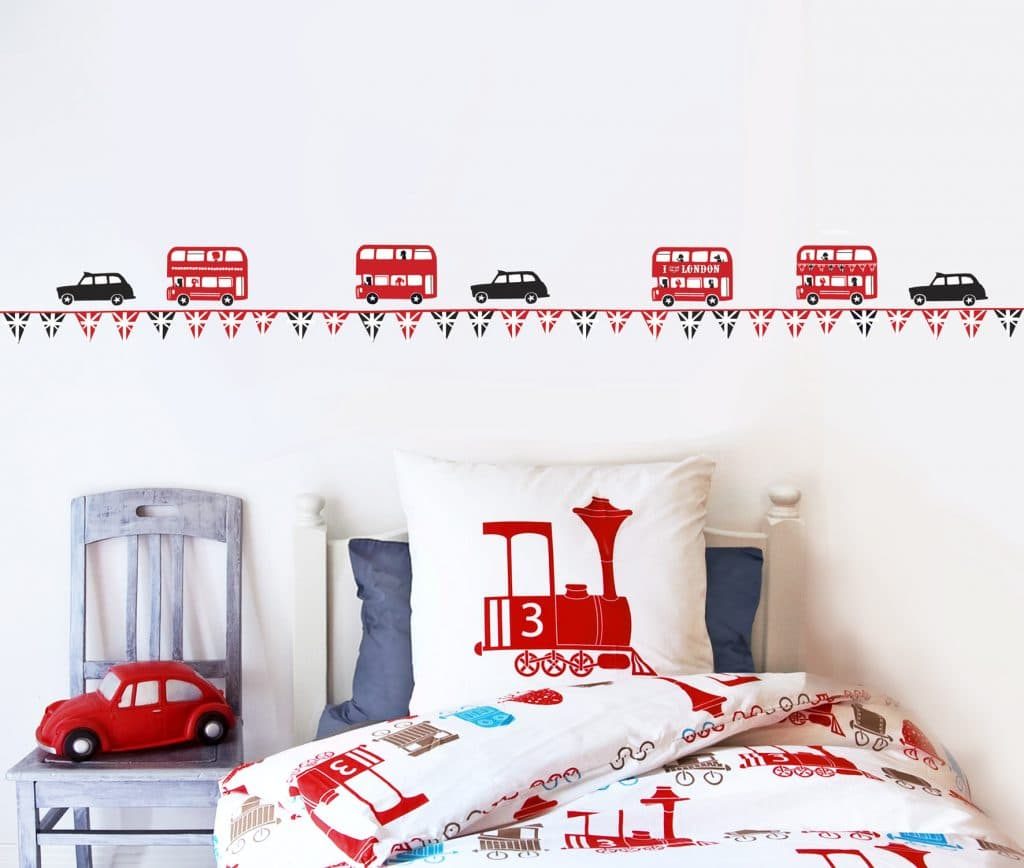 This room style is super easy to achieve. Simply decorate the room using white as your base colour, and then opt for red and blue furniture. Look for London themed linens and accessories to tie the look together.
4) Contemporary and bright
Shun traditional pink, blue and yellow tones and opt for a bright accent colour in your nursery. Pick something cheerful, fun and bold.   Then, select accessories and furnishings to coordinate the theme throughout the rest of the room. Mustard yellow, fuchsia pink and mint green are all very trendy options right now.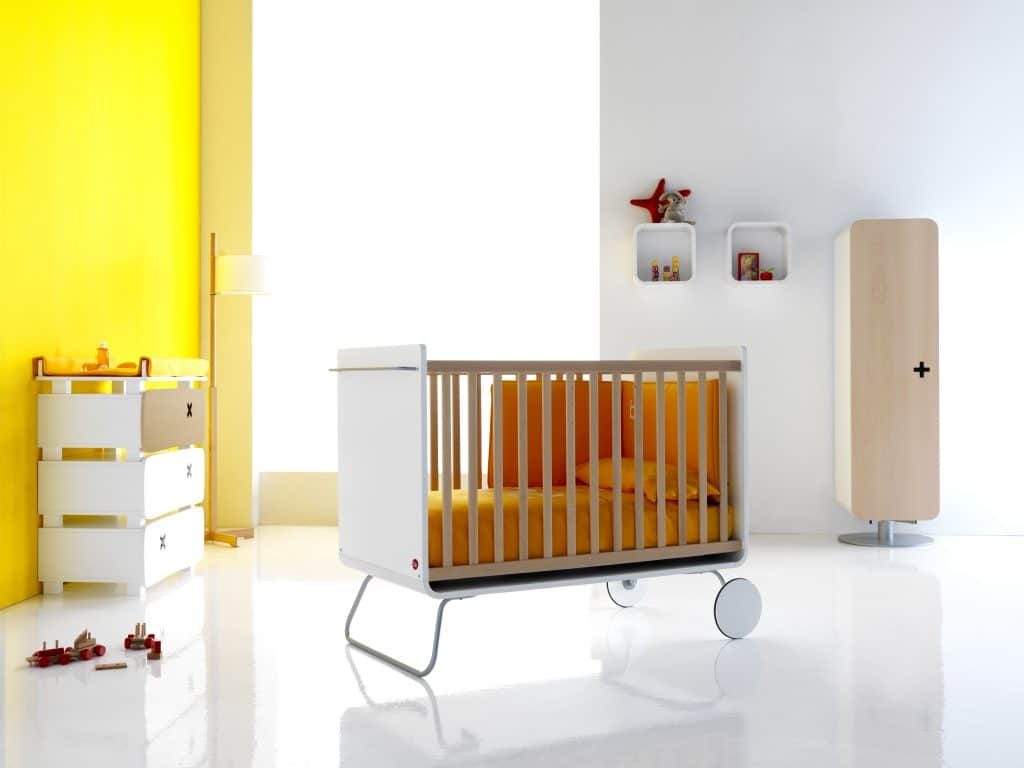 This style works best with contemporary furniture and minimal clutter. Install clever, hidden storage solutions where possible.
5) Modern meets traditional
Bring traditional into the 21st century by taking inspiration from the photo below: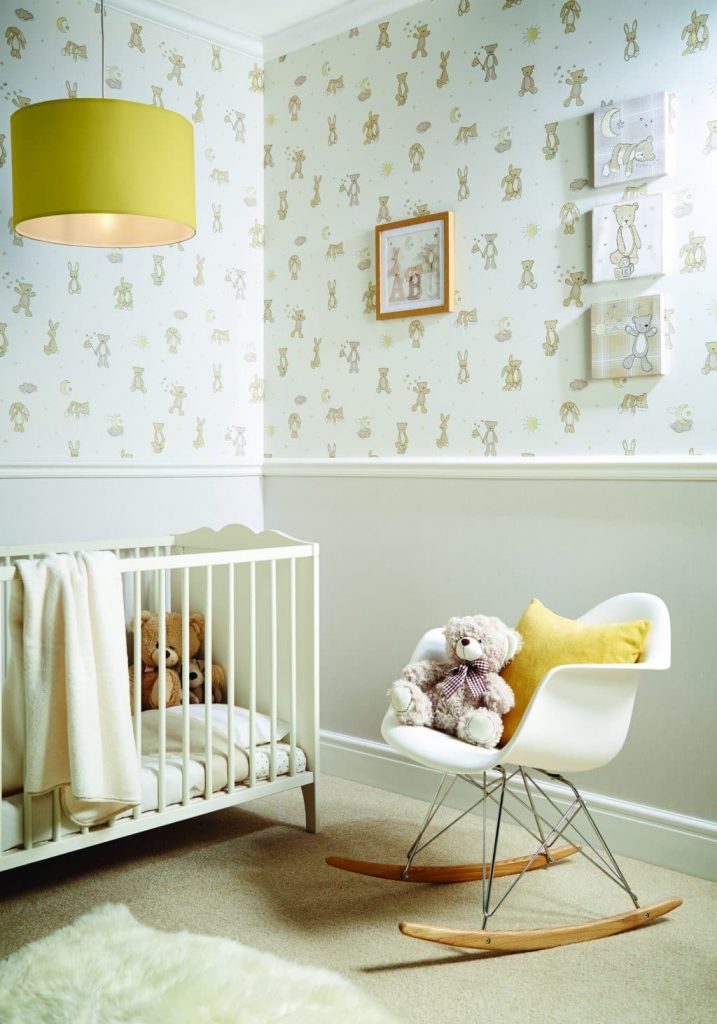 The wallpaper features cuddly teddy bears in soft and neutral tones and a traditional style baby cot. However, the room is modernised through the use of the trendy mustard yellow accent colour and the super stylish chair. The room is a good compromise between cutesy and trendy.