Today, kitchens truly are the heart of the home for many of us, and commissioning the perfect kitchen to take you from family breakfasts to chic soirees can be fraught with difficulties.
Practical decisions like the choice of wood can have a huge impact on how long your beautiful new kitchen will stay looking that way, and working with a designer who doesn't understand these nuances can result in headaches down the line. Wood is the classic choice in kitchens due to its durability and design flexibility but which wood is best to use in kitchens?
There are many different options for both the carcass of a cupboard and its façade, but some are miles ahead of the rest, as we'll explain below.
So, which wood is best to use in kitchens for your cupboard carcass?
When commissioning the kitchen of your dreams, you may well be tempted to insist on the entire structure being crafted from the wood of your choice. However, a cabinet crafted entirely out of solid wood is not only expensive, but impractical, as wood is hydroscopic and therefore moves according to temperature and humidity, making it less efficient when building a solid structure.
Cheaper, off-the-peg kitchens often use chipboard or MDF as their board of choice for cabinet carcasses, but these materials are made unstable with moisture, having a tendency to swell and deteriorate. They also bleed chemicals in the air, which no one wants! We recommend Plywood instead, which is very dense and strong.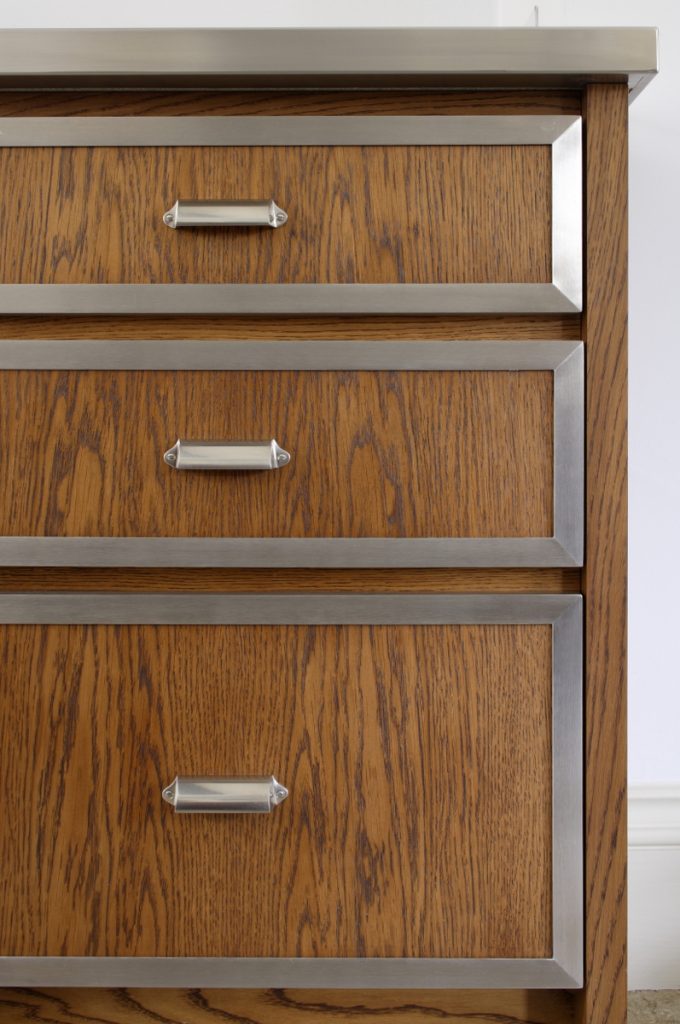 High-quality man-made boards are more stable, and less vulnerable to the wear and tear of everyday life than solid wood. Not all man-made materials are made equal, however – thickness and weight both significantly affect the feel of the cupboard, and for this reason we would always say that the thicker and heavier the board, the better. A 15mm board is typical, but it can feel flimsy and low quality. If possible, upgrade to 19mm board – this thickness is more commonly used in bespoke kitchens, and you will really be able to feel the difference. A skilled cabinet maker will veneer your board to make it last longer, or if the cupboard will face particularly heavy wear, you may even want to ask them to laminate the board, further protecting it.
Of course, the purists amongst you may still wish to have the cupboard carcasses made out of hardwood, but be warned that it can quadruple the price and that the functionality may be compromised. The only time we would recommend it would be for a display cupboard or dresser, where the focus is more about looks than practicality.  Whatever your final design, remember that weightiness is the key to making your cabinets feel high quality. It's not just about how they look, but how they feel as you open and close them on a regular basis.
Which is the best wood to use for your kitchen cabinets' façade?
Painted
Unlike cabinet carcasses, which require practical consideration, you can exercise much more creativity with the best wood for your kitchen cabinets' façade.
Plan on a painted finish to your kitchen cabinets? Luxury kitchen cabinet makers Artichoke recommend Tulip Wood – ideally that which is grown in plantations in North America, as it is slower growing and so has twice the density of other Tulip Woods. Or, if you wanted to bring texture through the paintwork, they would recommend Siberian Birch, which shows the pattern of the grain through the paint or finish.
Natural wood
Which wood is best for kitchens aiming for a more natural finish? Nut woods including European Walnut and Sweet Chestnut offer lovely colour tones, as does Grey Elm. Sycamore is another favourite wood for kitchens– it starts off as a pink-cream colour with a tight, close grain offering a lovely smooth surface, which can be used for cupboards but also works very well for surfaces. Oak is one of the most popular choices for both kitchen cabinets and counters due to its very versatile nature.
Hardwoods from North America and Europe tend to be very high quality, and in general timber grown in plantations tends to be fairly straight and tall, which is ideal for carpentry. UK timbers are typically farm-grown rather than plantation-grown, meaning the wood is more likely to have defects and a wilder grain – this is because the trees are more isolated and are exposed to the ravages of weather.
Sustainable craftsmanship
When you have decided the best wood for your kitchen cabinets, the final thing to consider is how the wood is sawn and if it is sourced sustainably. Timbers go in and out of fashion – there is a trend now for designers to specify rift-cut wood, which is very wasteful as many of the beautiful elements of the wood are discarded. We would recommend choosing plain sawn wood, which gives a lovely finish and uses all the wood sustainably.
When it comes to deciding which wood is best for kitchen cupboards, ensure to take advice from the experts. The cabinet carcass is probably not the place to express your creativity if you want a beautifully functional kitchen, however, the façade is where you can really express yourself. Working with a bespoke kitchen designer can ensure that you choose a kitchen made for both form and function, ensuring you'll have a kitchen you enjoy using – and showing off – for many years to come.