If you load up home decor accounts on Instagram you'll soon stumble upon the #greyhome hashtag.
If you load up Pinterest, you'll notice it is awash with grey interiors.  The grey trend grew steadily for several years but has recently soared. Head to the high street and you'll spot shelves are bursting with grey home decor items. It looks like grey isn't going anywhere.
But grey is so drab and boring?
When we say grey, do you conjure up the shade of concrete? If so, take a look at the swatches on a paint manufacturer's website.  You'll find grey comes in a wide array of shades.  From rich, warm and silty to gentle and frosty with a steely blue undertone.  From soft and delicate to dense, sumptuous and silky. There are shades of grey to suit all tastes.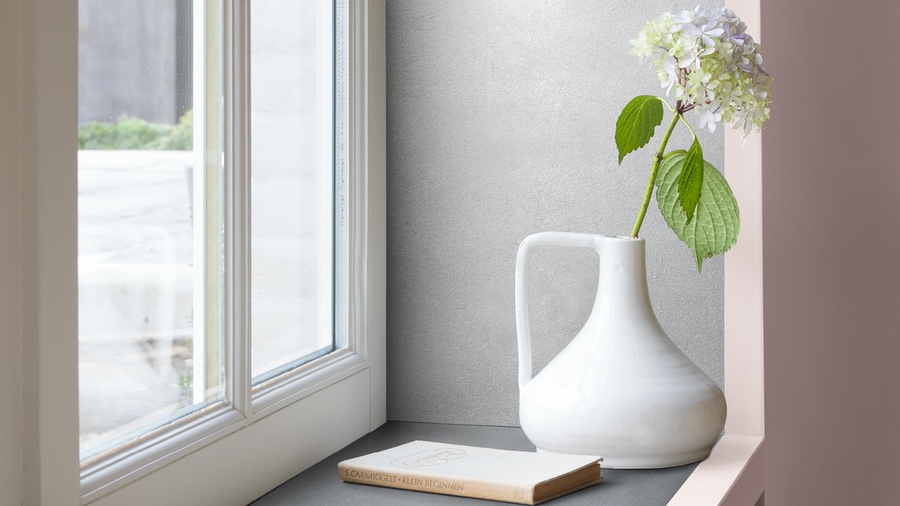 How to decorate your home with grey:
Grey is the perfect backdrop, you can pair it with nearly any colour.  It's the modern alternative to magnolia, creme, beige and off-white.
Several years ago, it used to be all about Scandi chic. Homeowners would use lashings of bright white with light wispy greys. Pops of teal, pink or mustard gave rooms a modern twist.  For 2019, forget airy and minimal. Think dark and moody. The trend-du-jour requires deep shades of grey paired with bottomless shades of green or blue. Add metallics warmth and luxe.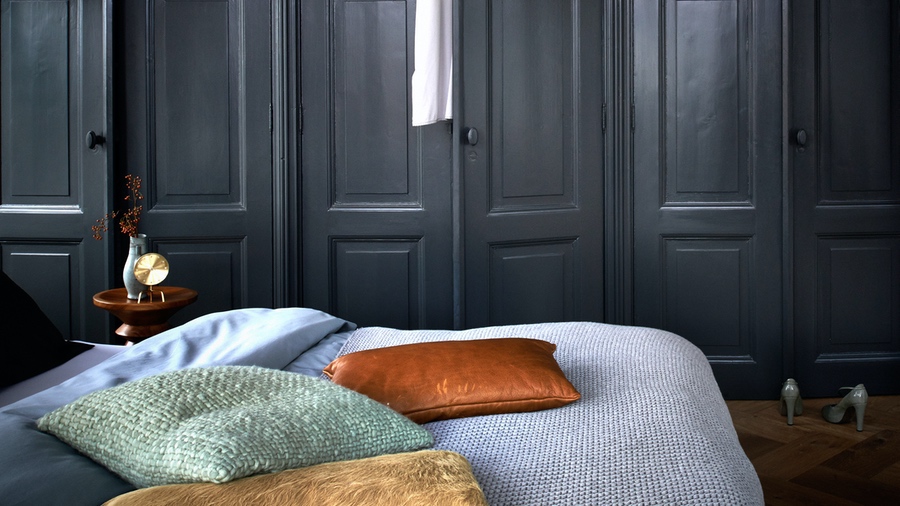 Get the look:
Planning a home makeover this spring? Here's a little inspiration from our scrapbook at Interior Desire HQ.
Seating:
Sofas have been made in a range of colours, prints and styles for decades now. However, modern homeowners tend to prefer simple, plain grey designs.  We're lusting over this soft velvet grey sofa from IKEA (£825). It seats three people. The company also sell a coordinating two-seat sofa and armchair.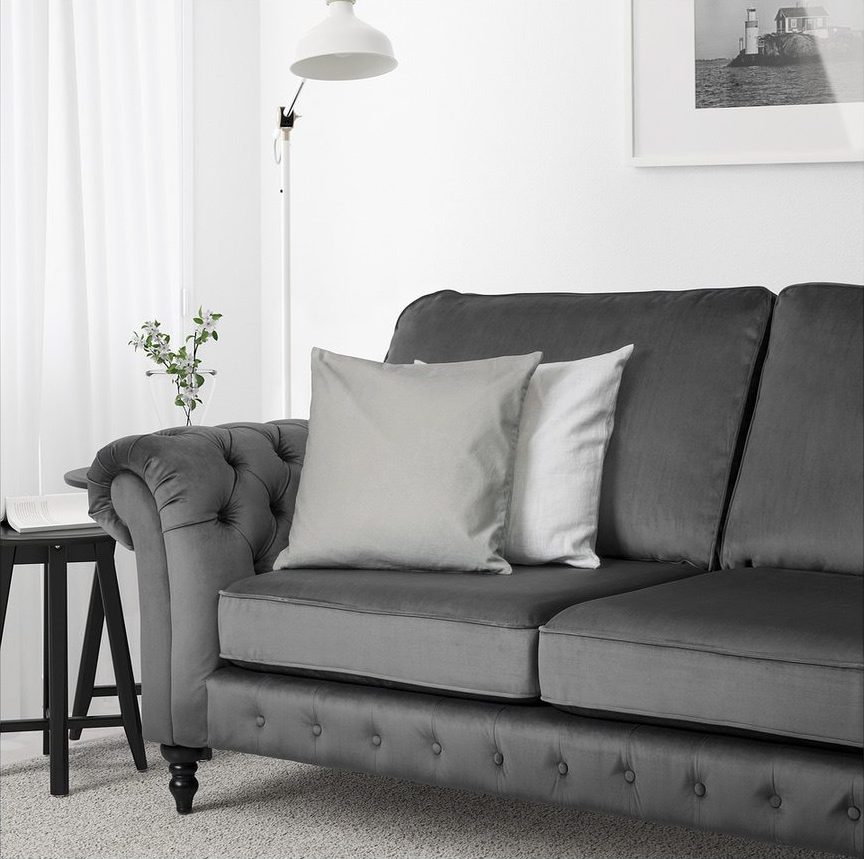 Flooring:
As you'd expect, the grey trend has not escaped flooring. Grey laminate flooring is now a popular choice for homeowners renovating their properties. There's a good offering of styles available too.  We've taken a shining to the Kaindl "Oak Farco Cogy" style from Lifestyle Flooring UK.
Walls:
Planning to paint your walls? Head over to your favourite paint store and enjoy the sheer choice of shades on offer.  We dare you to go dark with this elegant shade of Violet Slate from Craig & Rose. You won't regret it!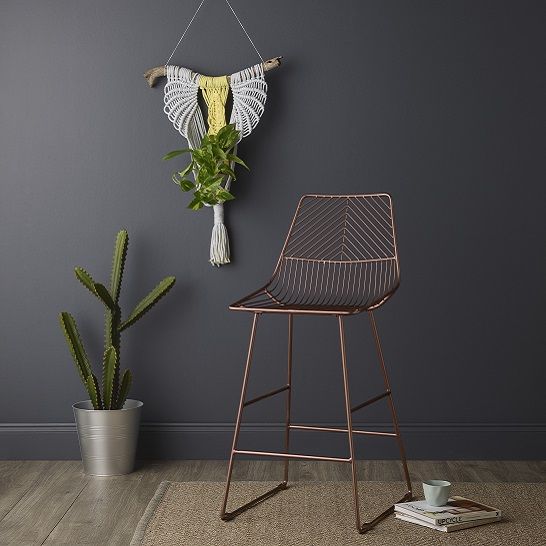 Furniture:
Walk into any furniture shop and you'll find at least one "family" of grey pieces. Gone are the days where wood, beige, white and black were the only options available to buy. That's because of the huge demand from consumers.
The grey "Venice" range from Melody Maison caught our eye here at Interior Desire HQ. We particularly like the lattice detailing on the front. The company stocks bedside cabinets, sideboards, console tables, occasional tables, and chests of drawers in the style. Prices start at £86.95.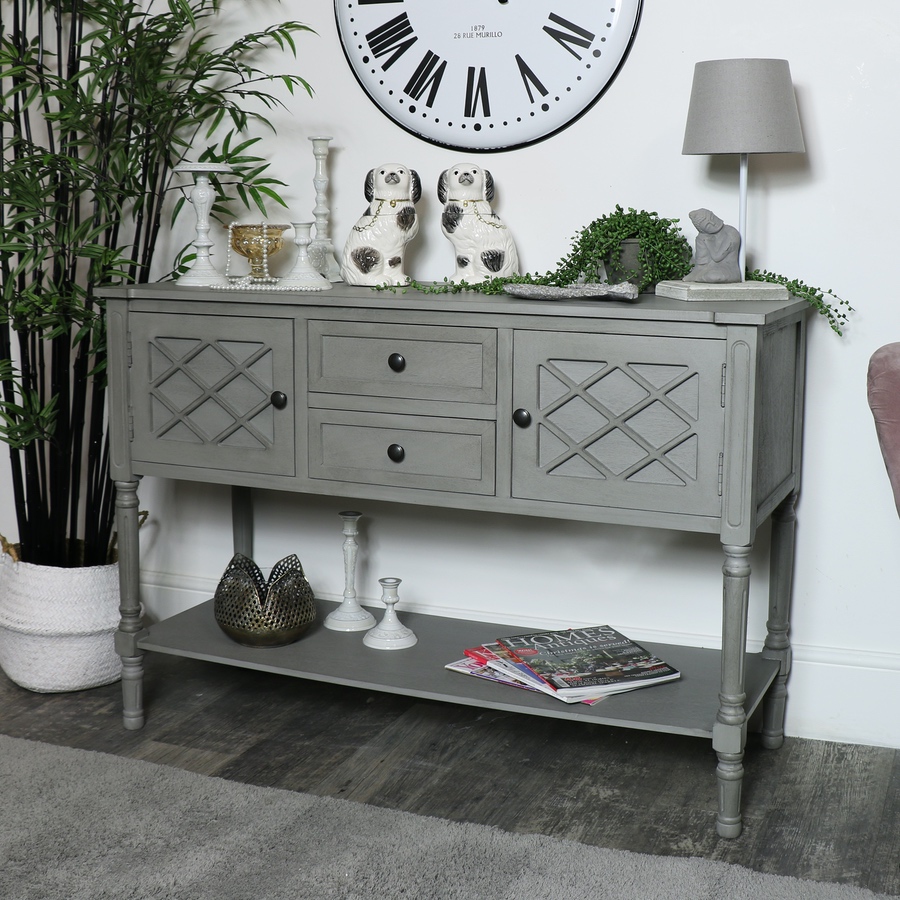 Furniture – Baby's Room:
Grey has been a very popular choice in the nursery for a few years now.  We love this grey baby's cot from Bonordic.co.uk. It features a really trendy harlequin pattern design. Costing £875 but is adjustable so you can convert it into a toddler bed once your child is old enough.  We're also swooning over the wallpaper!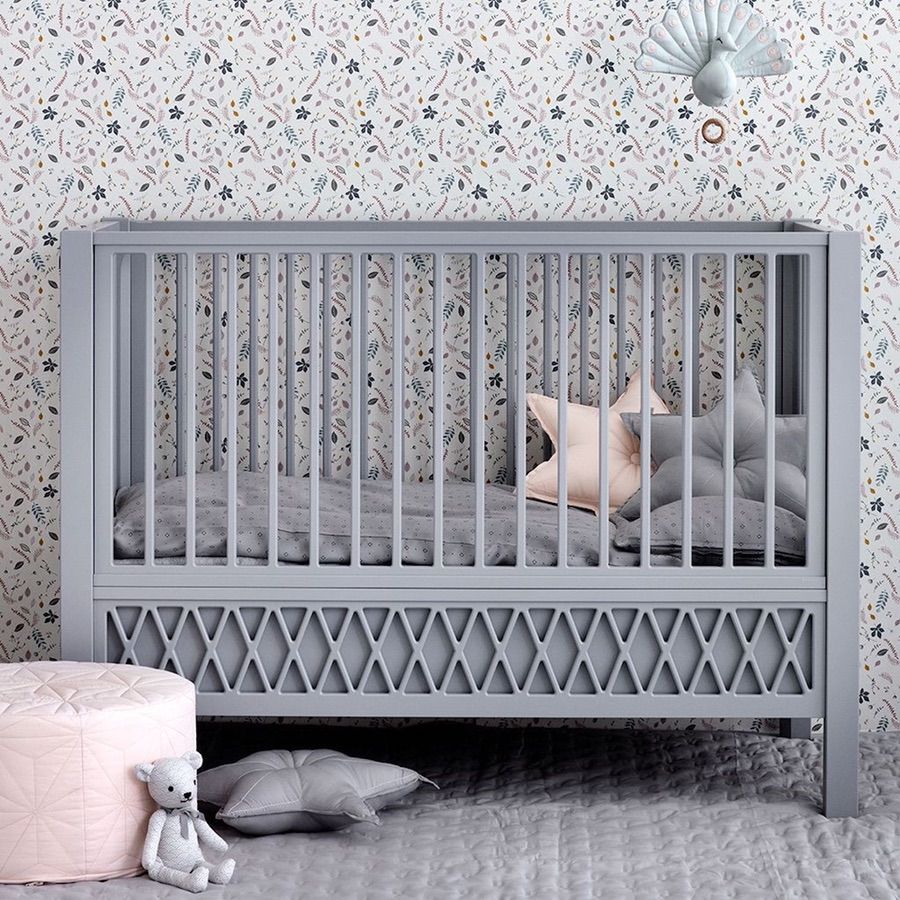 Furniture – Bed: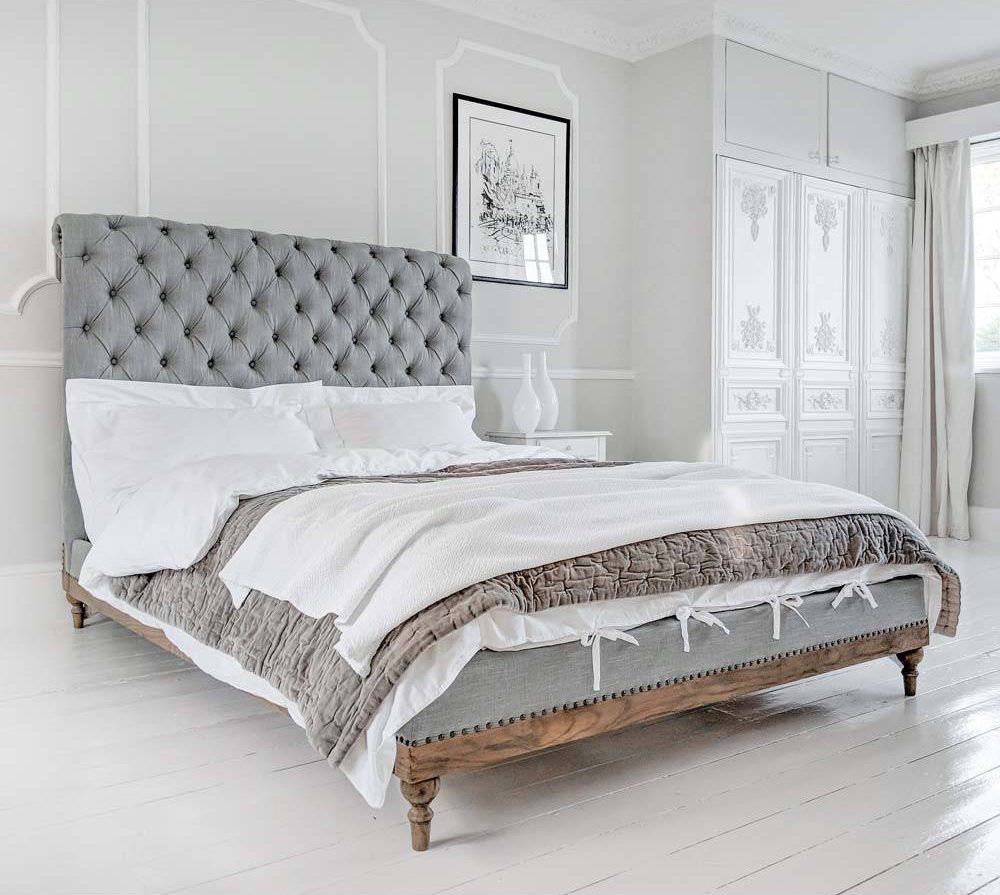 A grey bed is a perfect way to incorporate the theme into your bedroom with ease.  Pair with soft grey linens for a dreamy feel.  Who could say no to this grey bed from The French Bedroom Company?  It features button design. and comes in both King and Super King Size. Prices start at £1195.
---
Main Image Source: Farrow-Ball.com