Kitchens are one of the most important rooms in any home.
A well designed kitchen makes it easier to prepare meals and enjoy the kitchen as an important part of the home. It also makes it easier to put the house on the market and achieve the highest possible price.
Buyers love beautiful kitchens. When it comes to thinking about a kitchen, all elements in the room must be carefully considered before proceeding.
One element that needs special attention in the kitchen are the countertops. When choosing kitchen countertops, homeowners should pay close attention to detail.
This includes the type of material, the price, the size, and how the design will match the existing style of the kitchen.
Creating a Budget
Homeowners should think about their budget before they decide on which new kitchen surface to buy. When creating a budget remember to include the kind of materials to be used, the cost for the overall installation and the complete design of the kitchen, including every small detail.
Buying kitchen countertops can be done as part of a small remake of the space or as part of a total transformation of the entire area. Today, it's easier than ever to create a working budget that gets the desired results. As you have the option to either replace just the existing kitchen countertops or ripe out the whole kitchen and start a fresh.
People can take advantage of the marble.com countertop estimator found online. It makes it easier to work out the cost of new countertops from the comfort of your home.
The estimator tool allows the user to put in all kinds of important details and receive a highly detailed estimate that can help the homeowner create a useful budget.
Types of Materials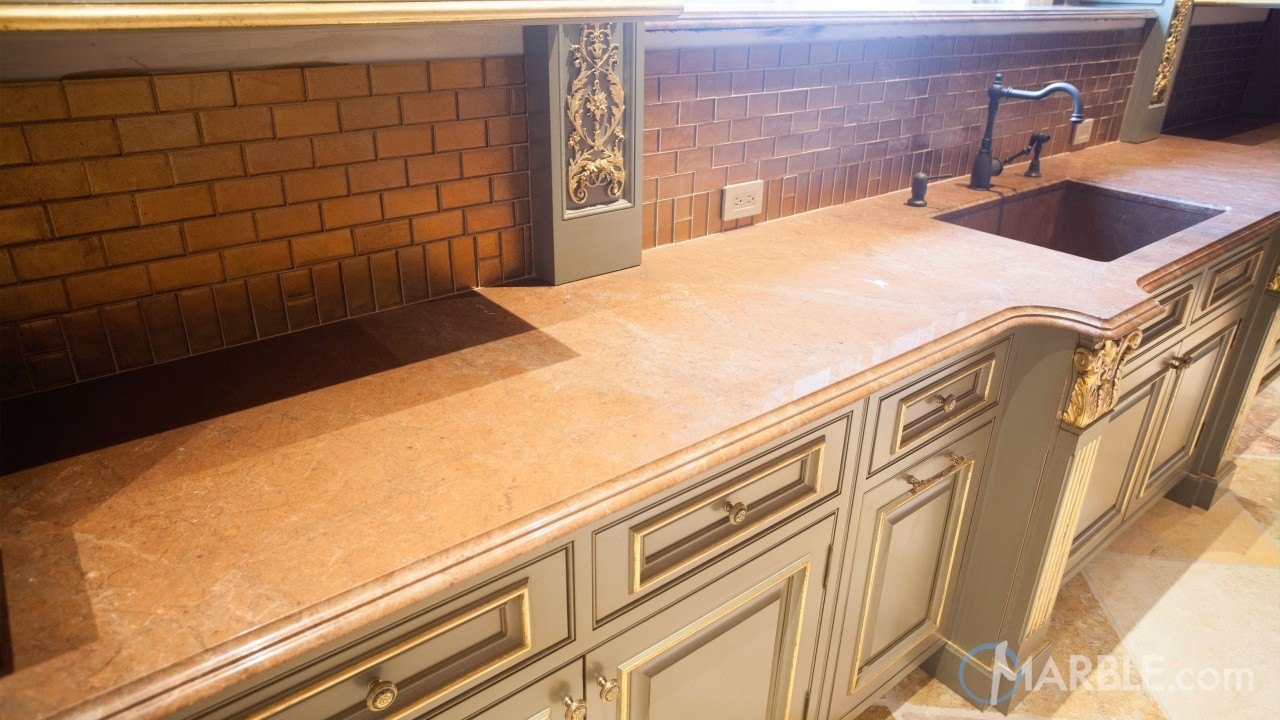 Modern homeowners have their pick of countertop materials. Each kind of material has great features and potential drawbacks. It's crucial to know about each material in advance before starting any project.
Different types of materials are available for many varied budgets and kitchen needs. A skilled assistant can help sort out which options work best for the project the owner has in mind.
Homeowner should take the time to see each type of material in person before they make a choice. This gives them an opportunity to see what they look like before they start the Kitchen renovation.
Quartz Countertops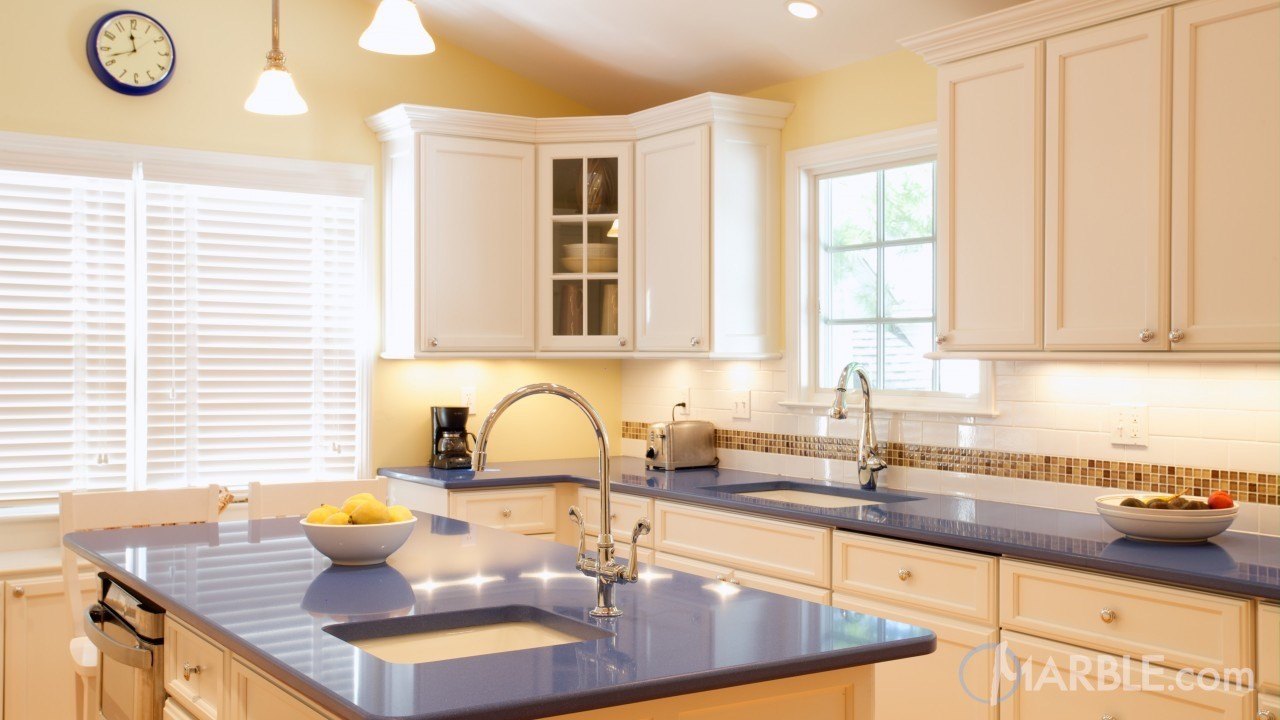 Quartz also goes by the name of engineered stone. This is a blend of materials including resins, pigments, chips and stones. It's a highly modern surface favoured by many homeowners.
It looks very much like natural stone. It's also extremely durable. Hot water spills and other problems won't damage it as it does not need sealing and it's waterproof.
The waterproofing makes it a good choice to use in areas with a sink and it is a good idea for kitchens that get a lot of use.
Beautiful Granite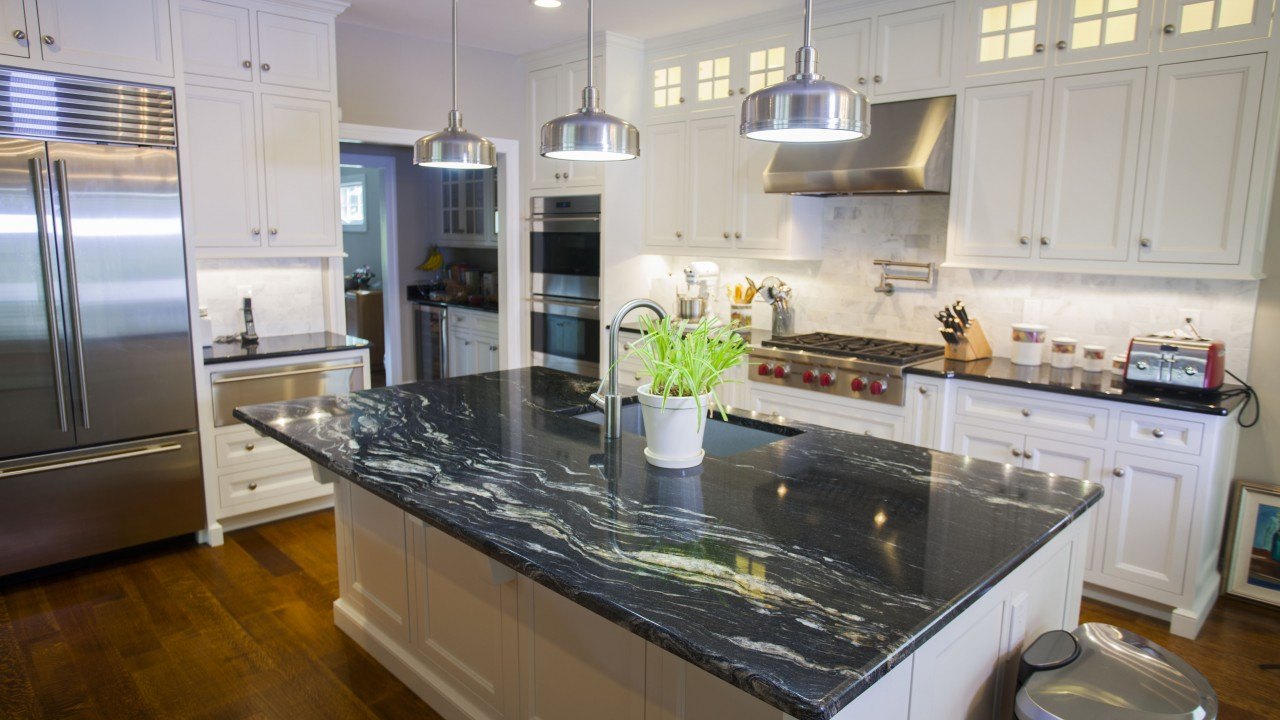 Granite is a highly popular choice for those in search of something elegant with an upscale feel. Just like quartz, it's very durable and ideal for spaces that get lots of traffic.
At the same time, granite needs special care and handling. Homeowners will need to get the material periodically sealed, which will protects it from stains.
And watch for damage such as chips to the surface, as they will need a professional to repair the damage.
Tiled Tops
Tile is a classic material that's been used for many decades in kitchens all over the world. Today, people look to tiles as a means of adding personality to the kitchen and like the way the materials easily blend with the rest of the kitchen.
It's ideal for those on a budget and resists heat well. Repairs are easily made by purchasing extra tiles and they can be applied as needed in the event of any problem.
Homeowners should keep in mind that grouting can stain over time. It's important to clean the grouting carefully to remove stains and keep it looking good all year long.
Recycled Glass
This green and eco-friendly countertop is increasingly popular for eco-conscious consumers everywhere. Leftover glass is placed in a base, resulting in a surface that has sparkle and detail.
This is an ideal choice for those who are looking for something modern and practice, as it looks stylish and is heat resistant. Although care needs to be taken in case the class is scratch or cut as it will weaken the glass enabling it to crack more easily.
Butcher Block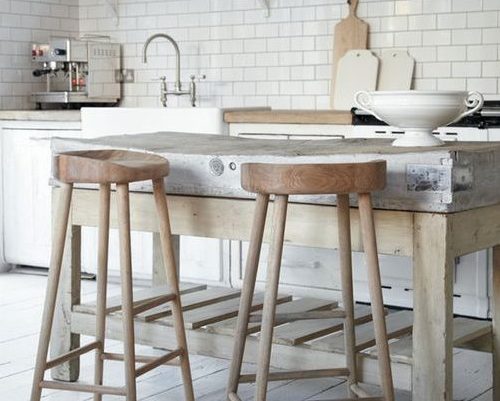 Butcher block countertops are made from thick pieces of wood. You'll find them made in many varies of wood from teak to maple. They're a good choice if you do a lot of food prep and want a surface that's tough and up to the task.
Any small nicks and cuts can be sanded down and installation is often cheaper and easier than many other forms of material. Homeowners keep in mind that this may need a lot of care, including regular treatment with oil to continue looking great over time.
Elegant Marble
Marble remains the countertop material of choice for many people across the globe. It's particularly popular in Europe where it's found in a multitude of grand homes.
Home owners enjoy marble as it offers colour and style to any kitchen, but keep in mind this a high maintenance material, as it scratches very easily.
While marble can be sealed against water damage, this may not prevent water stains from developing along the surface over time. Homeowners should keep in mind that marble needs a lot of care and attention in order to continue looking fabulous.
Other Considerations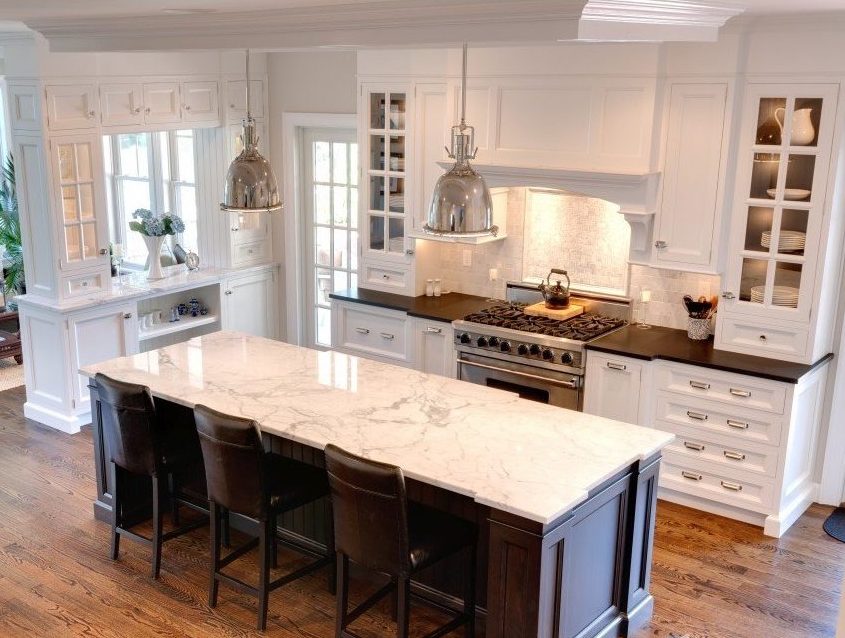 There are a number of factors that need to be considered when purchasing countertops. Firstly it's best to keep in mind the less interesting but equally important specifics such as the warranty offered, and the cost of the installation.
The same is true of the colour, as each type of material may have a number of different colours and patterns that vary from slab to slab.
If the buyer sees something they like when they're in the showroom, now is the time to think about reserving it. It's also a good idea to bring home a sample and have a closer look at it at home. Examine it from varied angles and at varied times of the day.
Look at varying different types of materials within your kitchen. Wood could be used for the kitchen island, whilst the rest of the kitchen surfaces are made of granite. This will help create a focal point that makes the entire kitchen more interesting.
A Great Look
To achieve a great look kitchen countertops requires a lot of thought. Anyone who wants to create a lovely kitchen should consider thinking over each and every detail, as homeowners should know what they're getting into before they make that final decision.