There are many stunning open plan kitchens, but is it the right option for you?
You may have come across an open plan kitchen design that you love, and you're convinced it's the perfect one for your home.
With a number of areas to consider when designing a new home or redesigning an existing one, it's a good idea to consider all of your options.
Like haircuts, it could be a stunning design, it may look perfect at that particular address and work well for the present owners, but that doesn't mean it will suit your home and your needs.
---
Regulations
Image Source: Iroka – Homify
---
According to planningportal.gov.uk, although you are not required to seek planning permission when removing an internal wall or building a new internal wall, you still need to abide by building regulations.
If you wish to build a new internal wall, remove an internal wall, or form an opening in an internal wall, building regulations will normally apply.
---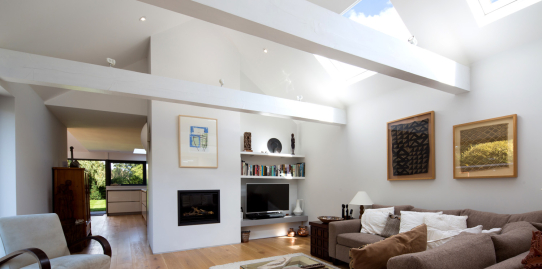 Image Source: Holland & Green
---
You may also need to contact your Local Planning Authority if you're worried about any existing walls. This would mainly be regarding the walls having structural importance in that particular position and therefore needing to know whether the wall is load bearing or not.
---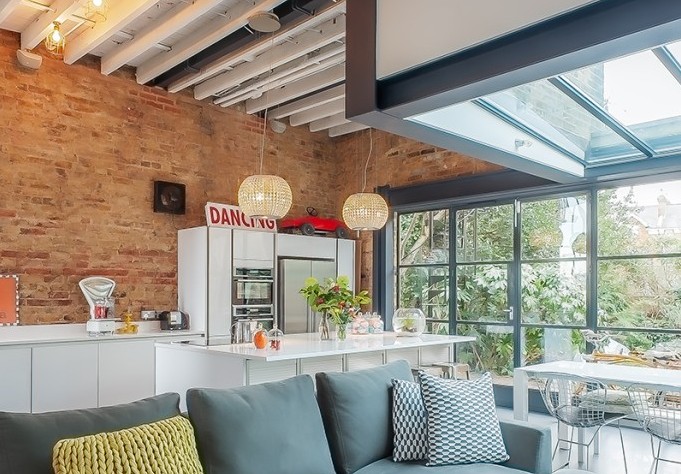 Image Source: Holland & Green
---
If you live in a listed building, it can also get quite complicated when renovating a property. It all depending on the conservation areas rules and regulations, so it's best to consult them before starting any form of planning or building work.
---
Image Source: NeooMaterico Marcello Gavioli – Homify
---
Not only could you potentially have to pay an unlimited fine if you carry out work that is not permitted, you could also receive a prison sentence (maximum penalty), so it is defiantly worth seeking advice and performing the process correctly.
---
Image Source: NeooMaterico Marcello Gavioli – Homify
---
On the plus side all that hard work is worthwhile, as listed buildings and apartments can look stunning when open planed. The property above works really well as an open plan kitchen, dining room and lounge. To see further images click here.
---
Available Space
Image Source: Rees & Lee Architect – Homify
---
Another area to consider is the available space. There are restrictions due to fire safety regulations and obstacles regarding holding the structure up as we mentioned above, but would an open plan kitchen utilise the space well.
This is a very personal decision, though to make things so much easier when planning out the interior layout of your open plan room, you could contact a few interior architects, and see which one realistically suits your budget and can help you realise your dreams.
---
Image Source: Luke Cartledge Photography – Homify
---
An interior architect would also be beneficial as you may not realise the full potential of the space within your home, and they are well versed dealing with all the rules and regulations, and who they need to contact along the way to keep the project running smoothly.
Interior architects and designers effectively manipulate space to accommodate the human activity that takes place there. With creative solutions they optimise the built environment to improve user experience and the functionality of space. They combine this with a keen knowledge of aesthetics and an understanding of materials, products, textures, fabrics, colour, lighting and other factors that go into creating the atmosphere and mood of specific environments.
---
Image Source: GK Architects Ltd – Homify
---
Not everyone naturally knows which colours go well together and which fabrics to use, so employing an Interior architect will also help with the interior design aspect of your open plan kitchen.
---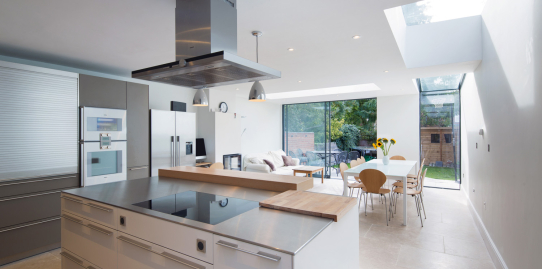 Image Source: Holland & Green
---
If you have children you may find the thought of having a cooker and hob easier for them to gain access to a potential problem.
Fortunately the cupboards can be secured with child locks, as for the cooker and hobs there are appliances available that only heat up once a saucepan has been placed upon it.
You can also purchase guards to surround the hob, but there still needs to be an extra awareness when it comes to children wandering from the lounge area to the kitchen.
---
Storage
Image Source – Hagley Stove – Homify
---
Mess and clutter can be a possible problem too. When rooms are separated you can no longer see the washing up from the lounge or the children's toys from the kitchen.
The solution is great storage and planning from the start. It would be a shame to dismiss the idea of open plan living due to clutter, as open plan living can transform a property, bringing the family closer together.
---
Main Image Source: Black & Milk Residential/ Homify
---