Concrete has not always enjoyed a good reputation – it has been known, for too long, as being grey, bland and industrial. Perfect for strength and robustness in construction, most modern buildings today have concrete at their heart.
It can be moulded into all kinds of shapes and once it is cured – the process of concrete drying – it can last for a long, long time. Providing the foundations are firm with minimal movement and the concrete mix itself is suitable for the application in which it is being used, it is a material that boasts some incredibly attributes.
Familiarity with concrete in this ways means that the final look and texture you can opt for when it comes to concrete flooring will come as a surprise. Midland Polished Concrete create stunning concrete floors that don't look anything like concrete; in fact, many of the finishes you can opt for make it look like another material entirely.
Fancy the decadent, luxurious look and feel of marble? Concrete flooring is what you need!
Colour and stains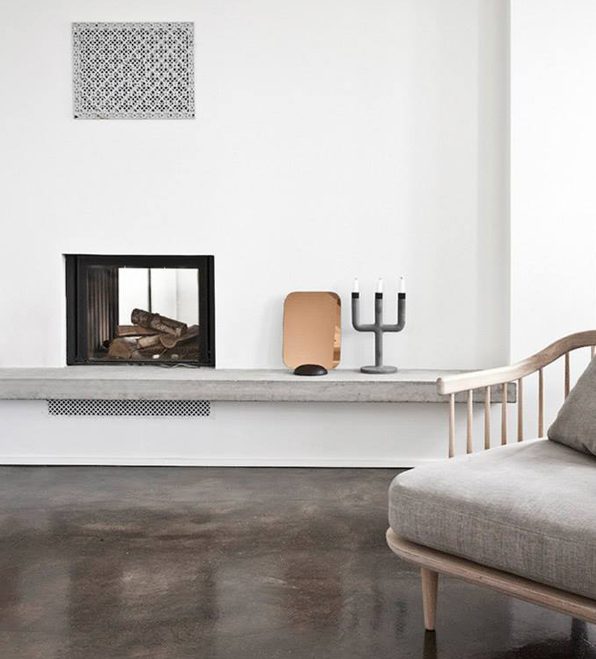 Image Source
One of the first decisions you will need to make is whether you want to opt for a colour or stain to your concrete floor.
Concrete offers a tremendous design versatility in this sense, thus your finished floor can be as plain or as decorative as you want.
Some people want their floor to look like natural stone or slate – this is something an experienced and expert company can deliver.
Want more detail? Not a problem. Many customers opt to have a design feature at some point in the flooring, whether that is a different coloured edging design, or a central focal point where a shape can be created.
Stencils and stamps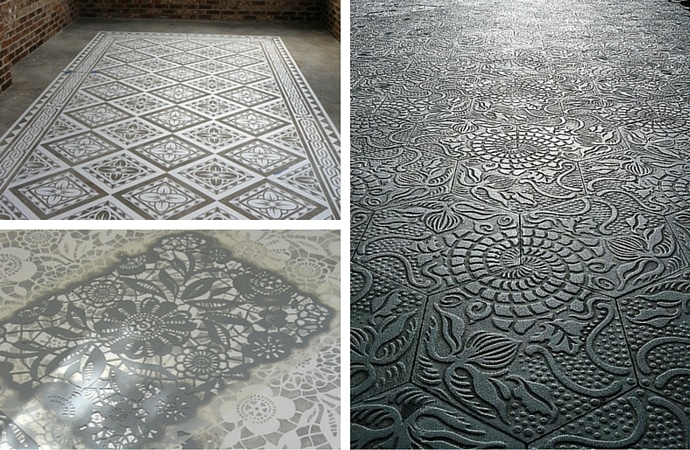 Not everyone opts for a smooth finish. Some people prefer adding a touch of texture to the final floor.
Just as you can stamp or decorate concrete outside, you can do so for interior concrete flooring too. Thus, you may want your floor to have the appearance and texture of natural slate tiles. This effect is created by using colour, as well as stamping the top layer of concrete so that it takes on the appearance of tiles.
You can also opt for have a textured surface – how much texture depends on what you want – and this too, gives it the look and feel of the floor actually being made from something else, like natural stone or slate.
Polished finished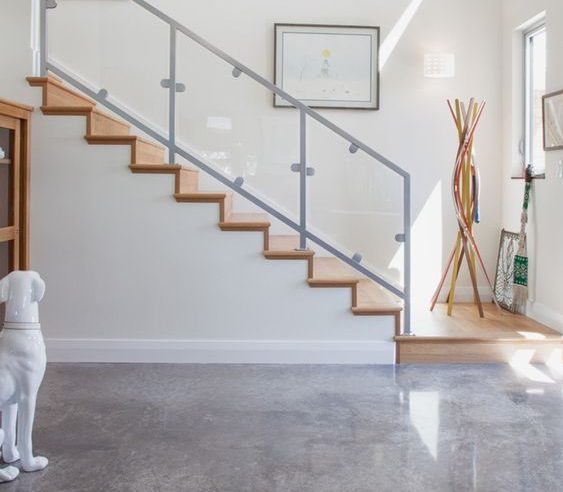 Image Source
Techniques and technologies change all the time and the same can be said of techniques and methods used with concrete.
Two of the current trends when it comes to concrete flooring are polishing and metallic epoxy resin coatings.
Polishing – this is the process that creates a smooth, high sheen finish to a concrete floor. You may think this would need maintenance to keep this high polished look but unlike other materials, your concrete floor won't need waxing.
Metallic epoxy resin – this substance contains real metallic powders or special reflective pigments that give the concrete the look of copper, silver, aged bronze, nickel or any other kind of shimmery coating. This finish is growing in popularity, especially for those customers looking for a modern, upscale finish.
Old and new concrete floors
Many modern properties already have concrete slab floors laid as a 'sub-floor' underneath the top layer of flooring, such as underlay and carpet, laminate, vinyl and so on. If you do have an existing concrete floor, you will be pleased to know that you can opt for any of these finished with an existing floor too.
And for concrete floors in more industrial settings, such as garages etc., there are also options for resin coatings that prevent oil and grease from seeping into the concrete floor and so on.
In summary
Concrete floors are…
easy to maintain – a quick sweep or vacuum, a quick mop and that is all it takes. No buffing and no waxing
they can endure heavy foot traffic – concrete floors are incredibly robust and the use of resins or coatings does not compromise this strength
they are stain and mildew resistant – with a coating or sealant applied, most stains will lift
they don't harbour allergens, dust mites etc. – great news if you are asthmatic or suffer from eczema or other conditions prone to irritations from dust mite, pollen and other allergens
they can also look simply amazing – and neither will a concrete floor bust your budget!
Midland Polished Concrete work with customer to create concrete floors for in and around the home – and business premises – to create a stunning floor covering that guests and visitors rarely realise is concrete.
Main Image Source