When it comes to remodelling and refurbishing your home, there are a myriad of interior design decisions that you'll have to take as a home-owner.
Some of these will appear less important than others too, with the task of selecting the best living room curtains offering a relevant case in point.
However, choosing the right curtains for your room can be a deceptively complex process, while your final decision can also have a significant impact on the overall aesthetic of your home interior.
In this post, we'll look at the key factors to keep in mind when choosing the curtains for your living room, so that you can arrive at an informed decision.
What are the Key Factors When Choosing Curtains for Your Living Room?
In truth, there are a large number of factors to consider when selecting the ideal curtains for your living room.
However, it's important to go through these in detail if you're to make an informed decision, and one that ultimately helps you to make the most of your home interior.
So, let's get started!
What Materials do You Want to Use?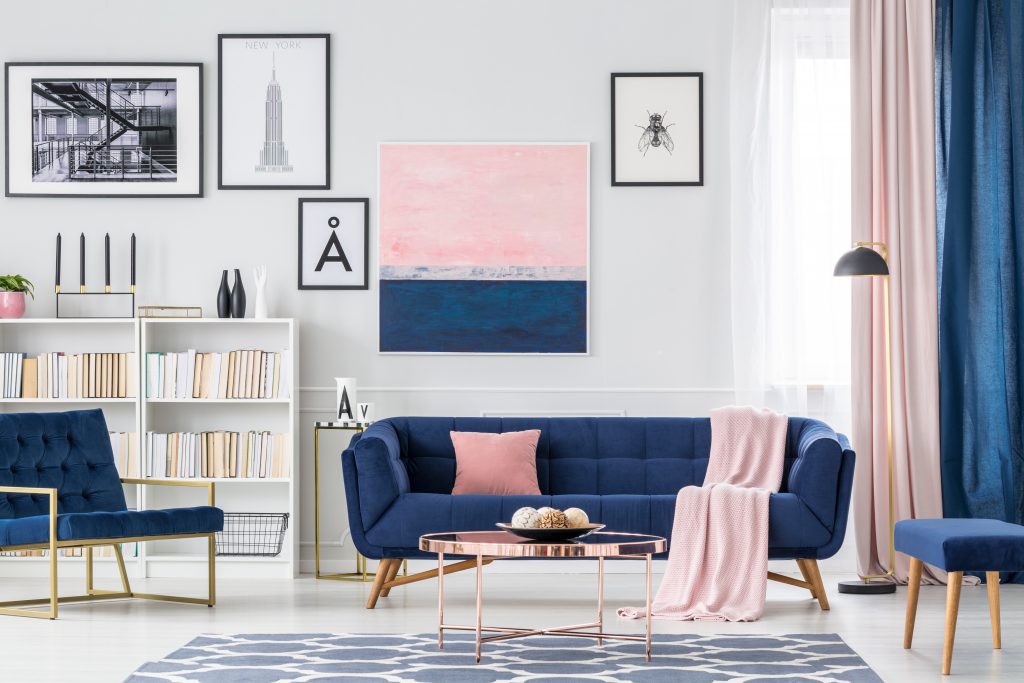 Perhaps the most important consideration is the fabric that you choose, as this will impact directly on a number of different design elements in your living room.
If you would like to optimise the amount of natural light that enters your living room, you should select a lighter fabric with a soft pattern rather than a heavy drape.
Certain materials hold their shape and hang considerably better than others. Fabrics such as velvet, faux silk and linen tend to hang the best, for example, while faux silk curtains are also considered to be particularly durable. As a result, these make for the most suitable and practical window dressings in most residential homes.
You should also bear in mind that interlining fabrics can be added to your curtains as a way of preventing their colour from fading over time. This can be a particular risk when hanging lighter fabrics in rooms that receive a significant amount of natural sunlight, so it may be worth a slightly larger investment.
Should You Invest in Made-to-measure or Ready-made Curtains?
Another key consideration is the choice between bespoke curtains and ready-made alternatives, as both of these options offer variable pros and cons to home-owners.
While bespoke curtains tend to be more expensive than ready-made products, they have the benefit of enabling you to invest in tailor-made interior furnishings that are perfectly matched to your living room space.
They will also hang perfectly in your window bay (depending on its precise shape and size), and can be manufactured in a vast array of materials, colours, patterns and styles.
Aside from the inflated cost, however, bespoke curtains can create the potential for you to go overboard with your design and disregard the recommendations of individual suppliers. This can be problematic, especially as it's often extremely difficult and costly to correct bespoke curtains once they've been manufactured.
In the case of ready-made curtains, these remain commonplace in the UK, thanks primarily to their availability, accessibility and competitive price points.
In this respect, mass-produced curtains are ideal for home-owners on a tight budget, or those who are looking to complete their installation as quickly as possible.
They also offer value in instances where you have a standard size living room and window bay, which is just one of the reasons why you need to take accurate measurements before you compare the market (we'll have more on this later).
Of course, you're relatively limited in your choice of products when restricting your search to ready-made curtains, and this may make it difficult to find the right-sized drapes that you need in your chosen fabric and colours.
This may cause you to invest in curtains that fall slightly short or long, creating an unbalanced visual aesthetic that undermines the overall living room design.
What About the Curtain Headings?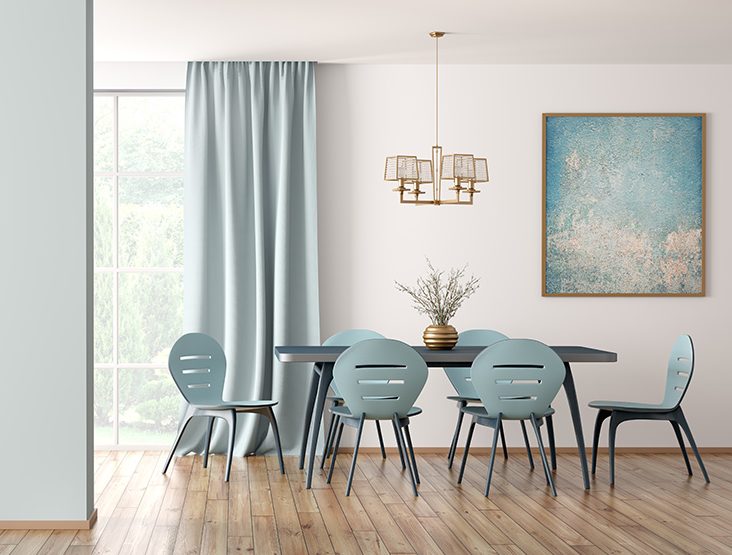 Another key, but often overlooked, aspect is the type of curtain headings that you utilise. This refers to the way in which your curtains will attach to the pole or track, and it has a deceptively big impact on the overall aesthetic.
Arguably the most common headings are known as eyelets, which are clean, unfussy and tend to feature an even pleat. This makes for a tidy and flexible look that's compatible with most contemporary curtain styles, while it also makes for relatively simple installation.
You can also use French (or pinch) pleats, which provide a slightly more tailored and premium finish in your living room. However, this costs a little more, so you'll need to consider this alongside any additional value that they add.
Pencil pleats are also quite commonplace, while they're also slightly less structured and are more likely to be found in bedrooms than living rooms. However, they feature narrow pleats that form in neat folds, so they can definitely be considered as part of your living room design.
Ultimately, the key is to appraise each type of heading and how it would look in your living room, in relation to the character of your interior design, the layout of the space, and the fabric of your chosen curtains.
To Blackout or Not to Blackout – Which Option is Right for You?
We spoke earlier about the lining in your curtains, and this is a key consideration that should factor into your final choice. There are two main choices in this respect, with the first characterised by a standard lining that has only a marginal impact on the amount of light that seeps into the living room.
This can be problematic if you don't have blinds located behind the curtains, however, as it may leave your room bathed in blinding light (especially during those bright summer mornings).
If this is a concern, you should consider blackout linings. As their name suggests, they'll block out any excess light that engulfs your living room during hot summer days, making this a comfortable place to relax even as the temperature rises!
Just note that blackout curtains will set you back a little more, so your final decision may be determined by budget, the location of your living room, and just how much natural light you want to let in.
How to Measure the Best Fit for Your Curtains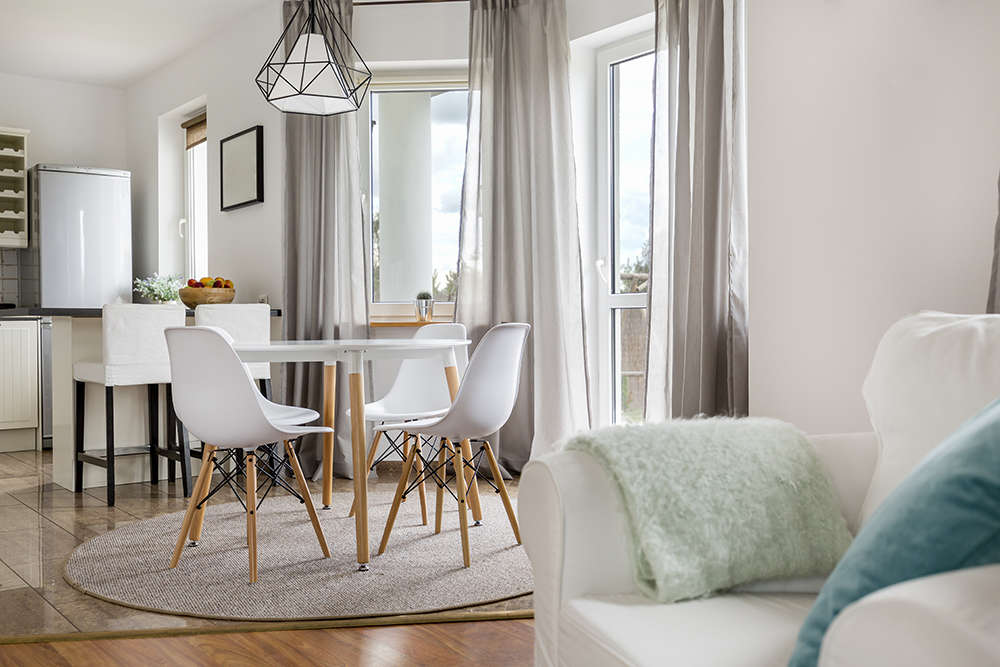 By now, you'll have hopefully narrowed down your choice of curtains, and can move on to the tricky task of measuring the window for your curtains to achieve the best possible fit.
You will need to consider both the size and the shape of the living room window, as a well-considered sense of proportion is central to the successful dressing of any window. You may prefer curtains that fit the window precisely or you may decide that you would prefer a certain amount of overhang over the walls on either side. Decisions like this can make a big difference to the overall feel of the whole room.
To find the best fit for your new curtains, start with measuring along the top of the track or curtain rail to your chosen end point. You should only measure the pole length rather than the finials at this stage, however. The pole, track or rail should be located around 15-20cm above your window to guarantee the best fit.
In terms of width, you should double the size of your track or pole measurement to determine the precise measurement that you'll need to buy. This will ensure that you have the right amount of gather and contribute to a visually pleasing aesthetic, so it's an important part of the process.
During the next stage, you'll need to measure the curtain length (often called "drop"), in accordance with your likely choice of product, and the finished look that you want to achieve.
There are three main aesthetics to choose from, as the bottom of your curtain can sit just above the window sill, just below this point or drape to the floor. The choice is entirely yours, although if you opt for the extra fabric, it will usually cost you more.
In general terms, you should also note that window sills and floors are often uneven, so it's important to measure at two or three different points to obtain an accurate reading, then take the smallest measurement as your length.
If your living room window sits directly over a radiator, we'd recommend that your curtains end at least two or three centimetres above the unit. This has various practical benefits, as it ensures that the heat doesn't escape behind the curtains during the winter.
So there you have it; our comprehensive guide to choosing curtains for your living room. Just remember to keep these considerations in mind when browsing the marketplace, and try to follow supplier guidelines wherever possible!