If you are re planning a new kitchen, it's easy to scroll through endless images of beautiful kitchens for inspiration.
But it's also a real disappointment to discover that many are way beyond budget! Read on for some advice on how to get a brilliant kitchen with just a modest outlay …
A New Kitchen – on a Budget
There are many ways of doing a quick update, concentrating on just one area of the kitchen… but the kitchen needs to be in reasonable condition to make it worthwhile. A change of colour, the addition of some open shelves, or even a simple de-clutter can all make a huge difference. If you're up for a complete transformation, discover ex-display modern kitchens with Used Kitchen Exchange.
Here, it's possible to pick up a fabulous contemporary kitchen, complete with appliances, for a fraction of its original value. Whether you have a huge kitchen space that needs updating, or a compact area that needs to be practically perfect, there will be an ex-display kitchen to suit your needs. The Used Kitchen Exchange team are able to guide you through the whole process of buying an ex-display kitchen, from start to finish.
Look at the Floor
If you're not up for replacing the whole kitchen, there are other budget-friendly ways of making the most of what you've got. Start with the flooring if the existing flooring isn't doing the scheme any favours!
As long as the sub-floor is dry and even, it could be a DIY project to lay new laminate, solid or engineered timber planks, or even ceramic or porcelain tiles. Try replacing old, battered vinyl flooring with new porcelain tiles for a very dramatic transformation.
Cupboard Love
Cabinets can be painted for a straightforward make-over. Timber (check they're real wood!) cupboard doors and drawers can be sanded, primed and painted. Choose an obviously different colour for maximum impact – a fashionable trend at the moment is for an island or peninsula to be painted in a darker shade, and the cabinets along the walls to be in a paler shade. Use acrylic eggshell for easy application and a subtle mid-sheen finish. If work surfaces need replacing, check out the latest laminates, which replicate real stone or timber at a fraction of the price of the real thing.
Off the Wall!
The simplest budget updates revolve around the walls … a new coat of paint works wonders in most circumstances. Go for brave shades of navy, olive green, nearly-black and cobalt blue for a contemporary update.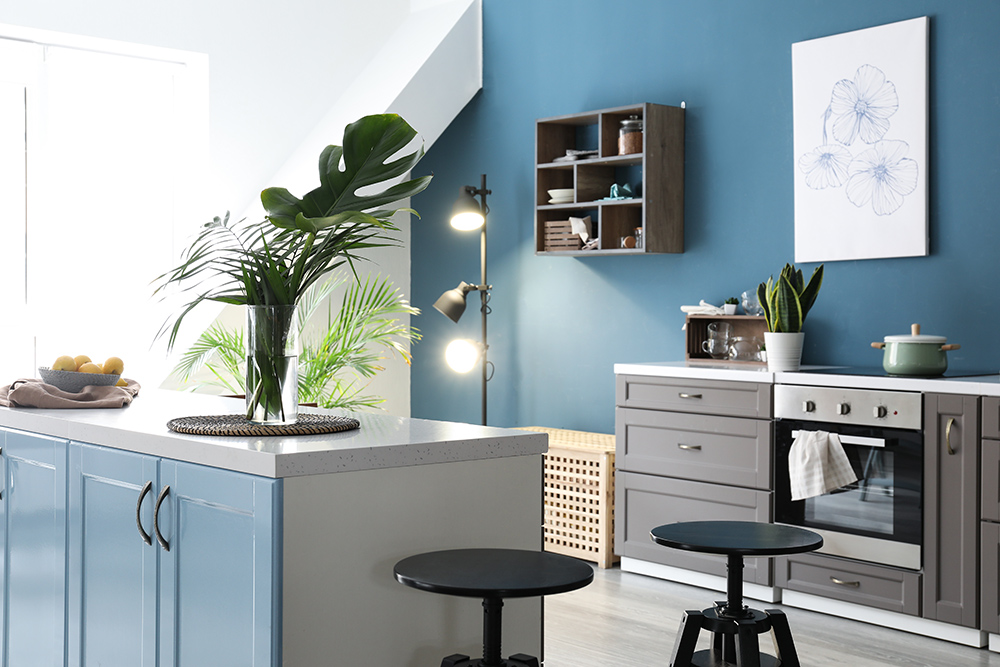 Freshen up the skirtings and radiator too … a good trick is to use the same colour as the walls so everything blends and looks streamlined. In an open plan kitchen consider adding a feature wall … use colourful large-scale patterned wallpaper or even a full-wall picture mural.
On the Shelf
If your kitchen is a bit higgledy-piggledy, give it a proper sort-out and have a serious de-clutter. A tidy kitchen always looks more streamlined and there's always the discovery of that odd utensil that's been missing for months! Keep open shelves under control –  refreshing them with a new paint job and creating a very tidy and organised display space. If some wall cupboards are really looking the worse-for-wear consider replacing with a run of natural timber open shelves. You don't need to be a DIY superstar to put up simple shelves which will make a real difference to the way the kitchen is used.