An office is your home away from home. It is where you pursue your opportunities and realize your dreams.
It is also the public face that you showcase to the world; business partners and customers. A great office décor should be a perfect blend between comfort and professional business image.
Most offices don't live up to this goal and could use some fine-tuning. These simple but effective tips will ensure you put your best foot forward on the path to business success.
Add a Splash of Colour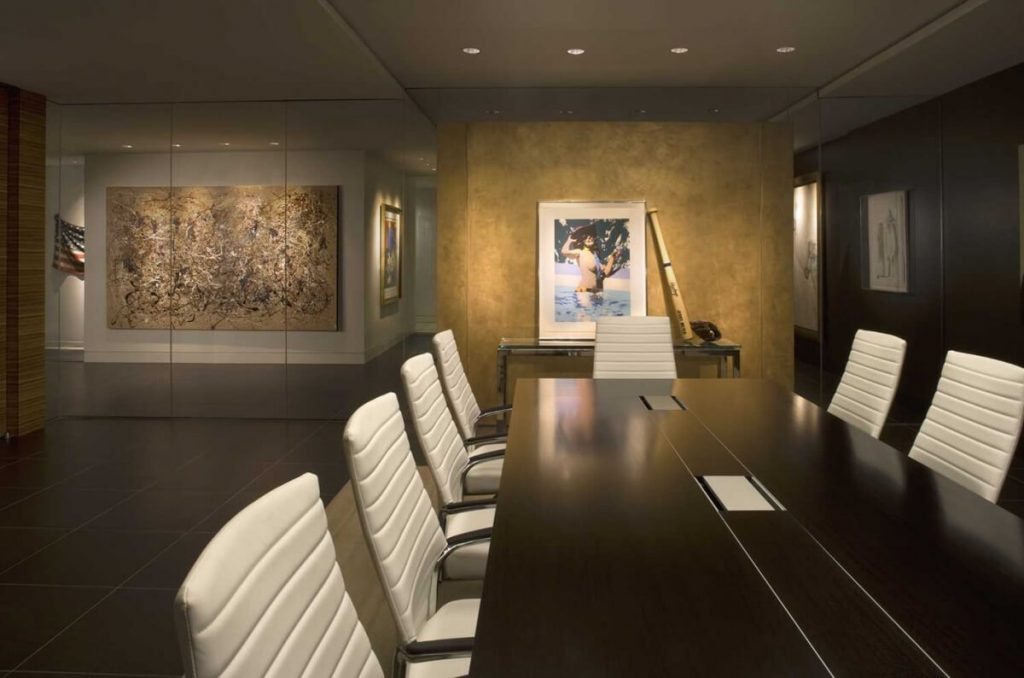 Image Source: RoomInteriorDesign
The colour palette of an office space should mirror the kind of work you do. Neutral, understated colours are appropriate for conservative professions such as banking and law.
Creative and casual offices such as those of graphic designers and photographers work well with vibrant and warm colours.
Creams and beiges combined with wood grain finishes create a sophisticated and refined look perfect for conservative professional.
A touch of blue in this kind of setting will make the office less dull and less boring. On the other hand, if you're not into the conservative office feel, play around with colours and have fun! Go for colours that you love and those that inspire your creativity and focus.
Take your time and choose the perfect furniture appropriate for your office space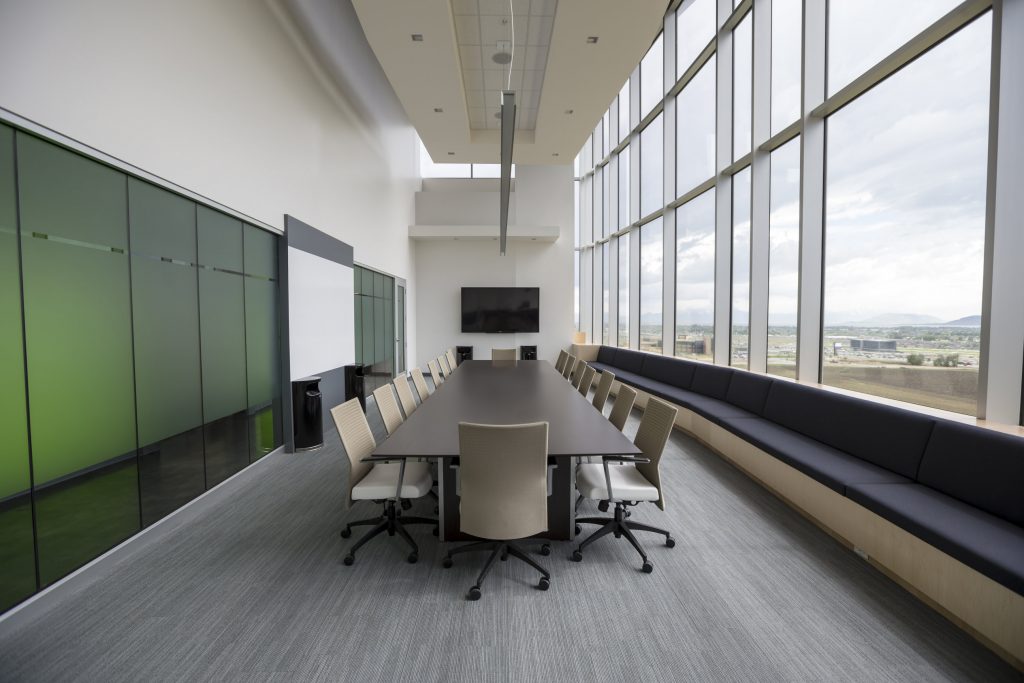 Image Source: GoHaus
Office workers spend a substantial amount of time sitting on a chair behind a desk. This is why it is important to choose comfortable and stylish furniture.
Go for practical pieces that ensure your office is functional and spacious. Instead of bulky furniture, settle for small tasteful pieces that are multifunctional such as a working desk that doubles as a cabinet.
Choose furniture designs and colours that project the image you want to portray to outsiders. Conservative office environments work well with traditional office furniture.
On the other hand, if you are going for a creative and fun space then contemporary pieces are ideal. Strategically placed book shelves, storage cabinets and computer stands provide additional functionality, adequate storage space and convenient ergonomics.
You can easily create different moods within the same office by using different coloured desks, chairs and tables. Using partitioned screen heights will provide both shelving options and acoustic assistance.
Office Flooring: Consider substituting carpeting for engineered hardwood flooring or solid hardwood flooring
Although carpeting is a popular flooring choice for office spaces, it is not necessarily the best. Engineered hardwood flooring and solid hardwood flooring are an ideal choice for offices.
This is a resilient and extremely versatile option that is great for offices. Apart from being visually appealing, this kind of flooring also gives an office an elegant, sophisticated and modern look.
Why is it great for an office setting?
Engineered hardwood is made with a plywood core with real hardwood on top, making it impervious to expansion and warping. Most engineered floors are also moisture resistance to a certain extent; allowing it to withstand most moisture and water making it the perfect choice for a low maintenance office floor.
This flooring can easily be installed over radiant floor heating to keep the office warm especially during the cold winter months.
It is also easy to clean and maintain unlike carpeting which requires regular vacuuming that can be expensive
This is another great flooring choice for your office partly because it comes in different wood varieties including exotic woods that can add a touch of sophistication and luxury to your office space. If your office has a lot of foot-traffic then the durability factor of this kind of flooring is a definite plus!
Solid Hardwood Flooring Versus Engineered Hardwood flooring
To ensure you choose the best and most convenient flooring for your office it is essential to understand how these two options compare.
Engineered floors offer enhanced stability which provides additional resistance to wear and tear. Additionally, it is also not susceptible to premature bucking and rippling.
Solid hardwood floors are unfortunately vulnerable to expanding and shrinking based on humidity levels. For more information on the pros and cons of engineered vs solid hardwood flooring take a look at this in depth article here: http://www.gohaus.com/the-beat/flooring/engineered-hardwood-vs-solid-hardwood/
Cute Office Accessories create a fun and vibrant working environment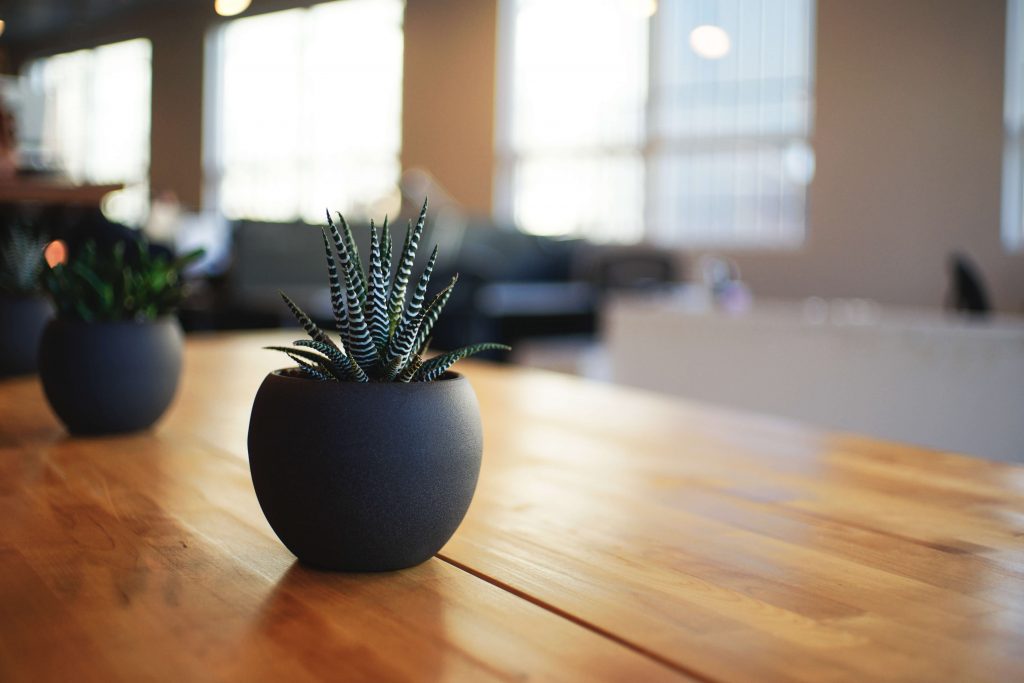 Image Source: GoHaus
Your office does not have to be plain and boring. Ordinary office supplies such as standard paper clips and yellow sticky notes don't cut it anymore. Cute office accessories introduce a little whimsy into your boring work day.
Some of the great office accessories that can make your office space more appealing include exquisitely designed card holders, gorgeous picture frames and stylish and goofy office mugs.
You don't have to subject your staff to soul-crashing posters of eagles and over-used inspirational phrases. Instead go for creative artistic alternatives.
For example, simply download an appropriate and stylish digital photo and have it made into a poster and framed. Or enlarge and print a funny or inspirational poem. Be creative, don't skimp on size instead use both small and large pieces to anchor your office space.
Your office needs a well-thought out design that is comfortable and functional to ensure optimum productivity.
Main Image Source: Trendir