If you are looking for a great looking luxury pool and you don't have the budget to pay for one then fear not as there are some great hacks which you can employ that will give you the look of luxury, without the price tag.
The first thing to remember here is that the luxury look of the pool is often not the shape or the form of the pool itself, but rather the surrounding environment. This is where you need to start if you are looking to give your swimming pool that luxurious feel and here are some tips on achieving that look, brought to you courtesy of the amazing pool experts Mr Pools.
Stamped Concrete
Textured stones used in the surrounding area by the pool give a real look of landscaped luxury but those stones come at quite the cost. Instead of investing your money in such stones however you can get the exact same look through the use of stamped concrete. Instead of individual stones being placed, concrete will be poured into the area and whilst still wet it will be imprinted so that when it dries it gives the effect of being paved stones. This not only saves money on material costs but also on labour costs as this process is far quicker.
Using Sand
Instead of having a lavish paved area around the pool, you can instead look to invest in a truck load of sand for that Mediterranean feel. Within the loose sand you can place stones to act as walkways, which will certainly give you a more tropical feel to the place. Sand is not very expensive and the beauty is that once you have invested in it, there will be very little needed in terms of its maintenance. One caveat here is that if you have pets it may not be the smartest idea to allow them on the sand as they can often be attracted to it when they do their 'business'.
Using Grass For a Luxurious Feel
What gives the luxurious impression for most swimming pools is the feeling of thought being put into the landscaping of the surrounding area of the pool. This is why establishing lawns around the pool, with high quality turf, is the perfect solution for budget luxury.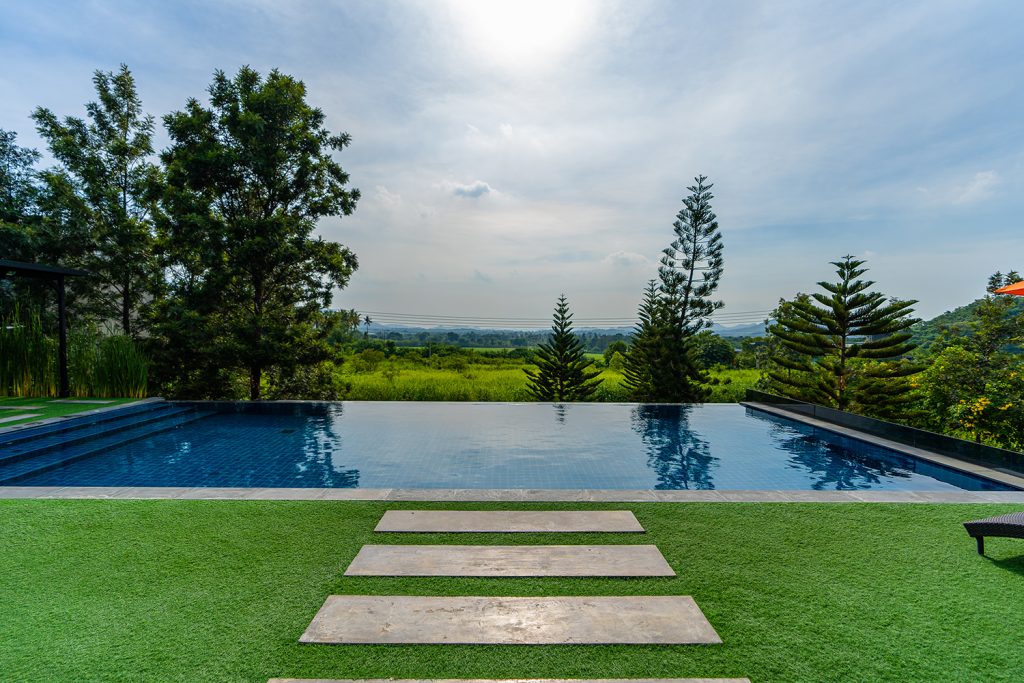 Grass is not overly expensive to buy and given the fact that you are only adding small areas of grass, you will surely be able to do this for a very reasonable price. There is of course some upkeep required with turf such as adding fertiliser or mowing the lawn, but it is well worthwhile for the luxurious look that you can count on once it has been completed.
A final note on this is to add some small touches around the pool, perhaps some tiki torches or some small statues which just compliments the area and give the impression that lots of money has been spent on the style.