This post is going to share some industrial restaurant design ideas for your next project.
The industrial look has been around for a while now and shows no signs of going anywhere soon. That's partly because it works for so many spaces and partly because it's so flexible.
Industrial design works in bars, boutiques, bistros and barbers. It works at home, at work and anywhere you have the time and patience to do industrial properly.
That's the key. To do the design justice and to spend the time, effort and money required to deliver a complete look.
Fortunately, industrial design requires relatively little of all three of those, which is perhaps another reason why it remains so popular!
If you're planning an industrial restaurant design, consider some or all of the following:
Exposed brick
Exposed brick is a classic of the modern industrial look. As long as your bricks are of a good quality and the mortar looks good, this is a staple of industry.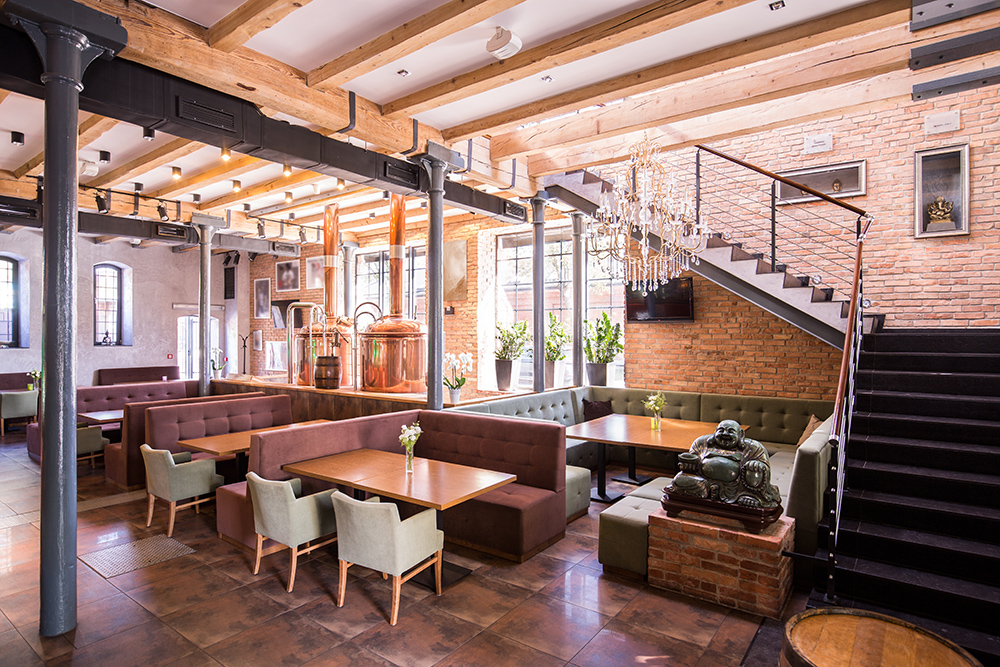 It's also very easy to achieve and saves a lot of money on plasterboard, plastering and decorating too, which is a definite added bonus!
Diners will find it much more difficult to wear brick over paint or wallpaper too, so the effect should be much longer lasting.
Concrete or cement
Cement or concrete elements are another industrial design classic. Think formed concrete walls, exposed floors, exposed concrete ceilings and you're on the right track.
As long as you lighten all that stark concrete with some warmth, depth and character, it's another achievable design scheme you can use in an industrial restaurant design.
It's also another hard wearing surface diners will have trouble wearing, so that's another benefit!
Metal accents
Metal accents come in a huge range of styles and colours. Keep it industrial with stainless steel trunking or add character with copper pipes or architectural metal features.
Offsetting an exposed brick wall and concrete floor with a copper worktop or brass splashback can work exceptionally well.
Exposed lighting
Exposed lighting uses the combination of metal accents, exposed metalwork and good lighting design to complement any industrial restaurant.
Lighting is key in any space, but in somewhere that has to be bright and welcoming during the day and more intimate at night, it's key.
There are literally hundreds of styles and types of industrial lights so choosing something that works for your space is important.
Exposed beams, ducts and vents
Exposed beams, ducts and vents are more examples of classic industrial design. Exposed wood, exposed concrete or steel all feed into the industrial vibe.
Exposed trunking, heating or cooling ducts also contribute and work well against concrete ceilings or exposed brick walls.
Vents work in much the same way, offering sights more familiar to factories or workshops than a restaurant setting.
Neutral colours
Neutral colours can help offset some of the starkness of the industrial look while also complementing the earthy tones many elements come with.
The exact colours you choose will depend on the style of restaurant, the amount of light in the space and the ambience you want to create.
Don't be afraid to experiment with colour. Earthy tones work well for some looks while greys and other colours work better for more urban or contemporary settings.
Wood and natural materials
Using wood, bamboo, linen and other natural materials can work well to counter the man made nature of the industrial look.
If you need to soften a room or add depth or texture, never underestimate the power of nature to help.
Wooden tables, wooden bars or stools or even a wall of wood panelling can add light relief from all those straight lines and manmade materials.
Use nature
Another way to offset the man made nature of the industrial look is to use nature. Pot plants, planters, hanging plants and plant installations add character, colour and depth to a space.
Plants can also add a good look to any restaurant as they can be pleasing and reassuring. Just make sure to use real plants and not fake ones and keep them healthy!
Recycle and reuse
Using recycled furniture, repurposed items and obviously reused decorations can be a very attractive look in the right space.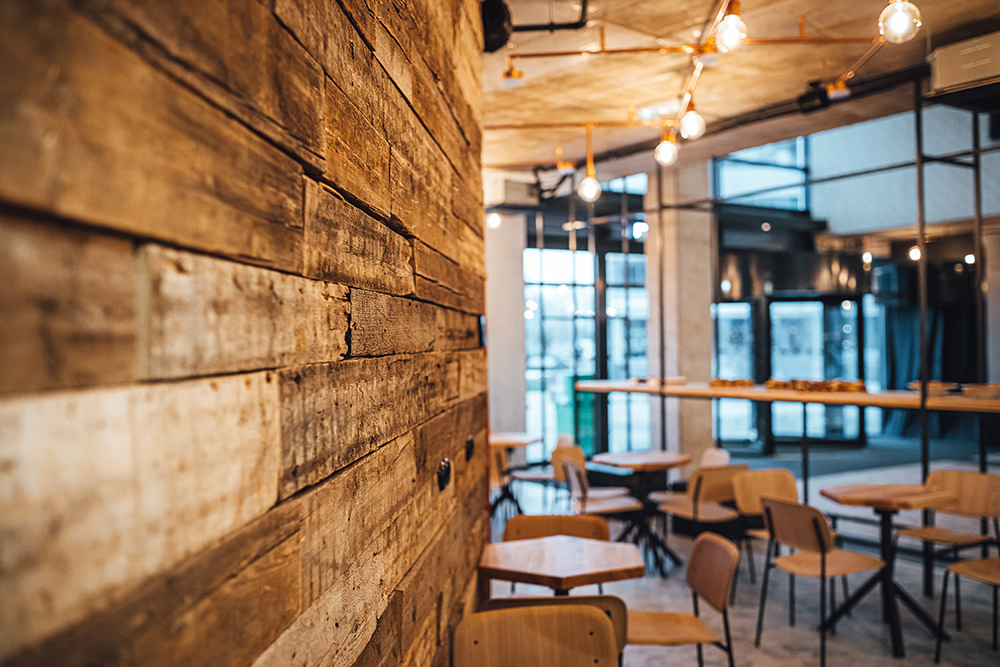 Think obviously worn sofas in the waiting area, repurposed tractor seats as bar stools, agricultural or industrial elements for installations or reused tables and chairs throughout.
Careful choice of reused items can not only save you money during fitting out, it can add character that no industrial piece can add!
Pops of colour
Sometimes, an industrial restaurant can become monotone and without a signature moment. That's where a pop of colour can come in.
Adding bright coloured furniture like a bar stool with a red seat, or antique coloured chairs, carefully chosen artwork or something else can work.
You'll know it when you see it, but just because the industrial look has a specific vibe, doesn't mean you have to conform.
It's your restaurant design and something you'll be spending hours in so don't be afraid to experiment and have a little fun!